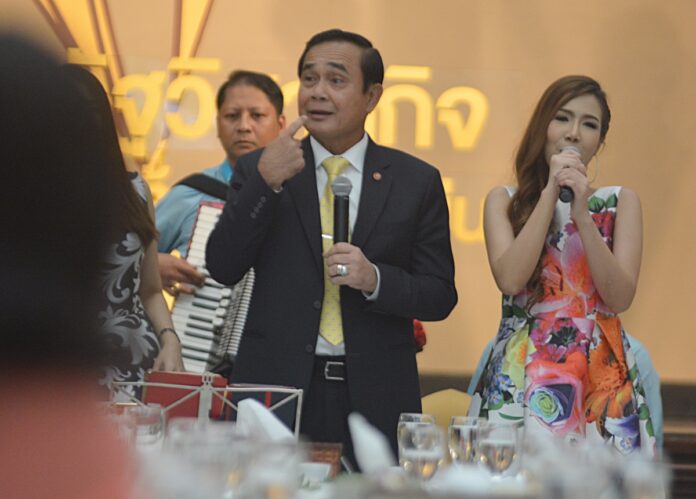 BANGKOK — Junta chairman Prayuth Chan-ocha, who was appointed prime minister by his appointed parliament two years ago, had a lot of hopes and ambitions to share on Thursday.
In a wide-ranging speech to commemorate his cabinet's two years in power, Prayuth said Thailand has a stronger economy, more social equality, improved safety and general welfare. So good are the indicators, he said, his regime's achievements could steer the nation toward First World status after his tenure ends.
Read: 2 Years On, Has the Junta Kept These 8 Promises?
"If the transition is successful, we may have the opportunity to elevate ourselves to a First World country," Gen. Prayuth said at Government House. "That means a country that's already developed, a country that has higher than average wages for people, a country with a complete welfare system, a country with a quality populace and good lives."
The economy? GDP growth of two years ago quadrupling to 3.2 percent. Government? More efficient than ever. Bribery? Eliminated. Crime? Falling fast. Southern insurgency? Good dialogue underway. General happiness? "Least miserable" place on Earth by Bloomberg's measure. Overall greatness? Twentieth best nation in the world, if you believe a little thing called U.S. News & World Report.
The backdrop of such an ebullient, confident vision is what some analysts consider to be the height of Gen. Prayuth's reign: His grip on power was sealed by a recent landslide victory at the polls for the constitution backed by the junta. Its passage left his opponents shocked and disorganized, and bolstered the regime's claims of widespread support.
Another apparent sign of Prayuth's sense of security was his decision to stop trying civilians in the military court, which his spokesmen said this week was a drastic measure only necessary earlier, when the situation was more fragile.
Under Prayuth's oversight, as he reminded the public in his speech, Thailand has staved off international bans and boycotts by launching massive overhauls in the country's aviation, fishery and wildlife industries. In January, Thailand was appointed head of Group of 77, another prestigious step in international stage, the general said.
With this basis, Prayuth summed up the Thailand he sees just around the bend:
"Happiness and peace reigns throughout the land. Stable politics. Politicians with moral governance. A society that respects rules. People have discipline. Economy grows strongly. Development spreads to all regions of the country. Thailand has a graceful stand in the global stage."
His critics and some pesky facts may easily refute some of the claims, from the state of the economy to the expanding violence in the south.
One critic unimpressed by the show was Redshirt leader Nattawut Saikua, who faulted Prayuth for not respecting freedom of expression.
"Maintenance of peace is what the government has always touted as its blue-ribbon achievement," Nattawut said. "But I'd like to make my point that a nation's peace comes with people of all sides having equal rights and liberty under a universal laws. As long as there's exercise of special powers and discrimination, it cannot be called peace, but suppression."
But today at Government House, it was Prayuth's day to make the case. The five-hour presentation, which featured speeches from members of the entire cabinet, ended two hours later than scheduled, with Gen. Prayuth putting away his usual scowl and inviting the press corps to sing pop songs with him.
"You're not even beautiful, yet you have such a foul mouth," Prayuth sang along to a classic song by Am Saowalak, before pointing at his own mouth in obvious mockery of his bad temper, drawing laughter from reporters.
To clear up any confusion: Prayuth holds two positions. He's both chairman of the junta's National Council for Peace and Order – which holds the real power – and prime minister at the head of his semi-civilian cabinet.
After Prayuth, who was chief of the army at the time, staged the coup against the elected government on May 22, 2014, he ruled the country as head of the junta until the interim parliament declared him a Prime Minister on Aug. 21. His Majesty the King formally endorsed his position four days later.
Prayuth's term as prime minister will end after the next election, which he has promised to hold at the end of 2017. He will continue to hold the post of junta chief.