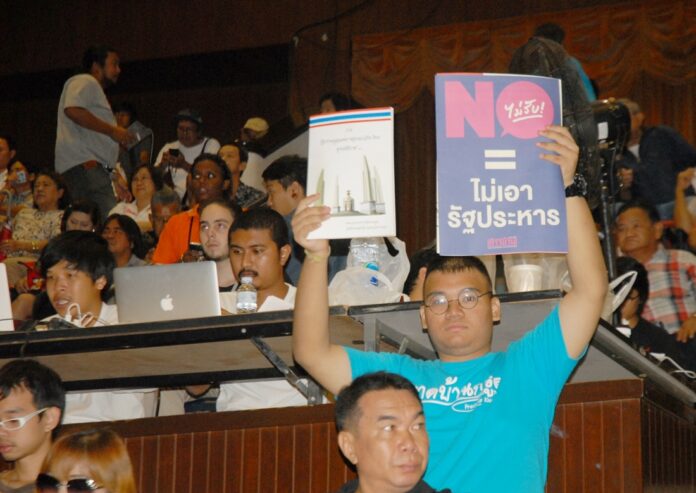 BANGKOK — Things are looking bleak for opponents of the military regime which has been in power since May 2014.
The first 12 months of the junta's reign saw several failed attempts to dislodge it. And then, the following year saw a failed campaign to reject the constitution it wanted the public to approve in a referendum.
Now that Aug. 7 vote is well behind, the pro-democracy movement is in disarray, with different camps holding differing objectives for the next year-plus before the election promised by the junta. And their thoughts read like a laundry list of fears about what will become of Thailand in the years ahead.
The United Front for Democracy Against Dictatorship, the umbrella organization of the Redshirts known as the UDD, will monitor the passing of organic laws that may entrench the junta's power in post-election Thailand, said one of its leaders, Weng Tojirakarn.
The group will also overhaul its own structure, he said.
"This is the time for us to improve our organization and its quality as well as efficacy, Weng said.
Fighting for those prosecuted under the Referendum Act will also be a focus, said Weng, who called on the junta to dismiss all charges in referendum-related cases. As for a longer term plan, Weng said his group would prevent Thailand from succumbing into a full-blown "elected dictatorship" after the next election, which is expected to take place in late 2017.
Another major dissident group is the New Democracy Movement, or NDM, which is mostly run by recent graduates and postgrad students. The group has yet to chart out its future course, said member Pakorn Areekul.
That's because, Pakorn said, they're busy trying to help Jatupat Bunpattararaksa, a northeast-based activist arrested a day before the referendum for handing out anti-charter leaflets.
According to Pakorn, several NDM members have said they will take a break to pursue postgraduate studies abroad. Pakorn said he personally thinks the focus should be on raising awareness about democracy among youth.
"We can expect them to be the hope of Thai society," he said.
At the same time, Pakorn said, any pro-democracy group should pay more attention to taking the democratic fight to the grassroots level to make it more tangible. He cited the struggle for community rights under threat from government infrastructure projects and junta's evictions of villagers from protected forests as some examples.
"We must look at the issue of democracy from its roots," said Pakorn, who added that while he still does not recognize the junta, aka the National Council for Peace and Order as legitimate, he has learned to accept that there are a substantial number of Thais who support military dictatorship.
Focus on the Issues
Parit Chiwarak, 18, is arguably the youngest well-known activist to date. As a high school student who will take university entrance exams next year, Parit objected to the charter because it defunded free education through the last year of high school, a guarantee under the previous constitution.
Parit said he will continue to push for education rights while monitoring what he expects to be a trend toward making Thai education more conservative and autocratic.
"I think I can still do something during the next one-and-a-half-years," Parit said.
One activist not content to wait is 19-year-old Netiwit Chotiphatphaisal. Netiwit is a freshman at Chulalongkorn University's Faculty of Political Science. Over the past two years, police and military officers often showed up at forums about politics he organized.
Despite his disappointment at the result of the referendum two weeks ago, Netiwit said has no plan to solely focus on his studies.
"I will continue to be active. I'm thinking of what I can do from now on, and it will primarily be focused inside the university," said Netiwit, who has recently formed a group of Chulalongkorn University students called "New Pink" (After the color of his university, the oldest in the kingdom).
He said he's planning to mark this year's anniversary of the Oct. 6, 1976, massacre of students by inviting a certain "high-profile speaker" from abroad to speak. Netiwit said he would only reveal the name of the keynote speaker on Wednesday.
"We must create awareness and make people aware of what's gonna happen after the new charter is enshrined," he said.
Long-Term Struggle and Fears
Anurak Jeantawanich, the man known for having campaigned against the charter in his Vote No T-Shirt in public every Sunday, said he sees the struggle for democracy as a long-term one.
"I will continue with my activities," said Anurak, referring to his work raising funds to assist political prisoners. "I don't think anti-NCPO activism works any longer. The focus will be now on elections."
Anurak said pro-democracy movement should use the remaining time under the junta to consolidate itself.
"I also want to see reform in the UDD so they can once again become a uniting figure for the Redshirts," he said. "As for NDM, I would like to offer them moral support and ask them to be more careful in studying the law and [junta] orders before making any moves, so they can avoid being arrested."
Ekachai Hongkangwan, a former royal defamation convict who now also works for the welfare of political prisoners, gave a gloomier assessment.
The opposition movement is now in greater disarray, with the Pheu Thai Party and Redshirts just biding time until elections, while the New Democracy Movement is too young and inexperienced to mount any serious dissent to the junta, he said.
The immediate focus, Ekachai said, should be preventing the junta-appointed National Legislative Assembly from enabling he next Senate of junta appointees to elevate any unelected figure to Prime Minister.
Ekachai's fear is that the pro-democracy movement will be further curbed by the junta to a point where there's little or no resistance left come election time.
"It seems people have become discouraged and lack long-term planning," he said.