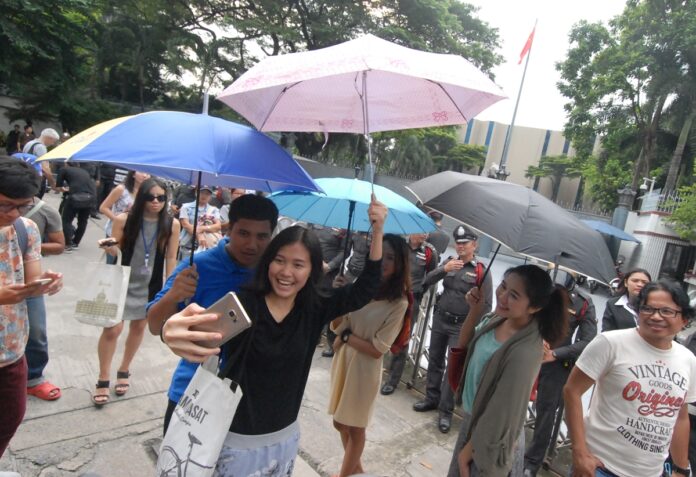 BANGKOK — Hong Kong activist Joshua Wong may have been barred from speaking at Chulalongkorn University tonight, but the movement he helped start two years ago loomed large in his absence.
Out of apparent fear the event would turn into a symbolic protest of Wong's deportation on arrival Wednesday, police banned umbrellas, the symbol of his 2014 pro-democracy movement, from an auditorium at the university where he had been slated to speak, an event organizer said.
Deported: Joshua Wong Flies Back to Hong Kong
"Police instructed us to ban them," said the activist called Maew, who asked not to be identified by full name for fear of repercussion. "They said it's a measure to prevent incidents as much as possible … yes, to prevent any symbolic protest."
Maew said they also demanded no anti-Chinese rhetoric.
The event was to mark the 40th anniversary of the October 6 Massacre, a crackdown on a left-wing student movement that killed dozens at the height of the Cold War in 1976.
Wong, the 19-year-old famed for leading the so-called Umbrella Movement two years ago, was slated to speak on the theme of youth and civil rights, but Thai immigration police turned him away Thursday, citing a request from the Chinese government.
Apart from the ban on umbrellas, police also told the organizers of "October 6: Chula Students Look into the Future" not to use Wong's deportation as a basis to defame Sino-Thai relations, according to the same activist.
"They were rather specific. They didn't allow us to talk about Thai and China relations," said the activist, who studies political science at Chulalongkorn. "They said: Don't make it an issue."
Wong was to deliver his keynote speech via Skype later Thursday night.
Deputy national police chief Srivara Ransibrahmanakul told reporters Thursday morning that Wong is free to Skype in, and the students can organize the massacre's commemoration as long as they did not "incite conflict or unrest."
Officers from a local police station were also dispatched to monitor the event, Srivara said.
Watch Khaosod English's live video of the protest in front of the Chinese Embassy on Wednesday.