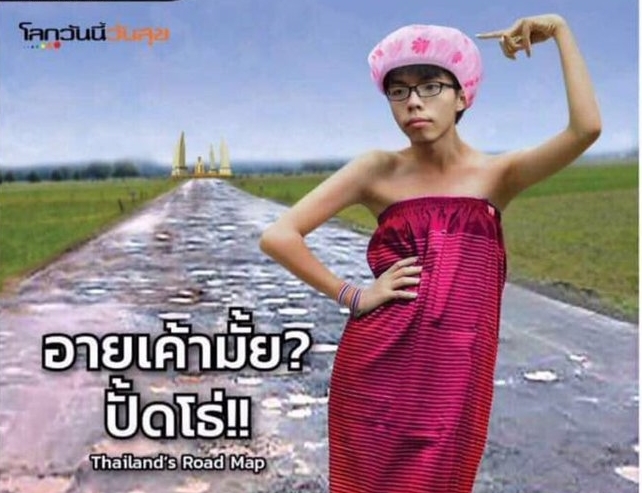 BANGKOK — Hong Kong's Umbrella Movement and its associated memes may have sailed past Thailand back in 2014, but its teenage leader was briefly the center of attention on social media this week, thanks to his deportation on arrival at Suvarnabhumi Airport.
Nineteen-year-old activist Joshua Wong was invited by student activists to speak at Chulalongkorn University on Thursday to mark the 40th anniversary of a much-forgotten crackdown that killed dozens of students in 1976.
No Umbrellas, Criticism of China Allowed At Oct. 6 Memorial
Thai immigration police intercepted him late Tuesday night and had deported him by Thursday afternoon – reportedly at Beijing's behest. The move sparked outcry among many Thai activists who took to social media to deride the junta's obsequiousness.
Where there's controversy, there are memes, of course, and they started appearing almost as soon as the news hit the web.
The predominant theme related to Wong and another skinny teenager with glasses and idealism: Netiwit Chotiphatphaisal, the Chulalongkorn student activist who invited him.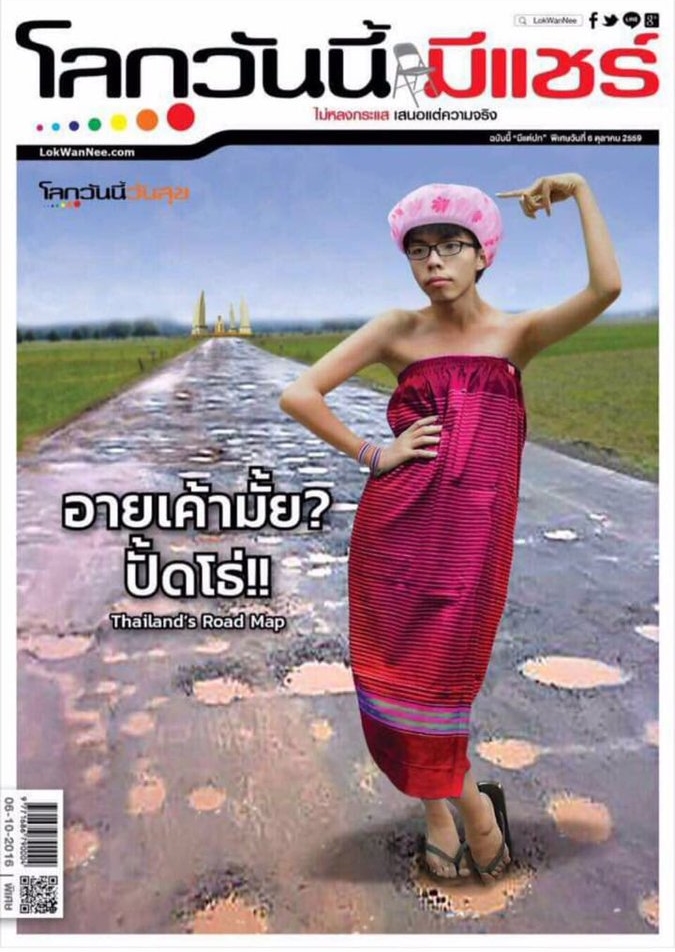 In the best tradition of memes within memes is this from Lok Wan Nee magazine, whose cover portrayed Wong in a traditional bathing cloth in a muddy road full of potholes, another recent obsession on social media.
Who doesn't like memes? Junta chairman Prayuth Chan-ocha, apparently. Last week he slammed the trend, saying photos of a bathing protest to get roads fixed might have "embarrassed" Thailand.
Lok Wan Nee's cover suggests the junta's treatment of Wong was more harmful to Thailand's reputation than some ladies taking a mudbath. "Are you embarrassed now?" the cover reads.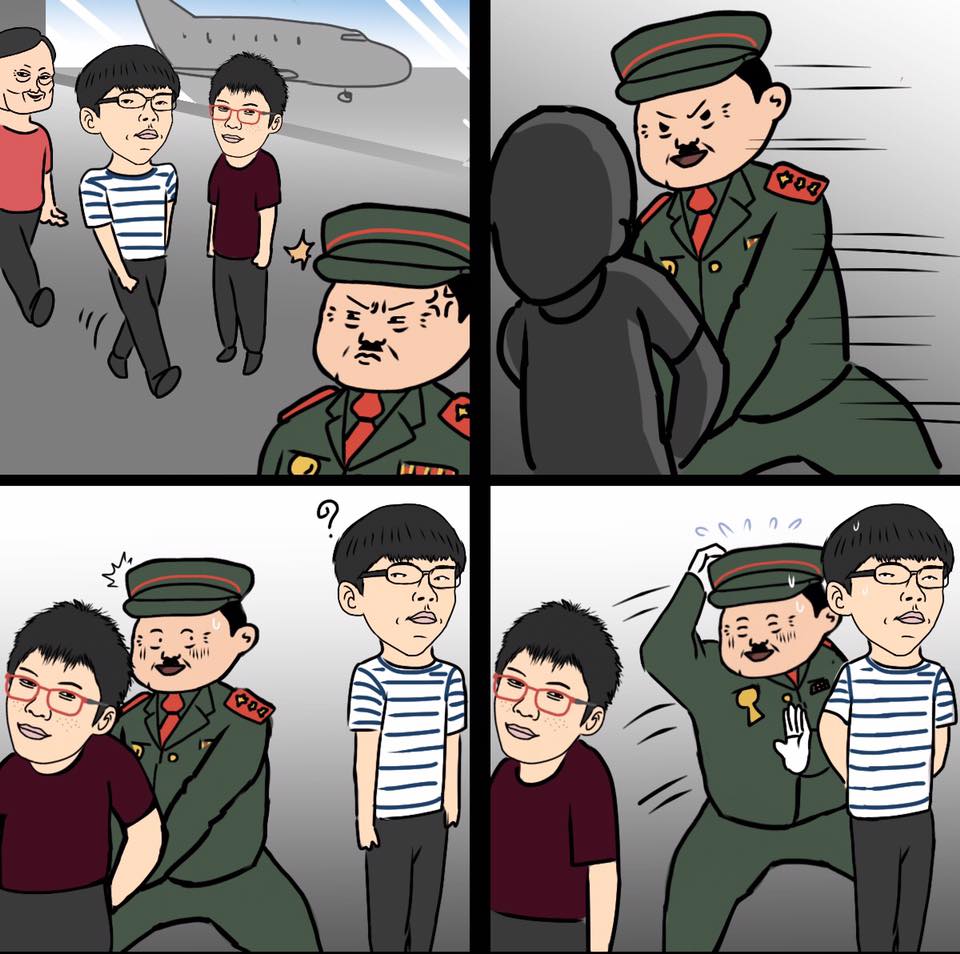 The joke here, about the junta arresting the wrong person, wasn't far from reality. At least one news agency confused Netiwit for Wong.
"Wong" in Thai netizen lingo means to be lonely or isolated. In homage to Hong Kong filmmaker Wong Kar Wai's melancholy style, puns were born such as: "Wong is having a Wong experience with Thai immigration."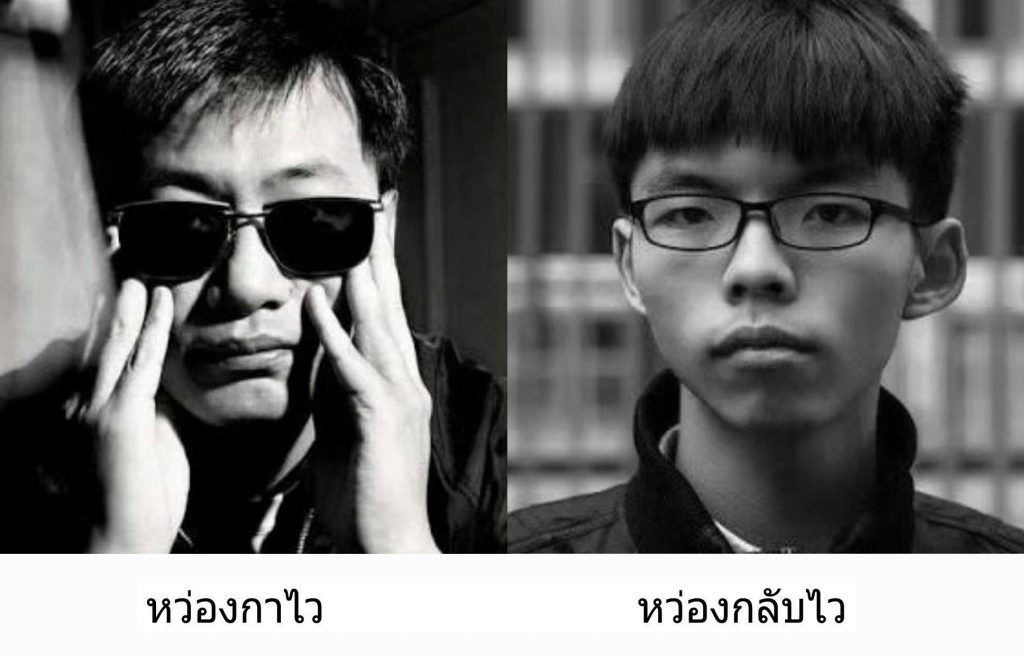 Wong Kar Wai also sounds like "Wong ticks quickly," linked above to Joshua Wong with the caption Wong Glub Wai, or "Wong goes home quickly."
The Wong jokes didn't stop there, with many people sharing Thai song "I Have Come a Long Way" by Michael Wong, a Hong Kong actor who enjoyed brief fame in Thailand in the 1990s.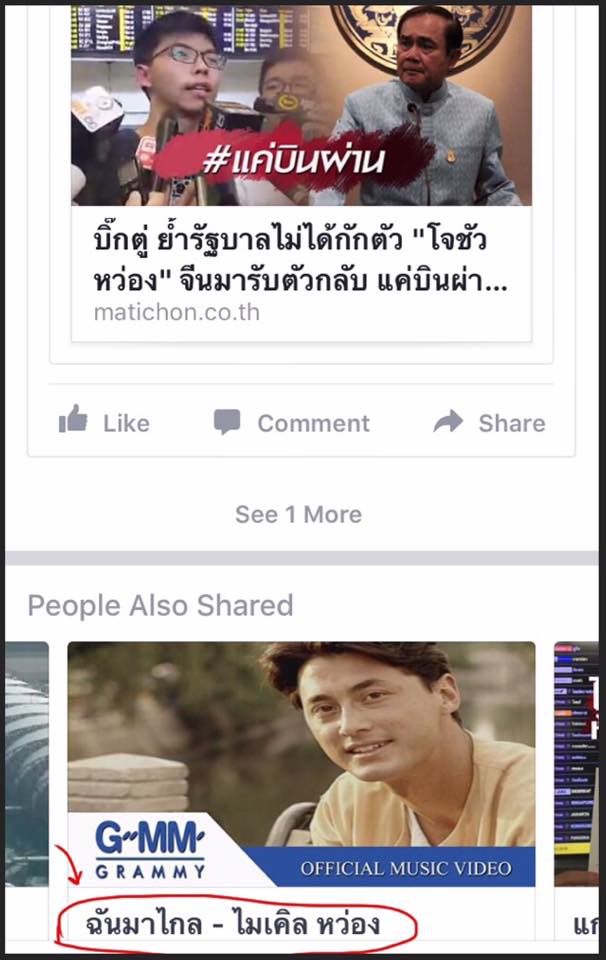 Not everyone sympathized with inviting Wong to speak at the commemoration the Oct. 6 Massacre, an event that remains a taboo topic in Thailand 40 years on.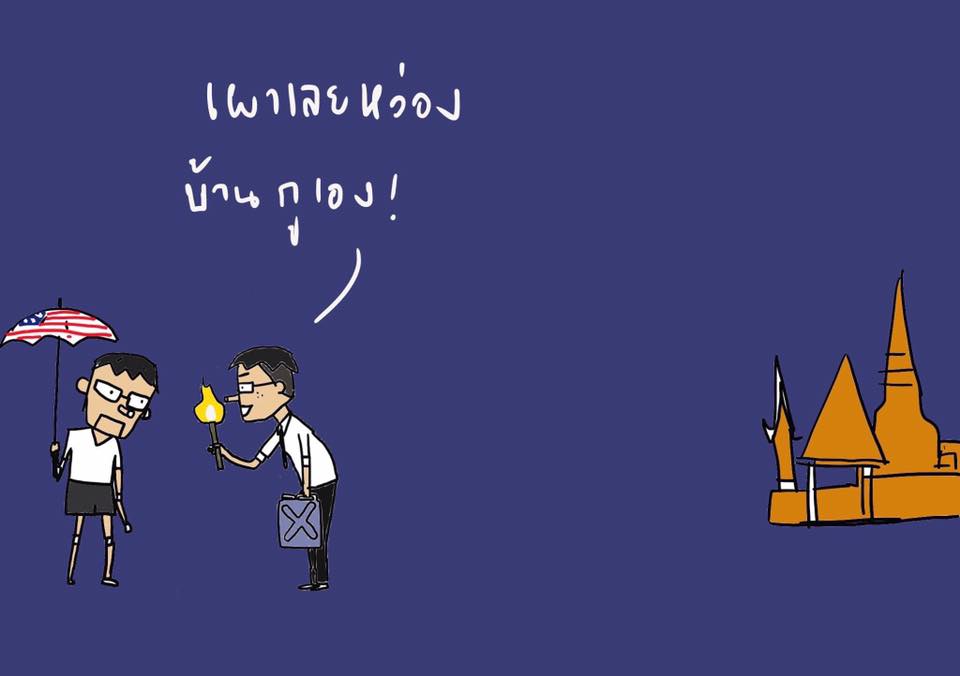 In this image shared by many conservatives, Netiwit invites Wong to help burn his own country.