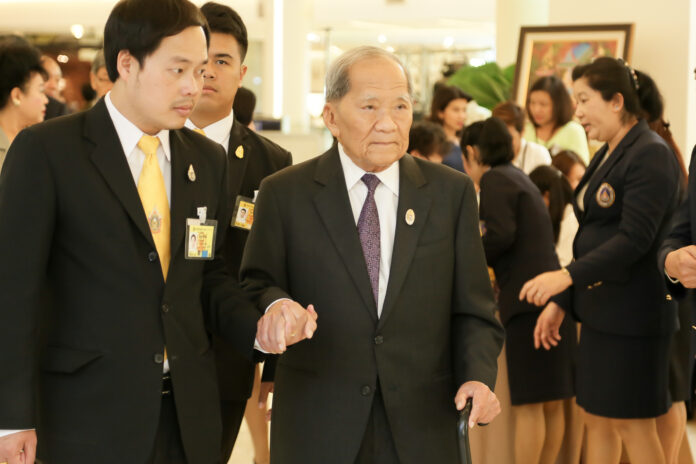 BANGKOK — An ex-prime minister was elected new head of the Privy Council Wednesday, replacing former chairman Prem Tinsulanonda who is now serving as Regent of Thailand's vacant throne.
As per constitutional clause, Thanin Kraivichien, 89, was chosen by fellow members of the Privy Council as their new chairman, Deputy Prime Minister Wissanu Krea-ngam told reporters Wednesday afternoon.
Prem, 96, was required to leave his post as the head of the council, which served as a personal board of advisory to His Majesty the Late King Bhumibol, after Crown Prince Vajiralongkorn declined to immediately accede to the throne when the monarch died Thursday.
A lawyer and staunch opponent of communism, Thanin was picked as prime minister by the military junta that seized power on Oct. 6, 1976, following a massacre of leftist students at Thammasat University.
Upset by his hardline conservative stance that saw newspapers closed and books confiscated, the military staged another coup a year later to remove Thanin. He was immediately appointed a member of the Privy Council by His Majesty the King.
Thanin's role was limited to performing royal works in the decades that followed.
Related stories:
Gov't Backs Off From Specific Succession Time Frame
Crown Prince Vajiralongkorn Meets With Regent, Will Take Throne
Prem Assumes Regency Over Thailand's Empty Throne