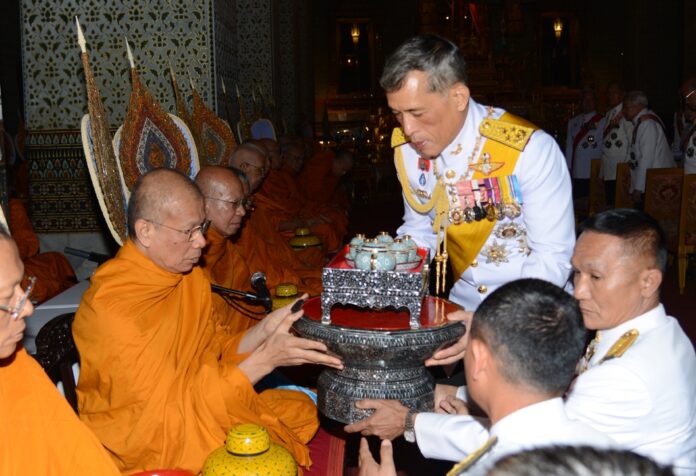 BANGKOK — Crown Prince Vajiralongkorn said Thursday night he does not yet wish to be named the next King of Thailand, as he continues to grieve for the death of his father, the late King Bhumibol, according to junta chairman Prayuth Chan-ocha.
Prayuth spoke to the media at the same time the interim parliament opened a special session, initially intended to proclaim the 64-year-old prince as King Rama X, succeeding his father, Rama IX. The Crown Prince will take the throne when he's ready, the general said.
Read: Crown Prince Vajiralongkorn Proclaimed King Rama X
"He already accepted his appointment as a royal heir, but he requested time to deal with his grief and express his sadness alongside the people across the nation at this time," Gen. Prayuth said at 9:40pm after a joint meeting between the government and the legislature. "As for the … succession, he wishes to wait until the appropriate time."
Shortly after King Bhumibol died at Siriraj Hospital, the National Legislative Assembly alerted the media that it will convene a special session at 9pm to formally endorse His Royal Highness Vajiralongkorn as the country's new Head of State.
The session went ahead as scheduled but consisted solely of nine minutes of silence observed for the late king, surprising many viewers at home.
Crown Prince Vajiralongkorn has been the Heir Apparent to his father since 1972, but the constitution permits him to take the throne whenever he wishes to, while the parliament can merely "request" that he honor his father's bestowment.
It is unclear when the Crown Prince will make that decision. The parliament will reconvene to endorse a new king "after royal ceremonies are over." Interim parliament chairman Pornpetch Wichitcholchai said at the end of the session.
The government has previously announced a period of national mourning to last one year.
Related stories:
HM King's Illness Won't Affect Charter Endorsement: Gov't
Netizens Flood Social Media With Pink and Yellow
Somkid: Hunt Person Behind Royal Health Scare
Outpouring of Prayer, Anxiety About Future at Siriraj Hospital
No Emergency Cabinet Meeting Today, Gov't Spokesman Says
In Pink and Yellow, People Unite at Siriraj to Wish the King Well (Photos)
King Bhumibol, Monarch and Father to Millions, 88
Prayuth Calls for Year of Mourning for King
Crown Prince Vajiralongkorn Proclaimed King Rama X
Grief Pours Out Home and Abroad for Death of King Bhumibol