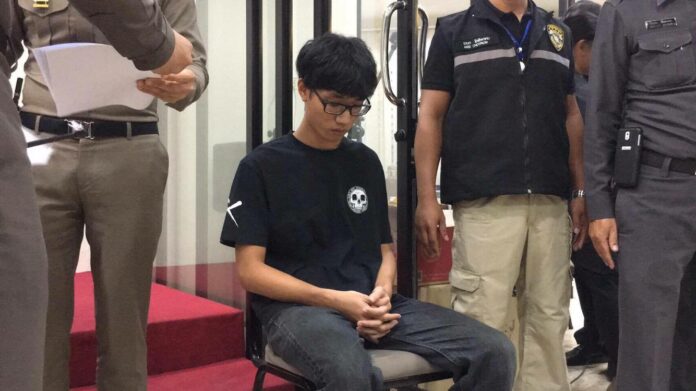 BANGKOK — Police said Wednesday more alleged hackers will be handed over by military while a 19-year-old, arrested earlier for allegedly attacking police site, will spend the New Year's holidays in prison.
A court Wednesday ruled Natdanai Kongdi, who is accused of hacking into a central police investigation database, a flight risk and denied him bail. He will remain in custody another 12 days until Jan. 8.
Deputy police spokesman Krissana Pattanacharoen said the military will soon send police more suspected hackers it has detained for prosecution. He said he did not know how many people were being held in military custody.
Police said they did not know how long Natdanai has been detained. Deputy Prime Minister Prawit Wongsuwan said Monday authorities have taken nine people into custody for hacking into government websites, but no details were given to the media.
Read: Military Gives Police Alleged Hacker to Display to Public
It is common for the regime to use its special, self-granted authority to hold people for questioning in secret detention without charge if the suspected offenses are deemed by the regime to be threats to national security.
Natdanai was said to have links to the online activist group Citizens Against Single Gateway, which has been calling for attacks on government, police and military websites to demand revocation of the revised Computer Crime Act.
He was also charged with being part of criminal network, and possessing guns and drugs as authorities said they found firearms and marijuana at his place.
Some expressed skepticism that the evidence displayed by the police after his arrest consisted of a PC and generic book on network security.
Kritsana on Wednesday insisted Natdanai was not a scapegoat, saying he had confessed to hacking the police site and sharing screenshots of his exploits to the hacktivist page.
Related stories:
Army Denies Buying Web Security Cracking Devices
Military Gives Police Alleged Hacker to Display to Public
Five Hacktivists Arrested, Junta Source Says
Gov't Payment System Offline As Hacktivists Focus Online Assault
Dismissive Prayuth Tells Hackers to Knock it Off