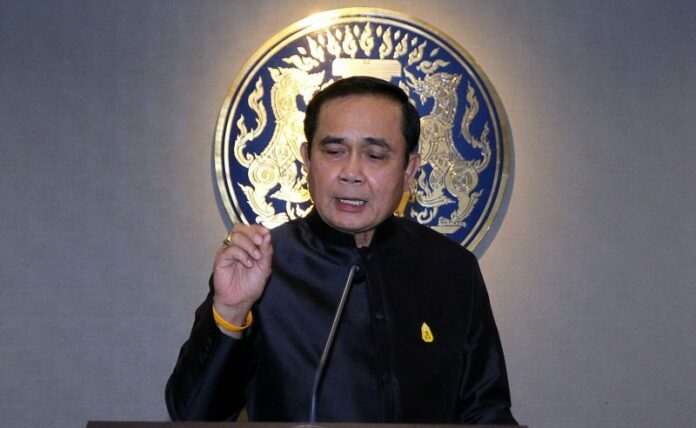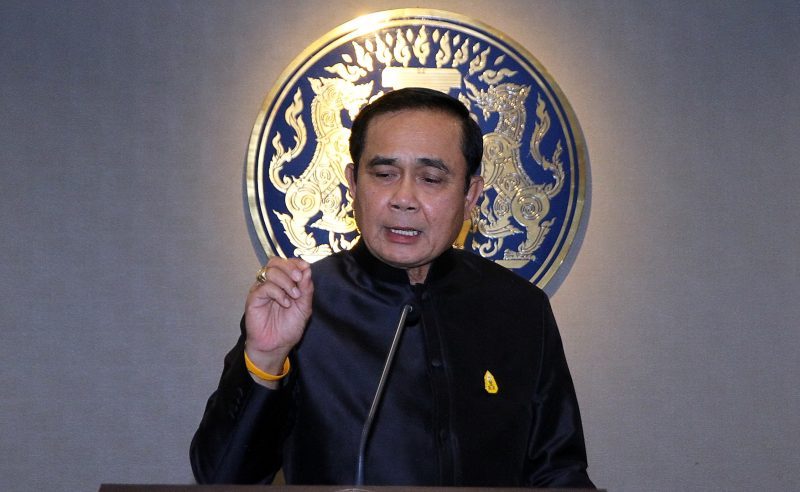 BANGKOK — Prime Minister Prayuth Chan-ocha on Tuesday dismissed online dissidents as uninformed and urged them to end their online rebellion.
Since the new Computer Crime Act was passed Friday, net freedom activists have brought down key government websites to express their anger in attacks which continued throughout Tuesday.
Speaking at the Government House, Prayuth said their actions were illegal.
"Most people understand the reasons and necessity behind the act, but they don't express their opinions," the general and junta leader said. "Most people who express their opinions are the people who are putting up resistance to it."
Read: Hackers Batter ThaiGov Online as Anger Over Cyberlaw Boils Over
On Monday, attacks disabled the main ThaiGov, Defense Ministry, Ministry of Digital Economy and Society, Prime Minister's Office and Office of the National Security Council websites. Some had  returned to service by Tuesday afternoon, but the Defense Ministry and Ministry of Digital Economy and Society remained down.
Hacktivist group Citizens Against Single Gateway, which came together in 2015 to oppose plans to centralize and control internet infrastructure, has posted regular updates about the campaign it said will continue until midnight and possibly longer.
Responding to a message purportedly from a civil servant complaining they could not receive their salaries due to the outages, the group fired back at Prayuth, colloquially referring to him by his nickname.
"This is a cyberwar that we didn't start. We warned you that we're gonna bring this to the next level," read the message posted at about 4pm. "Uncle Tuu, rethink your actions. If you don't, we guarantee that people won't get their salaries for sure."
Those protesting the law have said they are angry lawmakers took no heed of public- and private-sector objections to the law's erosion of freedoms and rights when it was passed unanimously by the rubber-stamp parliament.
In response, Prayuth also played down the controversial law's critics as uninformed, saying they were sharing content opposed to it on social media without really reading what it said.
"This makes me wonder. Since we're mostly a Buddhist country and the act says 'good morality,' don't you know what that is? Does the media know what that is? If you do, stop having so many problems with it," he said. "What's the problem with good morality? Good morality is peace and national stability. If you don't understand these terms, then don't even try to do anything else."
Part of the law empowers an unelected committee to censor or block any content it deems "immoral."
Prayuth said that was necessary due to the dangers of social media.
"You use social media more than me. When you do it, do you see dangers on it or not? There's illegal drugs, pornography, inappropriate language and libel on there."
In the past year, the military regime has used the Computer Crime Act to jail its critics and political opponents, as well as go after people suspected of insulting the royal family, a crime known as lese majeste.
The general continued, saying that the state wouldn't pore over everything but focus on urgent cases that could cause social unrest.
"No one wants to police social media because it's tiring," he said. "Society should help protect each other and create peace."
Finally, he shrugged off the attacks as ineffective.
"If you use anything too much, traffic will be heavy and it will be disabled for a bit. But we can continue working, no problem," Prayuth said.
Related stories:
Computer Crime Act 2.0 Passes Unanimously
Single Gateway 'Still Necessary,' Deputy PM Prawit Says
'Back Door' in CCA Not Trojan Horse for Single Gateway, Drafters Say
New Cybercrime Regs Would Open Back Door to Censorship
Website Shutdowns Soar After King's Death
Why Thailand Should Worry About an Improved(?) Computer Crime Act
Thailand's Draconian Cyberlaws Tipping Toward Totalitarian
Computer Crime Act Has Issues, Google Tells Censorship Committee