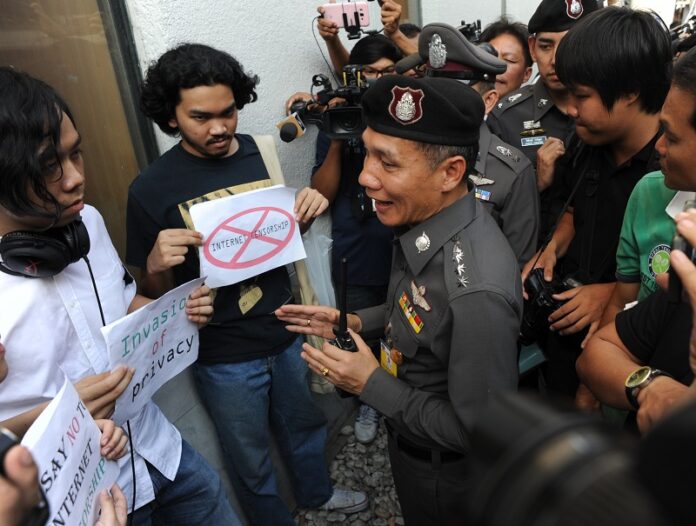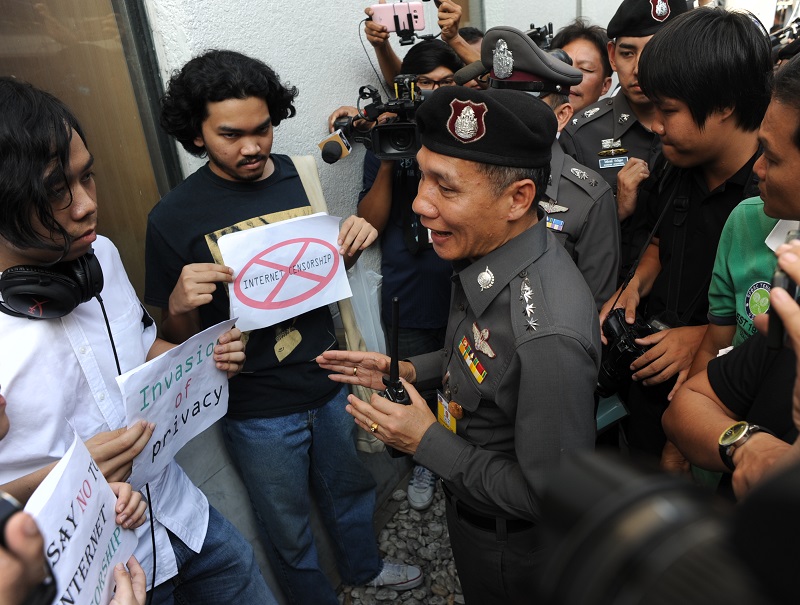 BANGKOK — Online agitators escalated their attacks in protest of the new Computer Crime Act on Wednesday by targeting access to the military regime's wallet.
The government's payment and procurement system announced it had shut down its online system after it was listed as a target for hacktivists by the group coordinating a campaign of digital disobedience to the new cybercrime law which granted broader powers to authorities to intercept and censor content online.
In its announcement, the Comptroller General's Department announced its network had failed as of Tuesday afternoon and its electronic system could no longer be accessed. Such systems are the platforms used for distributing funds nationwide and competitive bidding projects.
On the same day, hacktivist group Citizens Against Single Gateway announced attacks would intensify starting at 2pm on Wednesday. They made a single demand: Junta chief Prayuth Chan-ocha must use his absolute junta power under Article 44 to scrap the law, approved unanimously last week by his rubber-stamp legislature.
Asked why they were abandoning democratic methods to achieve their aims, the group replied that those methods weren't respected in creating the law.
"It came illegally so it had to be gone by illegal way," someone wrote in reply to an inquiry.
Read: Hackers Batter ThaiGov Online as Anger Over Cyberlaw Boils Over
Responding Tuesday, Prayuth said the attacks were illegal and dismissed those behind them as uninformed.
The law has also raised concern internationally. On Monday, the regional office of the U.N. High Commissioner on Human Rights issued a statement of concern, saying the amended Computer Crime Act posed a threat to online freedoms.
Foreign Ministry spokesman Sek Wannamethee dismissed those concerns, saying the new law was an improvement over the original, 2007 version and was intended to protect people from criminal cyber threats.
Since Monday, the Citizens Against Single Gateway group has brought down many key government sites including its central site and the Ministry of Digital Economy and Society. The Defense Ministry remained offline for a third day as of Wednesday afternoon.
The list of targets released Wednesday morning by the group included the central Government Procurement and Government Fiscal Management Information System and its regional systems.
"If any damage happens (from the attack), blame the decision of the government," the group wrote Tuesday night on Facebook. "Don't beg us. Beg Uncle Tu. Because we are just protecting the little online freedom that is left."


Related stories:
Dismissive Prayuth Tells Hackers to Knock it Off
Computer Crime Act 2.0 Passes Unanimously
Single Gateway 'Still Necessary,' Deputy PM Prawit Says
'Back Door' in CCA Not Trojan Horse for Single Gateway, Drafters Say
New Cybercrime Regs Would Open Back Door to Censorship
Website Shutdowns Soar After King's Death
Why Thailand Should Worry About an Improved(?) Computer Crime Act
Thailand's Draconian Cyberlaws Tipping Toward Totalitarian
Computer Crime Act Has Issues, Google Tells Censorship Committee