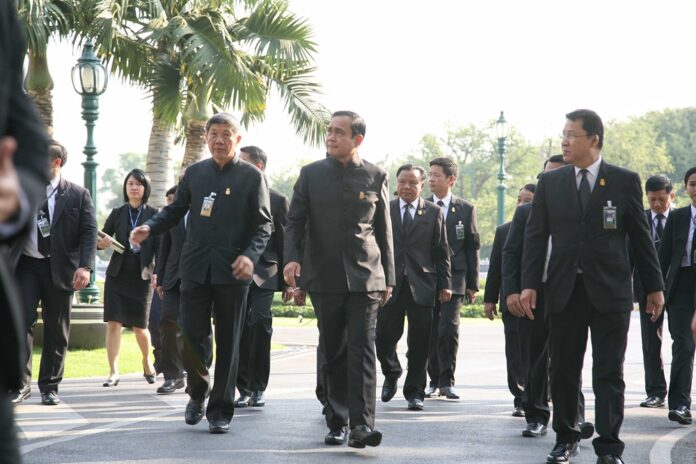 BANGKOK — A government official on Wednesday declined to disclose the final draft of the amended constitution submitted for royal endorsement last week.
The draft, first approved by the public in an August referendum, was withdrawn for revisions last month on the instruction of King Vajiralongkorn. The government has not detailed what changes were made, beyond saying they involved royal authority and not political rights or liberties.
"Please wait for now. When the time is right, we will talk about it," Deputy Prime Minister Wissanu Krea-ngam said Monday. "As for the contents of the amended constitution, there are only several chapters. They are not related to politics, government administration, rights or liberties."
After it was first sent for his endorsement, King Vajiralongkorn unexpectedly sent the charter draft back to the government in January. Prime Minister Prayuth Chan-ocha said His Majesty wished to see several changes related to the exercise of royal powers.
On Jan. 10, Wissanu said articles 5, 17 and 182 would be modified, at a minimum. Those articles address the constitution's legal supremacy and royal prerogative for matters it doesn't cover, mechanisms to resolve constitutional crises, the king's need to appoint a regent when abroad and the need for royal proclamations to be countersigned by a government minister to become law.
Since there were no legal mechanisms anticipating the request for changes, the junta's rubber-stamp parliament retroactively rewrote the interim charter put in place by the junta to allow the charter to be rewritten according to His Majesty's desires.
This past Friday, Wissanu said the finished draft was sent to the King for approval.
Law professor Jade Donavanik said it's unusual for constitutional revisions to be submitted for royal consideration without first disclosing them to the public, especially for charter approved by public referendum.
However, he allowed that such a practice could be acceptable under certain conditions
"It's an extraordinary circumstance," said Jade, who's been involved in drafting previous constitutions. "I'm not sure if this has ever happened in history, but I suppose it probably happened before in exceptional cases such as this one."
Jade said he has no information about what's in the final draft.
His Majesty the King now has 90 days to review the charter. If he endorses it, it will be immediately enacted into law.
A source in the Constitution Drafting Committee, which wrote the original charter draft, said the government took sole responsibility in amending the draft per the King's wishes, and none of the drafters were consulted.
"They're doing everything on their own," said the source, who requested anonymity, citing sensitivity of the subject. Like Jade, the source said he's unaware what the final draft says.
Related stories: