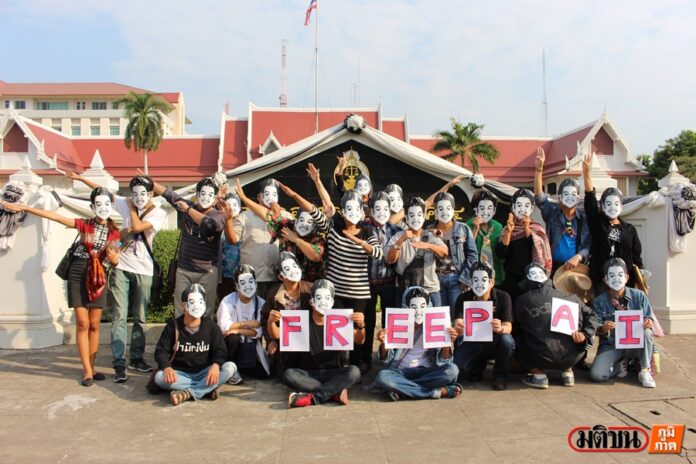 KHON KAEN — Four university students who have campaigned for the immediate release of lese majeste activist suspect became criminal suspects themselves.
For staging rallies on behalf of Jatupat "Pai"Boonpattararaksa in front of a Khon Kaen court that repeatedly refused to release him on bail, four activists were charged with contempt of the court and summoned to appear before the judge next month, a civil rights lawyer said Friday.
"Now that there's a summon warrant from the court for a trial, they must contest the charges," Yaowalak Anuphan of the Thai Lawyers for Human Rights group said by telephone. "They must insist that that they didn't do anything wrong."
Read: Prosecutors Indict 'Pai Dao Din' Over BBC Thai Article
All of the four are enrolled at Khon Kaen University, the same college where Jatupat was studying for a law degree before his arrest in December. Jatupat is accused of lese majeste, or insulting the monarchy, for sharing a BBC Thai biography of His Majesty the King which authorities said contained defamatory content.
The court has rejected all previous seven requests by Jatupat's lawyers to free him on bail. His fellow activists say Jatupat, who belongs to a civil rights group called Dao Din, is being singled out for his role as a prominent campaigner against the military regime, and they have staged many rallies calling for his freedom in Khon Kaen and Bangkok.
Yaowalak said the court warrant for the four Khon Kaen-based activists did not give any specific details of their alleged offenses including what they did and when; the warrant simply accused them of "behaving inappropriately in the court vicinity."
"Because they have staged many activities on many days, we don't know which one of them the court is talking about," Yaowalak said.
The four activists are Phayu Bunsophon, Chatmongkon Janchiewcharn, Narongrit Upachan and a law student who does not wish to be identified by name, according to Yaowalak.
The charge of contempt of the court is often filed against those who express disagreement with verdicts or orders handed down by the judiciary. As a result, many Thais decline to discuss court decisions on record for fear of the charge.
Related stories:
Jatupat Singled Out to Scare Others, Supporters Say