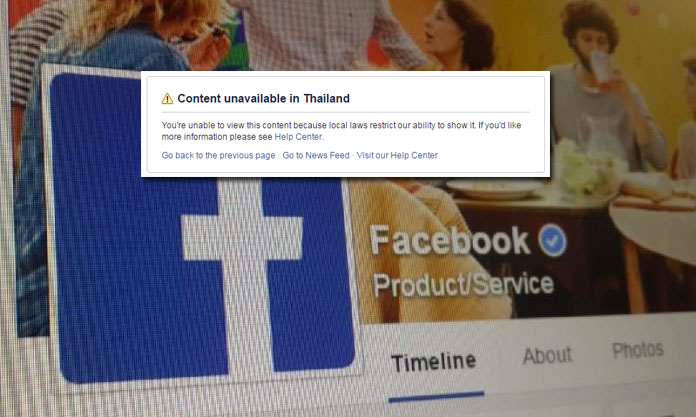 BANGKOK — Government regulators have threatened legal action against Facebook if it does not block 131 items deemed insulting to the monarchy by Tuesday.
On the same day the Army Cyber Center claimed success in tackling offending online content, the telecommunications regulator on Thursday said Facebook representatives would be summoned to meet with the authorities if they don't take action on another 131 URLs deemed defamatory by Tuesday, Matichon reported.
Takorn Tantasith, the top executive at the National Broadcasting and Telecommunications Commission, or NBTC, said Thai internet service providers have been cooperating by blocking 6,300 web pages per court order.
Update: Facebook Threatened on Belief Govt Had Warrants it Didn't
However, there are 600 items they have been unable to block because they are encrypted and reside on servers abroad.
Of the 600 pages, 309 items belong to Facebook. The rest belong to Google and YouTube, which had reportedly been made unavailable in Thailand by Thursday.
Facebook says it will take action on valid government requests supported by a court order. In recent years it has blocked a number of items from users in Thailand. According to its limited disclosure of such requests, it blocked 40 items in the second half of 2016, up from 10 items in the first half of the year.
The Thai ISP association told the commission last week it sent a request asking Facebook to comply with the court order on May 3. The California-based company has so far only removed 178 links, it said, without explanation for the remaining 131 URLs.
Should the social media giant refuse to comply with the law, the Ministry of Digital Economy and Society say it will press charges against the company under the Computer Crime Act.
According to commission guidelines, ISPs can either wait until a court order is issued to block content or do so at their own discretion without any court order or government request.
Upon seizing power in 2014, the military government made a priority of prosecuting royal defamation cases, saying they pose a threat to national security. Critics say it has used defense of the monarchy as a pretense to suppress dissent and criticism in public and online.
Relates stories:
820 Items Defaming Monarchy Tackled Since October: Army Cyber Center
Army Denies Buying Web Security Cracking Devices
Why Thailand Should Worry About an Improved(?) Computer Crime Act
Thailand Asks Google to Bend Censorship Rules
Computer Crime Act Has Issues, Google Tells Censorship Committee