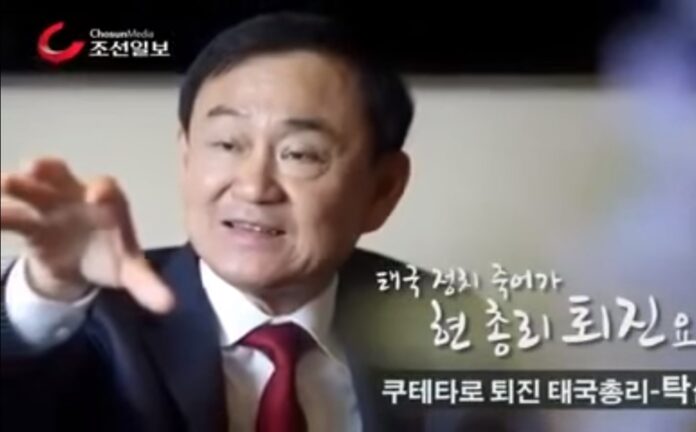 BANGKOK — Efforts to prosecute former leader Thaksin Shinawatra on a charge of royal defamation will be renewed, according to reports quoting the newly appointed attorney-general.
Khemchai Chutiwongse said he will ask police to determine the former prime minister's whereabouts and seek his extradition, according to a hardline anti-Thaksin news agency, over an interview he gave in 2015. A Thaksin ally said it's part of a political purge of Thaksin's influence.
Khemchai reportedly told T News his predecessor already approved the indictment, so his job now consists of bringing the former leader back to stand trial.
Khemchai's phone could not be reached Monday afternoon. His deputy, Wongsakul Kittipromwong, said Monday he had no information regarding the Thaksin case.
Thaksin has been living in self-imposed exile since the military ousted his elected government in 2006. A court found him guilty in absentia of corruption two years later.
His allies and political dynasty remain entrenched political opposition in Thailand on his behalf. Thaksin's sister, Yingluck Shinawatra, served as prime minister from 2011 to 2014 before she was forced to step down and the military ousted the remnants of her government in a coup.
In 2015, Thaksin gave an interview to a South Korean news agency saying the military coup that ousted Yingluck's government was helped by certain members of the "palace circle."
The military filed a charge of lese majeste, or insulting the monarchy, against Thaksin for the comment. The law carries a maximum penalty of up to 15 years in jail.
Redshirt leader Weng Tojirakarn accused the junta of using a trumped-up charge to eliminate Thaksin and his political clan from the scene.
"It's not about any law they use. They only want to wipe out the entire network of Thaksin and Yingluck," Weng said by phone. "Yingluck herself still has 13 charges against her. All of them serious charges. Therefore, it shows the intention to wipe out Thaksin and Yingluck, no matter what."
He said the effort would cause lasting damage to Thailand.
"It doesn't affect me personally, but it affects society as a whole," Weng said. "It has made the entire nation question the rule of law."
Two of Yingluck's lawyers said they had no details about the prosecutor's pledge to take up the case against Thaksin. Noppadol Laothong and Norrawit Larlaeng said they do not represent Yingluck's brother and were not aware who represented the former premier in Thailand.
Watana Muangsook, an MP who served under Yingluck and a vocal supporter of her brother, said he heard the news from the media.
"I believe Mr. Thaksin himself doesn't know anything about it, too," he said.
Related stories:
Thai Govt Revokes Thaksin's Passports, Citing 'Damaging' Interview