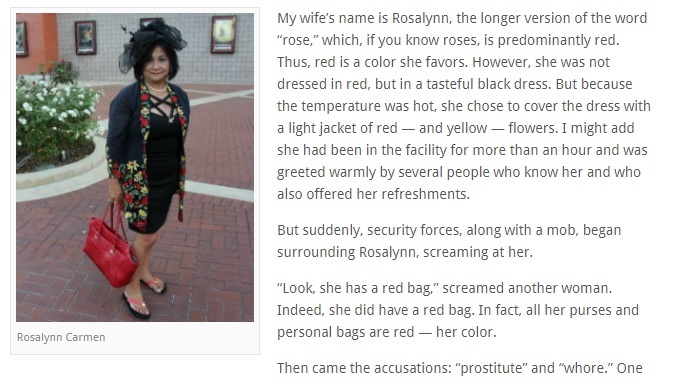 BANGKOK — A Thai-American woman turned away Thursday from a Thai temple in Los Angeles for her attire has become an object of contempt online.
Rosalynn Carmen of San Diego, California, visited the Wat Thai Temple to join a symbolic cremation ceremony but was chided and booed by Thais there who insisted what she was wearing was inappropriate, according to an account by her journalist husband.
"Thank you all. You have engendered a great story about intolerance. Below is the story that is going out to one of the largest and prominent communities in America. Now they can see how intolerant ignorant people can become in this country – right here on American soil," Carmen wrote Friday on Facebook, with a link to a column written by her husband Leonard Novarro for the Times of San Diego.
According to the opinion piece written by Carmen's husband, Leonard, his wife was not dressed in red but in a "tasteful black dress." An image from said to be from the event shows Carmen in a black dress covered with a black garment fringed with yellow and red flowers.
After the story got the attention of Thai netizens, ultra-royalists accused Carmen of being part of an anti-monarchist network trying to sabotage the event.
Novarro said there was no provocation intended.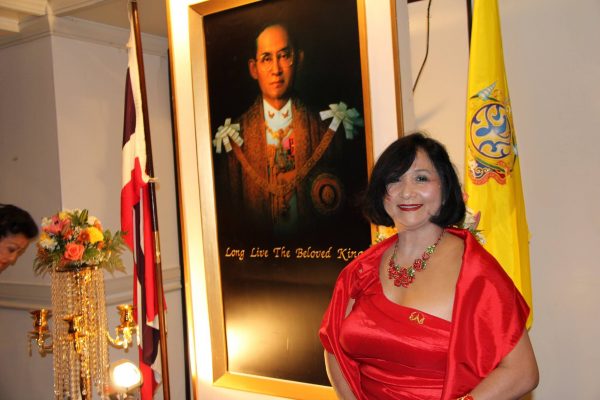 "But because the temperature was hot, she chose to cover the dress with a light jacket of red – and yellow – followers," wrote Novarro, adding that the two had been inside the temple over an hour before her outfit drew attention.
"But suddenly, security forces, along with a mob, began surrounding Rosalynn, screaming at her. 'Look, she has a red bag,' screamed another woman. Indeed, she did have a red bag. In fact, all her purses and personal bags are red – her color," he wrote, explaining that she had a thing for red because of her name.
"As I entered the fray, trying to calm the crowd now numbering more than 40 people, all screaming absurdities and accusations in Thai, I thought: 'This, indeed, is what Nazi Germany was all about.' There was no misunderstanding the sheer hatred and vitriol against a woman I have always been proud of, for her accomplishments and also for her love of her native country."
Novarro said the crowd became more infuriated when Carmen insisted she had the right to be there, on US soil. The crowd told her wife that her dress was inappropriate, then shouted "Get out! Get out! Get out!"
In response, some Thais commented on the article, saying Carmen intentionally meant to disrespect the late king.
"When you was born Thai, you're always be Thai," Facebook user Khun Pant wrote in English. "Three institutions are always above you: Nation, Religions and Monarchy. You should love, protect and respect. Stop believing that you are better and has rights. Such a crock of s—t. I live in California for 30 years with dual citizens, I have no right to insult anybody. You had forgotten where you are from, shame on you. Go eat s—t and die…"
"He don't realize that his wife attitude is inappropriate and disgusting, and had insulted Thai community. The only way for him to realize this is for him and his wife to go to a Middle East country and wear bikinis in red, throw a big party into a royal funeral… The Thai are too kind, for people as low as this writer and his wife," user Nhong Manit Boonmana, wrote in English.
The controversy arrived in Thailand on Saturday when conservative-royalist news agency TNews cited Facebook sources branding Carmen an anti-junta and anti-monarchy Redshirt. TNews posted photos of her with a group of Thai-looking people flashing three-finger salutes, a sign of opposition to military rule used in the early days after the May 2014 coup. In the photos, Carmen merely gives a thumbs-up.
Thailand-based Facebook user Kittitouch Chaiprasith was among those to accuse Carmen of being part of an anti-monarchy network, saying she was "faking her way to disrupt" the ceremony in the California. Facebook user Kamolwan Yoosin, called Carmen an "evil bitch" and added that if she was in Thailand, she would have been assaulted by foot by many people.
On Saturday morning, Carmen reshared photos from an event she attended at the Beverly Hills Country Club to celebrate the king's birthday three years ago, in which she also wore red.
Attempts to reach Carmen and Novarro via Facebook were unsuccessful as of Saturday afternoon.