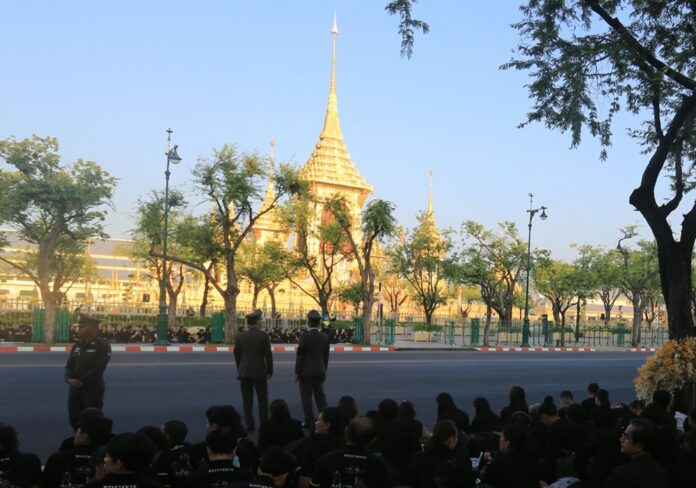 BANGKOK — Police declined to say Tuesday whether 42 people arrested at security checkpoints around the royal cremation grounds last week include any charged with royal defamation.
The authorities said 42 people were separately detained at different checkpoints after police officers scanned their ID cards and found they were wanted on existing warrants. Military and police reps would not elaborate on the nature of the charges or what types of crimes they were looking for.
"They were wanted in different criminal cases," police spokesman Dechnarong Suthicharnbancha said Tuesday.
Security was tight Thursday when His Majesty the Late King Bhumibol was cremated in an elaborate ritual, marking the end of his 70-year reign. Organizers estimate roughly 150,000 people were in and around the Sanam Luang to pay their respects.
Asked whether the arrests included suspects in lese majeste and national security cases, Dechnarong said, "We are still checking."
Deputy police commissioner Srivara Ransibrahmanakul likewise declined to identify the charges when reporters put the question to him earlier today. The police general would only say all 42 suspects had been taken to the courts for prosecution.
Defense spokesman Kongcheep Tantravanich said Monday those arrested did not intend to cause unrest inside the controlled area about Sanam Luang.
"Don't say they tried to infiltrate the area. It wasn't like that," Maj. Gen. Kongcheep said. "Don't turn it into big news."
Mourners making their way toward the royal cremation ground on Thursday were told to hold up their national ID cards to security cameras installed at the various checkpoints. Kongcheep said each checkpoint was equipped with a system that could instantly scan ID cards and run them against a criminal database.
Kongcheep added that he admired the spirit of the alleged fugitives for risking the checkpoints to be close to the late king.
"If you look at it in a positive way, you can see that even though these people did something wrong in the past, they were still loyal to the king," the spokesman said. "They tried to come and pay their respects."
They didn't make it inside but were immediately taken into custody.
Police said a force of 60,000 officers were deployed around the Sanam Luang for the funeral. Security was ramped up following threats by radical republicans to cause disruption, though no violence occurred that day.