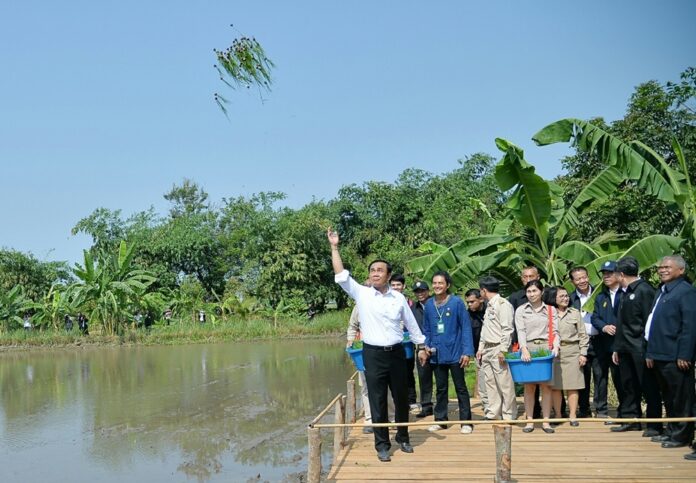 BANGKOK — About a million people joined the "Thai Niyom" program launched by junta chairman Prayuth Chan-ocha on its first day, according to a government official.
The program, which translates to Thai Way or Thai-ism, will see soldiers dispatched to communities to spread the government's social principles. Interior affairs minister Anupong Paochinda said soldiers are now being deployed to instruct residents about the initiative, and there is no time frame how long the program will run.
"In each village, about 100 people joined," Gen. Anupong said. "Excluding Bangkok, the number [of people who joined] is nearly one million." No data were provided to support the claim.
Read: From Prayuth's Lips to National Crusade, Just What is 'Thai-ism?'
Touted by the junta leader as a new system to improve the economy, society and even "understanding of Thai-way democracy," the program officially launched Wednesday with Prayuth touring Nakhon Pathom province.
A day earlier Prayuth summarized his program, which has been criticized as a vague neologism by critics, into 10 points: uniting people through social contracts; not abandoning each other; maintaining happy communities; practicing a self-sufficient Thai way; understanding rights, duties and laws; understanding the bureaucracy; understanding "Thai-way democracy;" raising technology literacy; fighting narcotics; and complying with missions from the state.
The junta chairman said he expects the initiative to reach up to 66 million people – just about the entire Thai population.
Junta critics like former Pheu Thai MP Worachai Hema call it a thinly veiled bid to control the population and campaign for the military government's ongoing rule.
"This is a sham democracy, because they only tell the people what the government is doing," Worachai told reporters Saturday. "It's state officials canvassing for votes while silencing others."