Photo: Krittakorn Dhimasombat / Courtesy
The capital's underground music scene mourned the loss of a nightlife institution last year after Dark Bar shut its doors once and for all, afflicted by authorities' progressively tougher measures to quieten the after-hours party scene in Bangkok.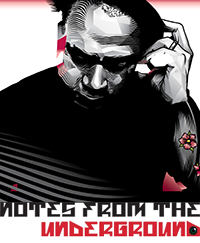 But its essence endures through events organized by Dark Bar queen, Nodnuanwan "Nod" Tatong, who in December hosted Dark Bar On Tour #1. Next month, fans of the former venue will relive its glory days when the tour makes a second stop at a Silom area club, with the likes of local hero Marmosets supplying techno beats. But before punters go ham, I had a chat with Nod, who told me what she has been up to since the bar's closure.
During Dark Bar's heyday, it was impossible not to notice the charismatic and stylish Nod as you walked into the venue. With her signature mop-top hair, lip piercings, tattoos and tribal jewelry, she'd be seen manning the bar on busy nights. On rare occasions she'd enjoy the vibes with punters on the dance floor. "She's always had her own style. She never followed any trend and never changed her ways," said Salinee Khemcharas, a longtime fan of the club.
Born and raised in Bangkok, 36-year-old Nod said she was just a normal '90s kid growing up who liked to listen to music such as The Cure. She also confessed to being a huge Michael Jackson fan. Nod completed her education in the United Kingdom, where she graduated from the London College of Fashion.
She said her first visit to Berlin in 2012 inspired her to open a venue that could recreate the vibes of that city's clubs. In 2014, Dark Bar opened for business. Shortly after, it became the place clubbers in the know flocked to every weekend. The hole-in-the-wall venue became famous for its raucous parties and late closing times.
It was this however, that also led to its closure. Nod would soon find out the ways of conservative Thailand would prove to be much different to those of liberal Berlin. Authorities did not welcome late nights and in June last year, Dark Bar closed its doors. Forever.
Never the one to let some authoritarian BS get her down, Nod has done the next best thing and taken the Dark Bar on the road by organizing a series of pop-up events. She took time out of her busy schedule have a chat with me about what's been going on in her life since the end of Dark Bar.
Mongkorn Timkul: Its been a while since dark bar closed its doors. What have you been up to as of lately?
Nodnuanwan Tatong: I have been studying a lot [at Chanapatana International Design Institute] lately, like interior and product design, meditation, dance and yoga.
MT: Everyone in the underground scene pretty much had an experience at Dark Bar. Can you let our readers know how and why the venue was created?
Nod: I love music, I love partying I love dancing, I have always gone out since I was a teenager. Dark Bar was created after my Berlin trip in 2012. I wanted to create an underground club/bar that remind me of my experiences in Berlin for fulfilling my own passion I guess.
MT: We all know the venue was closed due to pressure from authorities. Do you think things would have remained the same if it was still open?
Nod: Definitely. It would be the same.
MT: What's your opinion on the current state of Bangkok's nightlife?
Nod: I feel like when the authorities are getting involved in the scene too much, many people are tired of going out. Anyway, hopefully they will be more supporting in the future. Lately, I hardly go out but if I do will be at Studio Lam, De Commune and Beam.
MT: So dark bar is doing a series of parties. I guess it's hard to say goodbye to all the music and events after all. What inspires you to keep going?
Nod: The underground scene in Bangkok still inspires me. I want to support and be a small part of it to make this scene better and better.
MT: How did the last party go? And what can Dark Bar fans expect at the next event?
Nod: The last party was great. I enjoyed seeing people having good time. I think the next Dark Bar On Tour will be just like a reunion. The family is back together again just like the old times.
MT: I saw online that there are billboards in Pratunam and in Saint Petersburg, Russia with your picture. What's that all about?
Nod: I wish I could say, but I can't ka!
Dark Bar on Tour #2 will take place March 2 at Whiteline's Safe Room in Soi Silom 8. The closest Skytrain stop is BTS Sala Daeng. Entry is 250 baht.