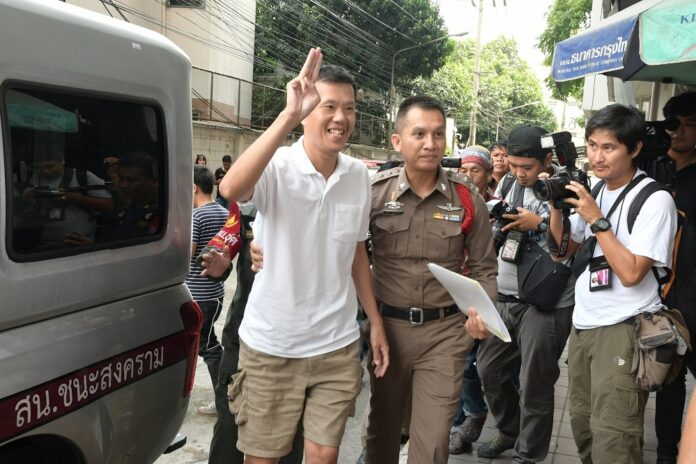 May 15 Update: The Criminal Court on Tuesday granted bail to Ekachai Hongkangwan on a 100,000 bond. No special conditions were imposed. He's expected to be released from the Bangkok Remand Prison at 8pm today.
BANGKOK — Pro-democracy campaigner Ekachai Hongkangwan was back in prison Monday after refusing to meet with police for questioning in an insurrection case against him, his lawyer said.
Ekachai, who served nearly three years in prison for royal defamation, was detained Sunday and denied bail by the court. His lawyer Phunsuk Phunsukcharoen said she will seek his release once the court reopens Tuesday. Government agencies are closed Monday due to the Royal Ploughing Ceremony, a holiday for public servants.
Police said they had to arrest Ekachai because he repeatedly failed to report to investigators for his sedition charge, which was filed against him for organizing pro-election demonstrations along with other activists.
Read: Activist Assaulted While Protesting Prawit's Luxury Watches
"Ekachai does not accept the procedure of filing charges against pro-election activists," Phunsuk said. "That's why he didn't respond to the summons warrants. But he never fled. He was staying at his home, and police know where his home is."
Phunsuk said she believes the court will grant him release on bail tomorrow.
Ekachai took up activism and became an inveterate critic of the ruling junta soon after his 2015 release. He's one of the activists behind regular rallies calling on the junta to hold elections this year. In its latest pledge – which has been postponed multiple times – the regime now says a poll will take place in February.
Protest leaders have vowed to march on the Government House on Saturday, in the run-up to the fourth anniversary of the coup d'etat, if the junta do not respond to their demands.
Related stories:
Military Frees Man Detained For Vowing to Wear Red
Police Intercept Activist With Cheap Seiko For Gen. Prawit
Activist Arrested Attempting to Petition Prayuth on Plaque