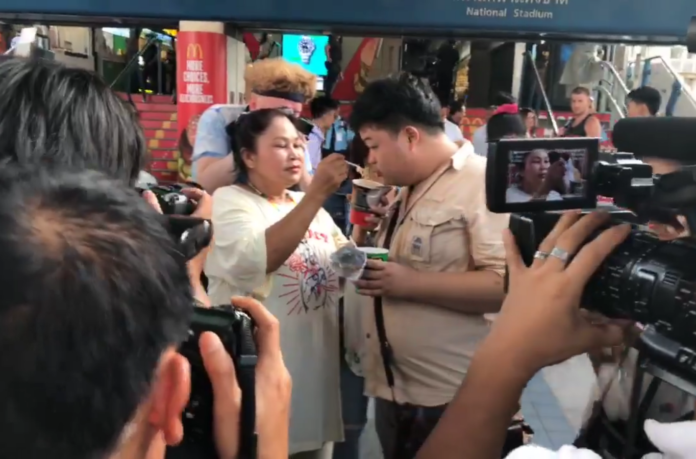 Update: Police decided Monday night not to press charges.
BANGKOK — Police summoned two student activists for leading a mock protest in which they ate instant noodles Monday evening near the MBK Center shopping mall, according to organizers.
Tanawat Wongchai, vice president of the Student Union of Chulalongkorn University, posted online that he and fellow activist Parit Chiwarak were instructed to report to a police station for questioning. He added that police are weighing legal action.
"Police invited me and Parit Chiwarak to the Pathumwan Police Station. They said they might press charge against two of us for standing around and eating Mama," Tanawat wrote, referencing the instant noodle brand.
Parit, who studies at Thammasat University, said he will turn himself in later tonight. He said he's already contacted a lawyer in case police press charges.
Tanawat had earlier called on people to join a "rehearsal to starvation" until the government sets an election date by eating noodle cups at 5:30pm on the skywalk in front of the shopping mall.
"I'd like to invite everyone to eat an instant noodles cup (or other kinds of food that look poorer than a noodle cup)," he wrote. "This is to rehearse our starvation during the time we're left without an election. I recommend bringing 'Wai Wai' or 'Quick' noodle cups to say that we want an election as soon as possible."
"This is not a political assembly (seriously)," the post continued.
Tanawat and Parit were joined by several people who also brought their own noodles. Police instructed them to clear the area in front of MBK Center, citing a law that bans protests within 150 meters from a royal residence, according to Parit. 
He said police contacted him and Tanawat after the brief protest.
The activity was held in the same spot where 39 pro-democracy activists and their supporters staged a protest to the junta in January. They were charged for violating the public assembly law.
Additional reporting Teeranai Charuvastra
Correction: An earlier version of this article said the two activists were detained. In fact, they were summoned.
กินมาม่า รอเลือกตั้ง Parit Chiwarak Tanawat Wongchai

โพสต์โดย Bow Nuttaa Mahattana เมื่อ 28 พฤษภาคม 2018