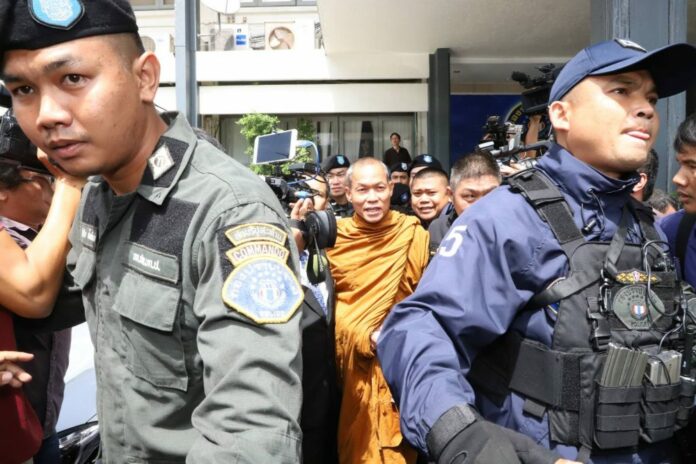 BANGKOK — A disgraced activist monk arrested on suspicion of royal forgery is suffering from a back pain caused by a herniated disc, a prison warden said Monday.
Suwit Thongprasert, who went by the name Buddha Issara prior to his Thursday defrocking, was placed on a wheelchair after having trouble walking, Bangkok Remand Prison chief Krit Krasaedhibaya told reporters.
Officials were considering his transfer to a prison hospital, he added. His comment came days after junta leaders apologized to supporters of the once-influential monk, who expressed shock and anger at footage of armed police commandos arresting Suwit at his temple.
"As of right now, Suwit has not been separated for special treatment," Krit said.
Krit said physicians from a prison hospital are scheduled to evaluate his conditions today.
Suwit, 62, was charged with multiple offenses following his arrest. His charges include extortion and firearms theft, but the most serious is an allegation that he used the royal insignia of the late King Bhumibol on amulets he sold without the palace's permission. Royal forgery carries a maximum penalty of 20 years in jail.
The former monk was denied bail on Thursday. Suwit will not seek a bail request, pro-junta politician Paiboon Nititawan said after visiting him in prison Friday.
His downfall took many by surprise, especially due to his reputation as a staunch supporter of junta chairman Gen. Prayuth Chan-ocha and his regime.
Read: Watch Dramatic Police Raid to Capture Renegade Monk (Video)
After Suwit's supporters, including hardline royalist general Rienthong Nanna, fumed on social media about the arrest, Prayuth apologized for the perceived mistreatment.
"He'd like to apologize on behalf of the police for upsetting certain groups of people. He has reprimanded and instructed them not to let this kind of incident reoccur," government spokesman Sansern Kaewkamnerd told reporters Saturday. "He also wants to apologize to Mr. Suwit for what happened."
A defense ministry spokesman also said junta No. 2 boss Gen. Prawit Wongsuwan was sorry for the arrest proceedings and chided security officers involved in the Thursday raid.
Both Prayuth and Prawit declined to answer questions from reporters about the apologies on Monday.