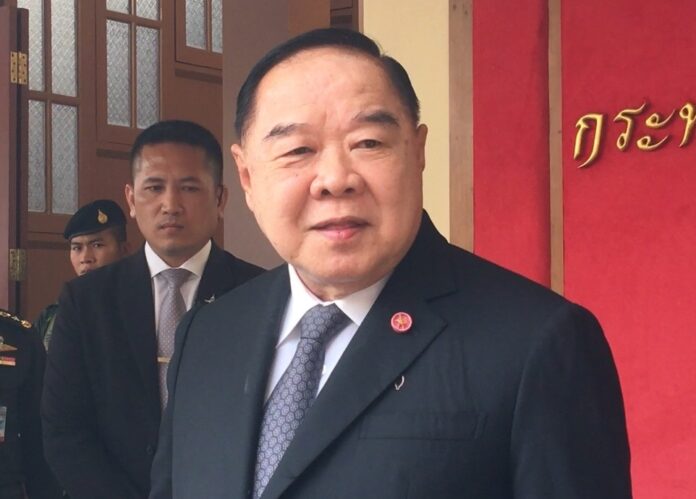 BANGKOK — Deputy junta chief Gen. Prawit Wongsuwan on Tuesday said he's sorry for suggesting Chinese people are to be blamed for a Chinese tourist ferry accident that left more than 40 dead last week.
In his Monday remark, which reportedly sparked anger on Chinese social media, Prawit alleged that the "Phoenix" was operated by an illegal Chinese firm that ignored weather forecasts. Police said the incident remains under investigation.
"The Chinese did it to the Chinese," Prawit, who also heads the defense ministry, told reporters. "So what can I do about it?"
Read: China Warns Travelers to Be Safe on Water Abroad
In an interview with reporters today, the retired general apologized, saying he only relayed what he was told.
"If I said anything that upsets people, I apologize. That's what the reports I received said," Prawit said.
Defense ministry spokesman Kongcheep Tantravanich repeated the apology in another interview with reporters. He said Thai authorities continue to assist the victims and coordinate relief efforts with Chinese officials.
At least 42 people died when their ferry capsized off the coast of Phuket island amid rough waves. Officials said all fatalities are believed to be Chinese tourists. Prawit accused the company behind the ferry of belonging to an illegal "zero dollar tour" scheme run by Chinese entrepreneurs.

A Thai Facebook page that regularly monitors Chinese social media said Prawit drew widespread condemnation from Chinese netizens who saw his remarks as insensitive.
"Many Chinese people are upset by his interview. There are many harsh comments. I'd like to refrain from translating them," Ai Zhong wrote.
Phuket police chief Teerapol Thipcharoen said the boat captain has been charged with fatal negligence, and that the force may press similar charges against owners of the boat soon.
However, he declined to say whether the firm was engaged in any illegal business, saying the investigation is not over.
"Whoever is implicated by facts will be prosecuted. We'll keep our eyes out. The operation is ongoing," Maj. Gen. Teerapol said. "We don't want these companies to make money without regard for safety."
Investigators will inspect the boat after it's salvaged to see if its structure passed safety standards, Teerapol added.
Chinese tourists made up about one-third of the 35 million tourists who visited Thailand last year.
On Monday, the Chinese tourism ministry issued a statement urging travelers to closely monitor weather and sea conditions and obey all warnings.
The statement, published in local newspapers and websites, did not mention Thailand by name but said some cruise companies have lax safety enforcement.