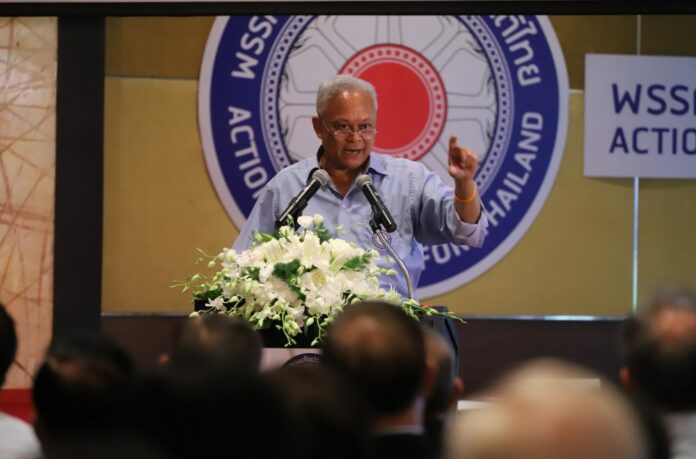 BANGKOK — A party backed by conservative hardliner Suthep Thaugsuban said its candidates for the next election will include an equal amount of men and women.
Suthep, who serves as "an advisor" to the pro-junta Action Coalition of Thailand, announced the policy at a party executive meeting Sunday, where its members also elected a former central bank governor as its chairman.
"We will send candidates to contest in every constituency. They will be selected through a primary vote, which means the people will be the ones selecting the party representatives," Suthep told reporters. "We have agreed they would consist of men and women in equal numbers."

At the assembly, held at the Landmark Hotel, Suthep maintained he would not influence the party or accept any political appointment after the election, insisting on a pledge made earlier this year that he's done with politics.
But the 69-year-old former deputy prime minister said he would continue to give his counsel to the party and campaign alongside its leaders in the run up to the poll – set to take place early 2019.
"I will not run for an MP seat in the election, whether in the party list or constituency list, but I will be on the stage giving speeches to help the party out throughout the country," Suthep said. "I will serve my duty as a coach and a mentor. I will use my 40-year experience to help their work."
Action Coalition for Thailand, formally registered in May, is widely seen as a proxy for Suthep and his brand of pro-establishment supporters, who organized street protests in 2013 and paved the way for a military coup a year later. Party leaders denied Suthep was calling the shots, but said they count him as an adviser.
In Sunday's meeting, former Bank of Thailand governor Chatumongol Sonakul was elected party chairman. Academic Anek Laothamatas, who served as an interim party leader until Sunday, reportedly withdrew and declined to contest in the leadership race.
Chatumongol, a former Democrat MP, said no party will win a landslide majority in the upcoming election, and that he's confident his party would form a coalition with other winners. He also told reporters it's too early to say whether he will support junta chairman Gen. Prayuth Chan-ocha as the next premier.
Asked whether he's willing to work with other parties, Chatumongol said he foresees a cordial cooperation, but struck an ominous tone when discussing the Pheu Thai Party.
"I don't even know if Pheu Thai will still exist by then," the 79-year-old said.