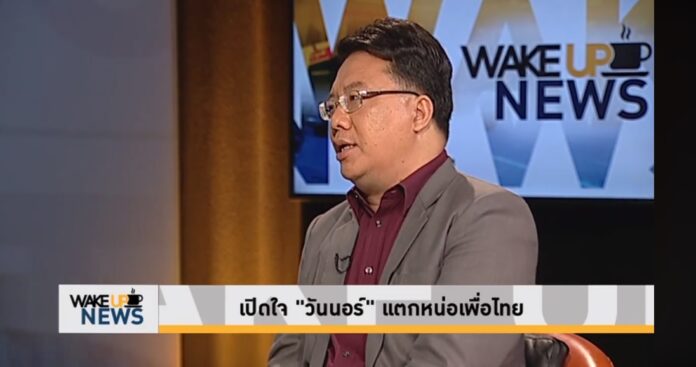 BANGKOK — Voice TV said on Monday it would suspend two prominent news commentators from a morning program for a month after citing pressures by the national telecommunications commission.
Virot Ali – one of two political commentators suspended from the Wake Up News program – said the National Broadcasting and Telecommunication Commission accused him and his colleague of being biased and reporting too frequently on ousted former premier Thaksin Shinawatra. The station is owned by Thaksin's son Panthongtae.
"The [commission] left us with no option. They said we have committed repeated violations and threatened to revoke our license," Virot said, referring to the permit to operate the TV station.
Virot said the commission gave no explanation or written order, and that the station was told to propose how to penalize itself. He added that he believes the military regime pressured the commission to act.
NBTC secretary general Takorn Tantasith was not available for comment as of press time Monday afternoon.
Prateep Kongsib, director of Content and News Programs at Voice TV, said Monday that the suspension would extend from today through Oct. 17. Prateep said substitute staff will man the program until then, adding that a daily online political vignette by cartoonist Sia would also be suspended for the same period.
Prateep said the commission had already called the station five times this year to make clarifications.
"No penalty has been imposed this time because they want us to re-examine and improve on some parts," Prateep said.
In a Sunday Facebook post, Prateep wrote that they had to put up with such scrutiny and listed four other TV hosts working at the station who had previously been suspended.
"In the end, we still reserve the right to fight in the justice process," he said.
Sirote Klampaiboon, the other suspended commentator, wrote Sunday night on Facebook that he had been accused of political bias and making sarcastic remarks about the government.
"I draw the line on my views toward this government based on direct criticism. I do not attack them for being dictatorial. I don't say they came to power through a coup. I don't touch on their personalities and never exploit any chance to wrongly accuse the government."
Sirote's post elicited many comments, including one from former Nation TV President Adisak Limparungpatanakij.
"This behavior you describe is no different to that of a wolf and a sheep. No matter which era, the symptoms of underlings who feel they are insecure tend to lead to such behavior to pay lip service to the boss. But in the end, the boss will unknowingly be in ruins, because they end up closing their own ears and eyes without wanting to hear or read bad things about themselves," Adisak wrote.