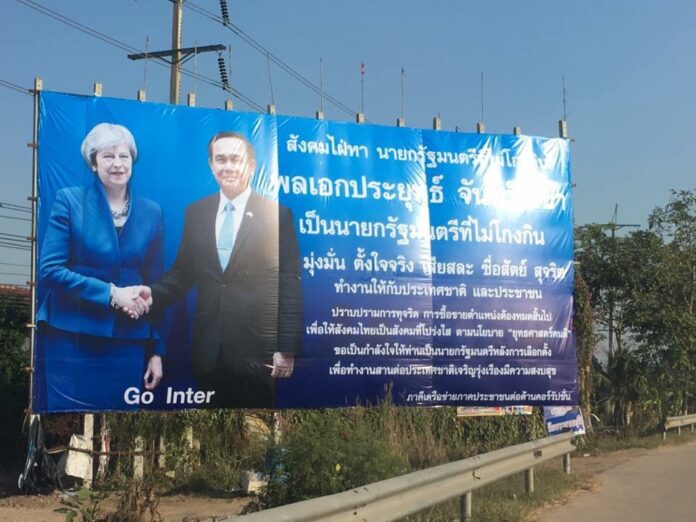 RATCHABURI — A giant billboard calling for the junta leader to remain in power in Ratchaburi province has been taken down following complaints, while a deputy government leader says it was not equivalent to campaigning politically.
The roadside billboard featured an image of Gen. Prayuth Chan-ocha shaking hands with British Premier Theresa May and captioned "Go Inter." After photos of the billboard spread online and drew denunciations, it was replaced Thursday by an advertisement for a temple event.
Erected by a pro-establishment group, the Anti-Corruption Organization of Thailand, the billboard read, "Society seeks an uncorrupted prime minister. Gen. Prayuth Chan-ocha is an uncorrupted, determined, dedicated, self-sacrificing, honest and upright prime minister."
"We're rooting for you to become prime minister after the election, for you to be able to continue working for the advancement and happiness of the nation," it continued.
The group in September awarded Prayuth full marks for his anti-corruption efforts. Asked to detail its criteria, the group only said the recognition was due to Prayuth's "sincerity" in fighting corruption.
Although a junta ban on civilian politics remains in place, Gen. Prawit Wongsuwan said the sign was fine because a royal decree setting an election has yet to be announced, and that Prayuth has not been nominated by any party as a candidate.
"It's not advertising," he said. "It's a sign from an anti-corruption group, not just any individuals."
When asked by reporters if that means other parties can also erect billboards supporting individuals of their choice, Prawit said he didn't know, and that "they can do whatever they want as long as it isn't illegal."
Residents in the area said the sign was put up earlier this week.
Pictures of the sign that spread online yesterday were met with amused and frustrated comments.
"Where's the Consumer Protection Office? This billboard is false advertisement, deceiving consumers. Please review," wrote Facebook user Nui Sittijarounsukchai.
"Such a disrespectful use of a leader of another country for campaigning. A danger from having stupid but hard-working minions," wrote Twitter user @Phichai.
After the wave of criticism, Facebook user Pongsak Phusitsakul this morning posted pictures showing the sign had been replaced by one for a merit-making event at Wat Pikul Thong. A couple of police officers were also seen inspecting the spot.
Prayuth on Tuesday said he's interested in working with the pro-junta Phalang Pracharat Party, one day after it said it would nominate him to serve as the next prime minister.