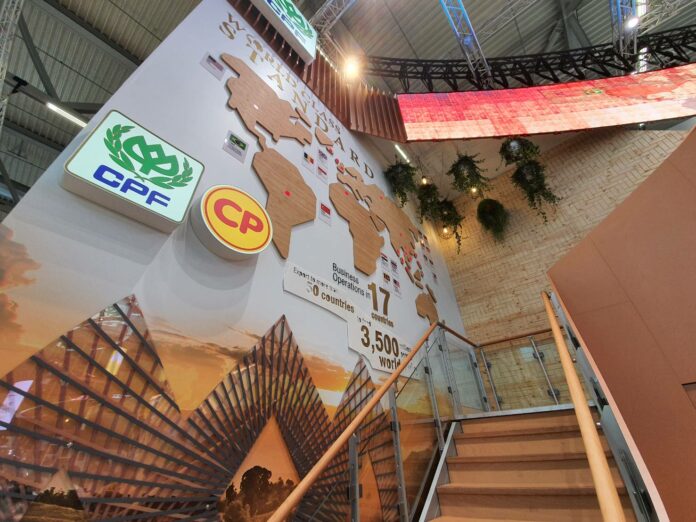 C
haroen Pokphand Foods PCL (CP Foods) will exhibit innovative food products from its socially- and environmentally-responsible production process at Anuga 2019, the world's largest food and beverage fair which will take place in Cologne, Germany during 5-9 October.
Mr. Prasit Boondoungprasert, Chief Executive Officer of CP Foods, said the company will be among more than 7,600 leading food and beverage producers across the globe that participate in the fair. The company's display this year will feature its forefront leadership in socially and environmentally-responsible innovation under the concept "Put Our Heart Into Food", which is based on the company's key principles – Innovation, People and Planet. The concept reflects a dedication to deliver a wide range of high-quality, safe and standardized products, through a responsible production process that highlights animal welfare, continuous food innovation development, customer satisfaction and environmental sustainability.
"The exhibition at Anuga 2019 affirms our "Kitchen of the World" vision. We are a leading food producer from Thailand that focuses on the production of high-protien and safe food products and innovation that addresses global trends and modern consumers' demand, through our production network that covers 17 countries," said Mr. Prasit.
Highlights of the exhibition include Benja Chicken, the U Farm-branded premium chicken meat. The chicken is raised by a purely natural process, being the first in the world to be fed with brown rice. It is certified by NSF International for zero use of antibiotics or growth hormones, earning the chicken a recognition as "Superfood" for the entire world. The chicken meat is warmly welcomed among Thai consumers.
Other highlights are innovative food products from its global production bases including PURE-branded Vegan Lasagna of Belgium-based Tops Foods Co., Ltd., a ready-to-eat meal that won THAIFEX 2019's Innovation Award thanks to its eco-friendly wood pulp packaging; Charcoal-grilled ChickenSnack from CP Food (UK) which was unveiled at Anuga 2017; high-nutrition Smart Soup for the elderly and patients developed in collaboration with Mahidol University's Faculty of Medicine Ramathibodi Hospital; and top-selling products around the world such as Korean-styled Crispy Chicken with Korean Hot & Spicy sauce that chalks in high sales in Singapore.
CP Foods is the first and only non-Europen producer that earns QS Standard for its chicken products from the European Union, recognized as the highest food standard among consumers in Germany and across Europe.
The company operates an integrated production model that aims to raise added value. A digital system has been developed to elevate the supply chain efficiency, to ensure consumers in 5 continents enjoy world-class safety and quality.
It has also emphasized sustainable development in the economic, social and environmental aspects, by integrating the United Nations' Sustainable Development Goals into its operations. In focus are the attempts to reduce greenhouse gas emissions and plastic consumption, to raise the ratio of clean energy to 25% in 2025, and to improve waste management. It also strives to introduce environmental-friendly packaging and improve labor management under human rights best practices.
Thanks to sustainability-focused operations, CP Foods has been listed in globally recognized sustainability indexes including Dow Jones Sustainability Indices (DJSI) Emerging Markets 2019 for five consecutive years and FTSE 4 Good Emerging Index for three consecutive years.