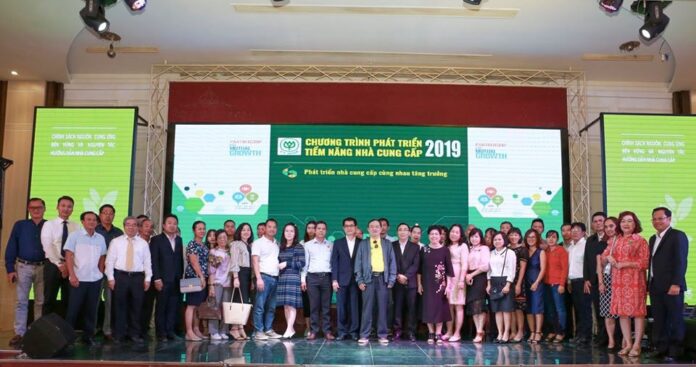 CP Vietnam Corporation (CP Vietnam) hosted Capacity building for partnership 2019 training programme in an effort to promote sustainable supply chain management by guiding its business partners to comply with international standards for human rights and labor practices.
Over 150 partners from 78 companies were participated at the training hosted by CP Vietnam, in cooperation with the provincial Department of Labour, Invalids and Social Affairs of Dong Nai.
Mr. Chamnan Wangakkarangkul, Executive Vice President- Animal Feed & Breeder Business and President of Sustainable Sourcing Committeeof CP Vietnam, told that the company has adopted the Sustainable Sourcing Policy and Supplier Guiding Principle, which take human rights and wellbeing of those who work in the company's value chain into a top priority.
In line with the policy, CP Vietnam has initiated the training program to share its expertise on occupational health and safety as well as human rights principle and labour practices to business partners.
"The company cannot achieve sustainable growth without good partners. Therefore, we have initiated the Sustainable Sourcing Policy and Supplier Guiding Principle to guide our business partners to undertake any kinds of international labor standards, helping them to grow sustainably and together with us." Mr. Chamnan said, adding that the better labour practices will also raise competitive advantage for Vietnam's food industry at the global stage.
Mr. Worawit Arunraksa, Assistant Vice President Corporate Social Responsibility & Sustainable Development (CSR&SD) of CP Vietnam, added that company has adopted and communicated the sourcing policy, covering four main areas including product and services' traceability (Product), fair treatment of employees and human rights (People), environmental-friendly process (Process), and verifiability performance and risk management (Performance). It is also importance to note that 100% of critical suppliers has been assessed on sustainability aspects.
Being recognized for its sustainable practices, the company was listed in the Corporate Sustainability Index (CSI) 100 for 2 consecutive years, demonstrating outstanding performances in the area of economy, society, and the environment.