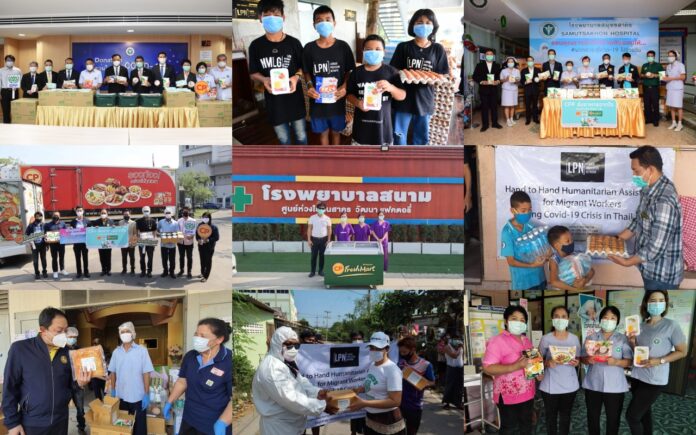 Charoen Pokphand Group (CP Group), Charoen Pokphand Foods PCL (CP Foods) and partners have made a series of measures under "CPF Food from the Heart against COVID-19" project, including donating 250,800 pieces of surgical masks and 129,000 packs of ready-to-eat meals, to help frontline healthcare workers, volunteers, and vulnerable groups, including migrant workers, tackle the new wave of COVID-19 pandemic.
CP Foods' Chief Executive Officer Prasit Boonduangprasert said that "CPF Food from the Heart against COVID-19" project was initiated to deliver safe food supplies, ensuring food security in Thailand. This is also in responding to the policy from Mr. Dhanin Chearavanont, senior chairman of CP Group, who wants to help Thailand combatting the COVID crisis, and the group's "3-benefits" philosophy, which are the country, the people and, lastly, the company.
"CP Group and CP Foods are sending our care to people all over the country with quality and safe foods. We are currently delivering essential supplies, such as ready-to-eat meals and surgical masks to frontline medical staffs, volunteers, and vulnerable group, including migrant workers." Mr. Prasit said.
He added CP Foods is committed to helping people living in Thailand withstand the effects of the COVID-19 outbreak with multiple supporting measures until the crisis is over.
Since January 2021, 129,000 packs of ready-to-eat meals has been donated by CP Foods and CP Group. This includes 61,200 packs for 15 hospitals in six provinces, including Samut Sakhon, Samut Songkhram, Nakhon Pathom, Ratchaburi, Suphanburi and Kanchanaburi, and 22,000 packs to field hospitals in Samut Sakhon province.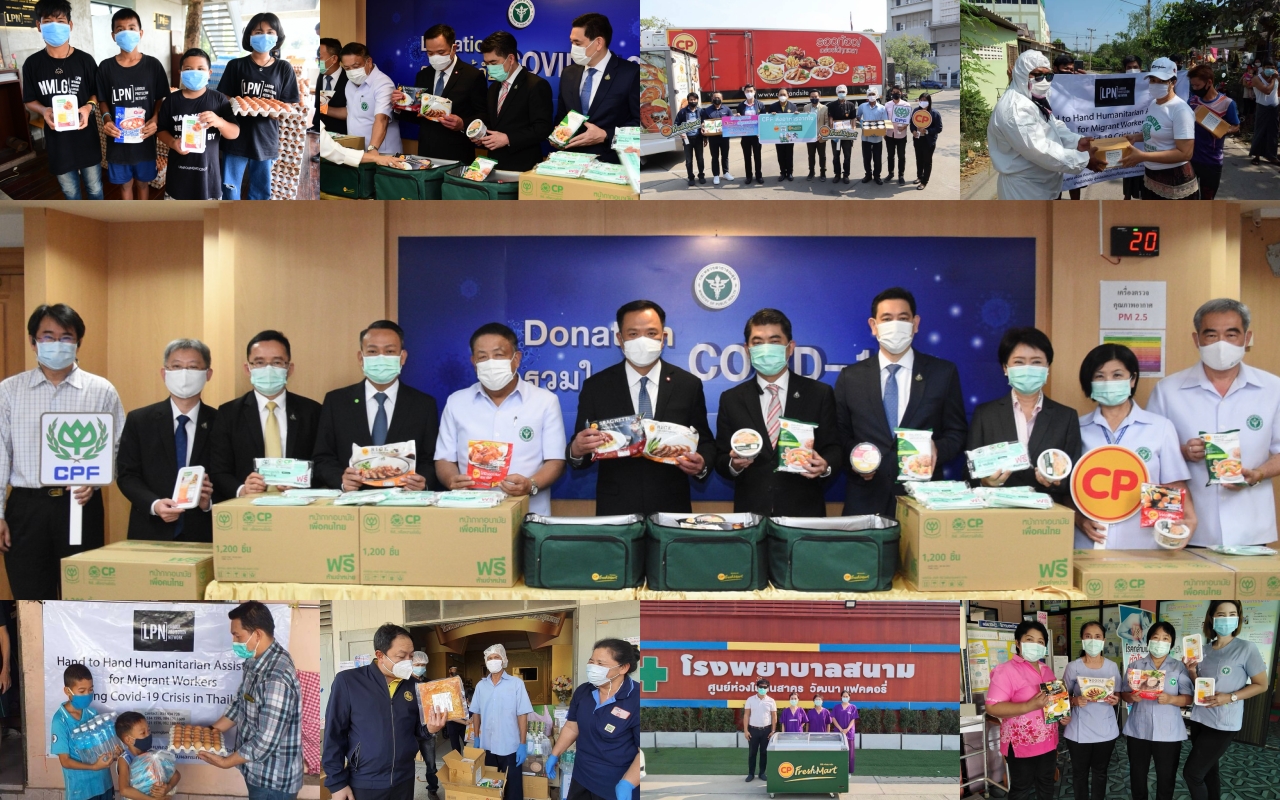 The company also supplies foods to migrant groups working in Thailand. CP Foods in collaboration with Labour Protection Network (LPN) donated 30,800 packs of meals and 10,000 eggs to support 1,200 families of Myanmar workers under house quarantine around Mahachai Shrimp Market in Samut Sakhon. Later, the company gave out 3,600 packs of foods, 36,000 eggs, and other essential goods such as water, beverages, rice, and vegetable oil to the migrant workers via Embassy of Myanmar.
Aside food supplies, the company and CP Group donated a total of 250,800 pieces of mask to vulnerable groups via the Centre for Covid-19 Situation Administration, the Bangkok Metropolitan Administration, migrant workers via Embassies of Myanmar, Cambodia, Laos and Vietnam, and frontline medical staffs via Ministry of Health.
"On behalf of the government, I would like to express thanks to CP Group – CP Foods for their constant COVID-19 relief efforts. Initially, CP Foods delivered quality meals to healthcare workers and their families across the country to fight the COVID crisis. Once again, CP Group and CP Foods have lighten the burden of health workers at field hospitals as well as boosting well-being of the patients there," said Anutin.
"CPF Food from the Heart against COVID-19" project was initiated in March 2020 to ensure food security and food safety for medical staffs and vulnerable groups, including migrant workers, who have been affected by the coronavirus pandemic.