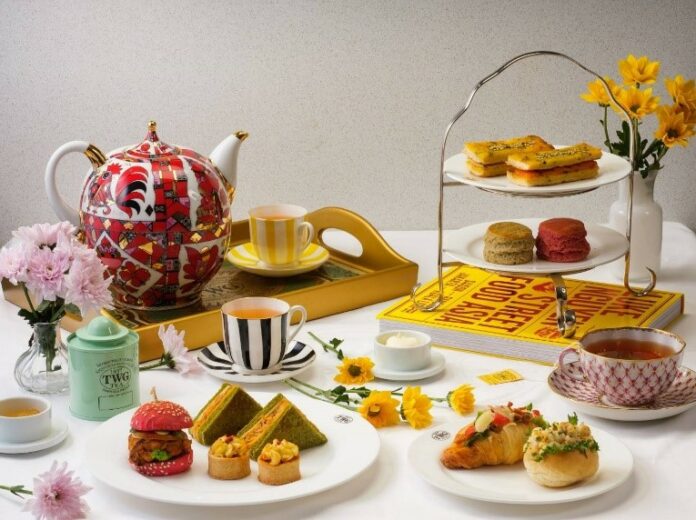 Stay home and stay calm with TWG Tea's exceptional selection of fine-harvest and exclusive tea blends. Bridging the gap with customers caused by social distancing, TWG Tea is revolutionising the tea experience with a new official TWG Tea Lazada Flagship Store to complement the brand's unique experience at brick-and-mortar tea salons & boutiques in Bangkok.
Brewing a comprehensive digital experience and a convenient shopping platform for all tea lovers, this new online store offers various TWG Tea signature products from the signature Haute Couture Collection, 100% Cotton Teabag Collection and tea accessories. Popular teas include the Silver Moon Tea, 1837 Black Tea, French Earl Grey and Geisha Blossom Tea. From time to time, new products such as the new Marrakech Mint Teabag, will be added to the collection, launching first or exclusively on the Lazada flagship store.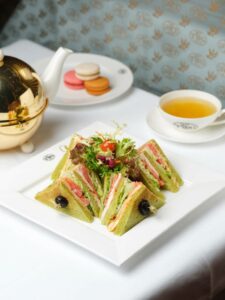 Tea lovers and gourmands alike can enjoy an array of sensational tea-infused savouries and patisseries in the comfort of their own homes. For a limited time, TWG Tea offers a special delivery menu of Majesty Tea Time Set (690 THB), showcasing a delectable spread of eight tea-infused canapes including mini spicy chicken burger with roasted garlic and sundried tomato; butter croissant stuffed with chicken tossed in Caesar dressing; petite wagyu shepherd tartlet with mashed potato; brioche roll stuffed with lobster tossed in garlic aioli; matcha tuna melted sandwich with cheddar and French comte cheese; and TWG Tea croque cheese sandwich with Turkey ham and smoked salmon.
The set also includes the Eternal Summer Tea and French Earl Grey infused scones, served alongside two TWG Tea cotton teabag sachets.
To spice up this stay-home and work-from-home period, delivery services are also available for a wide range of salad, pasta, noodles, sandwiches and main courses freshly prepared and incorporated with signature TWG Teas.
Try the all-time favourite dishes which include Tuna & Rocket Salad (390 THB) with seared crusted tuna on a bed of rocket salad, accompanied by a Tokyo-Singapore Tea infused ginger and sesame dressing; Spicy Seafood Spaghetti (440 THB) with pan-seared clams, cuttlefish, and tiger prawns accompanied by spaghetti tossed in a spicy tomato puttanesca sauce infused with Ocean Voyage Tea; and the Thai-Style Tom Yum Spaghetti (390 THB) with tiger prawns, spaghetti and herbs tossed in a Black Nectar Tea infused spicy and sour tom yum sauce.
For healthy meat and seafood main courses, indulge in the Duck Confit (420 THB) accompanied by spinach, braised red cabbage and shimeji mushrooms served with an Asian tamarind sauce infused with Caramel Tea; or the Norwegian Salmon Steak (460 THB) served alongside seasonal vegetables and potato mash with lemon and garlic cream sauce infused with Lemon Bush Tea.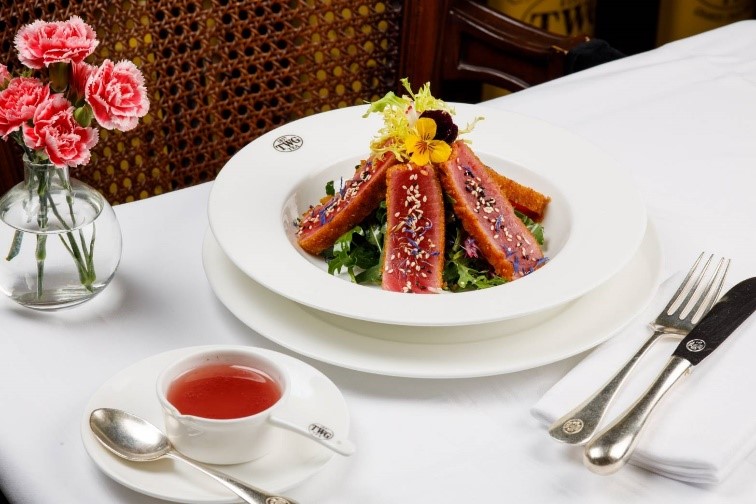 For those who fancy bold flavours, Thai-inspired dishes include the must try Stir-Fried Lobster (390 THB) seasoned with holy basil leaves and fresh chili sprinkled with Black Nectar Tea leaves and accompanied by a fried egg and Red Jasmine Tea infused steamed jasmine and rice berry rice; and a comforting bowl of Wagyu Beef Noodle Soup (340 THB) with thinly sliced Wagyu Beef served with rice noodle in Talisman Tea infused broth and then topped with bean sprouts, coriander and Chinese Kale.
Need a quick and light bite? Delight in the Matcha Club Sandwich (290 THB) with slow-cooked chicken breast layered with fried egg, smoked turkey bacon, Roma tomatoes and lettuce chiffonade in a pommery grain mustard mayonnaise sauce on toasted artisanal Matcha pain de mie and accompanied by delicate green salad tossed in an 1837 Green Tea infused vinaigrette.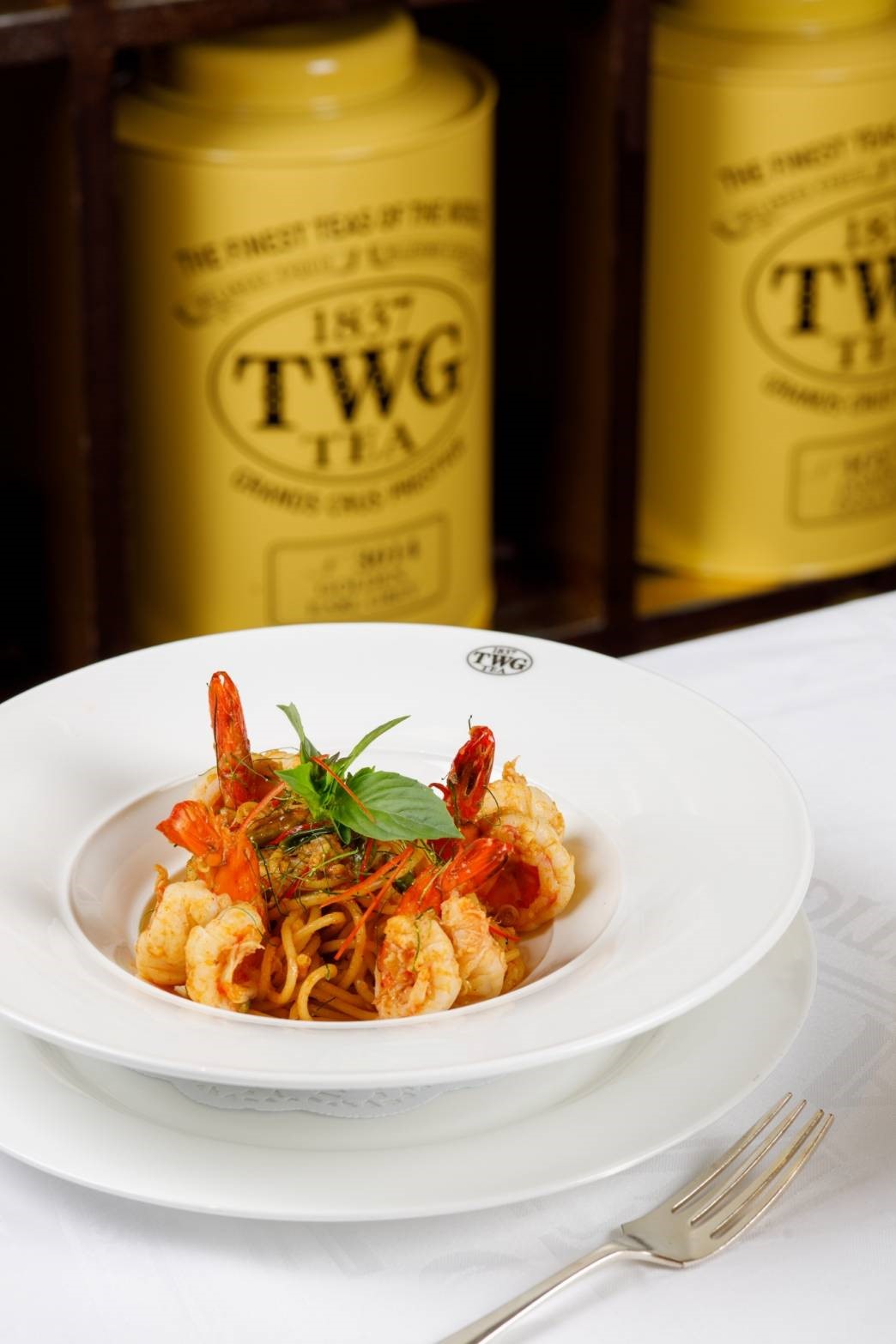 For TWG Tea delivery orders, please call 02-610-9527 for TWG Tea at Siam Paragon, and 02-259-9510 for TWG Tea at The Emporium in Bangkok. Alternatively, simply order via LINE: @TWGTeaTH and enjoy free delivery with every 800 THB spend, or order online via Robinhood food delivery platform.