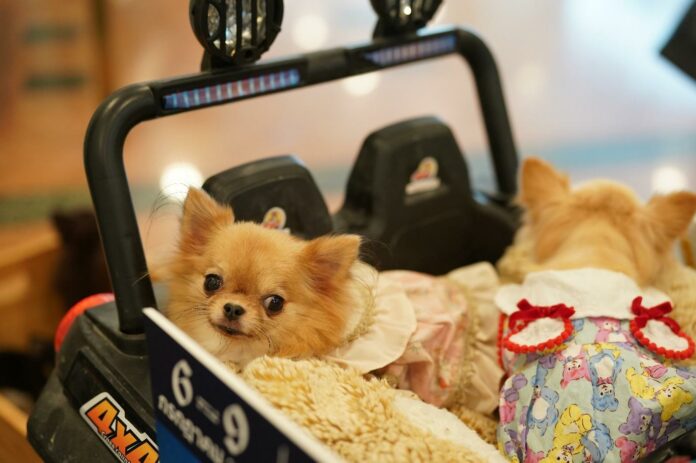 Attentions for Dog Lovers! Don't miss out this year's "21st Thailand International Dog Show 2023" bigger than ever at IMPACT, exclusive this year a FCI Grooming contest will be hosted, with a dressing up theme of "Dog Show Sahara" and with more than 250 vendors.
Ms. Kunwadee Jintaworn, Executive Director of IMPACT Exhibition Management Co., Ltd. revealed that IMPACT is preparing to hold a big event. Dog Show 2023 (SmartHeart presents Thailand International Dog Show 2023) for the 21st time, the fair will be held from 6 – 9 July 2023 at Building 5-6 at IMPACT.
Under the concept of entering the Pet Humanization era in response to the continuous growing trends of the pet industry. As a result, subsequent to the COVID-19 pandemic, the company aims to be an intermediary for the development of the pet industry, especially dog lovers.
Therefore, the company has collaborated with partners such as The Kennel Association (Thailand), Thai Pet Products Industry Association (TPIA), Perfect Co., Ltd. and its partners are ready to host this grand event with more than 250 booths on an area of over 10,000 square meters. We also organize business matching activities with pet industry entrepreneurs from overseas. More than 150,000 people are expected to attend the event, generating sales of up to 70 million baht over 4 days.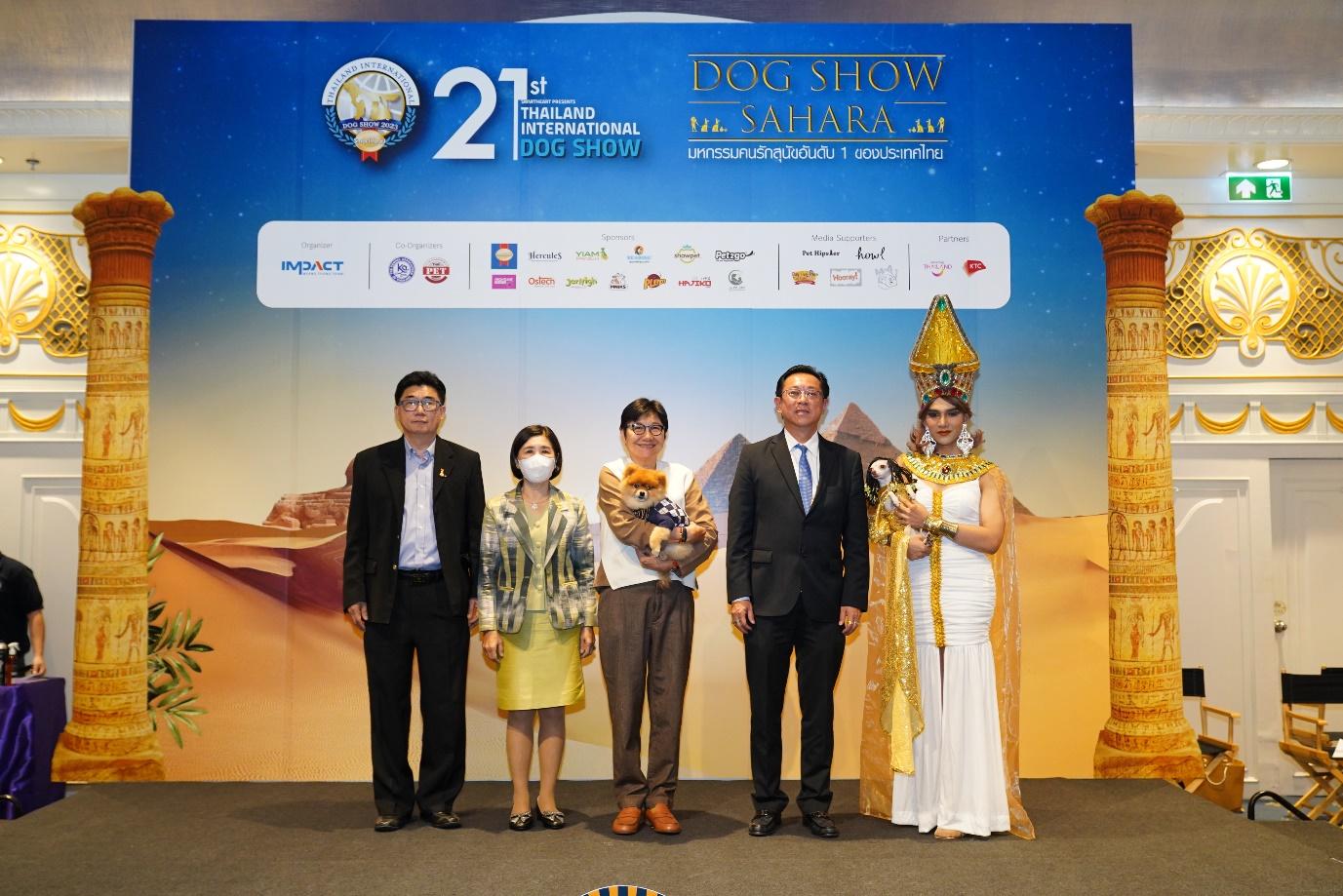 Mr.Woraphat Akkulkrailert, the President of the Thai Pet Products Industries Association (TPIA) said that in response to the growing pet trend, The association is committed to developing and providing information to producers and consumers to experience a deeper knowledge and understanding about the quality of pet products. The target market being groups who have been long-term pet owners or just starting, so they can be aware of the quality of a variety of pet products and services. 
Although the market is competitive, there is still room for growth. The trend being dog owners are changing their behavior to become more like Pet Parents. The trend of raising small breeds of dogs has increased during and after the COVID-19 situation. Small dogs are easy to carry around and do not demand much space.
As a result, the pet products business market such as food, treats, supplies, pet supplies, and various Pet Friendly places that welcome dog lovers, has grown. Last year's exports of pet food and snack products were high, the businesses related to various groups of pet products in the country generated exports of 96,000 million baht. (Figures from the Department of Livestock)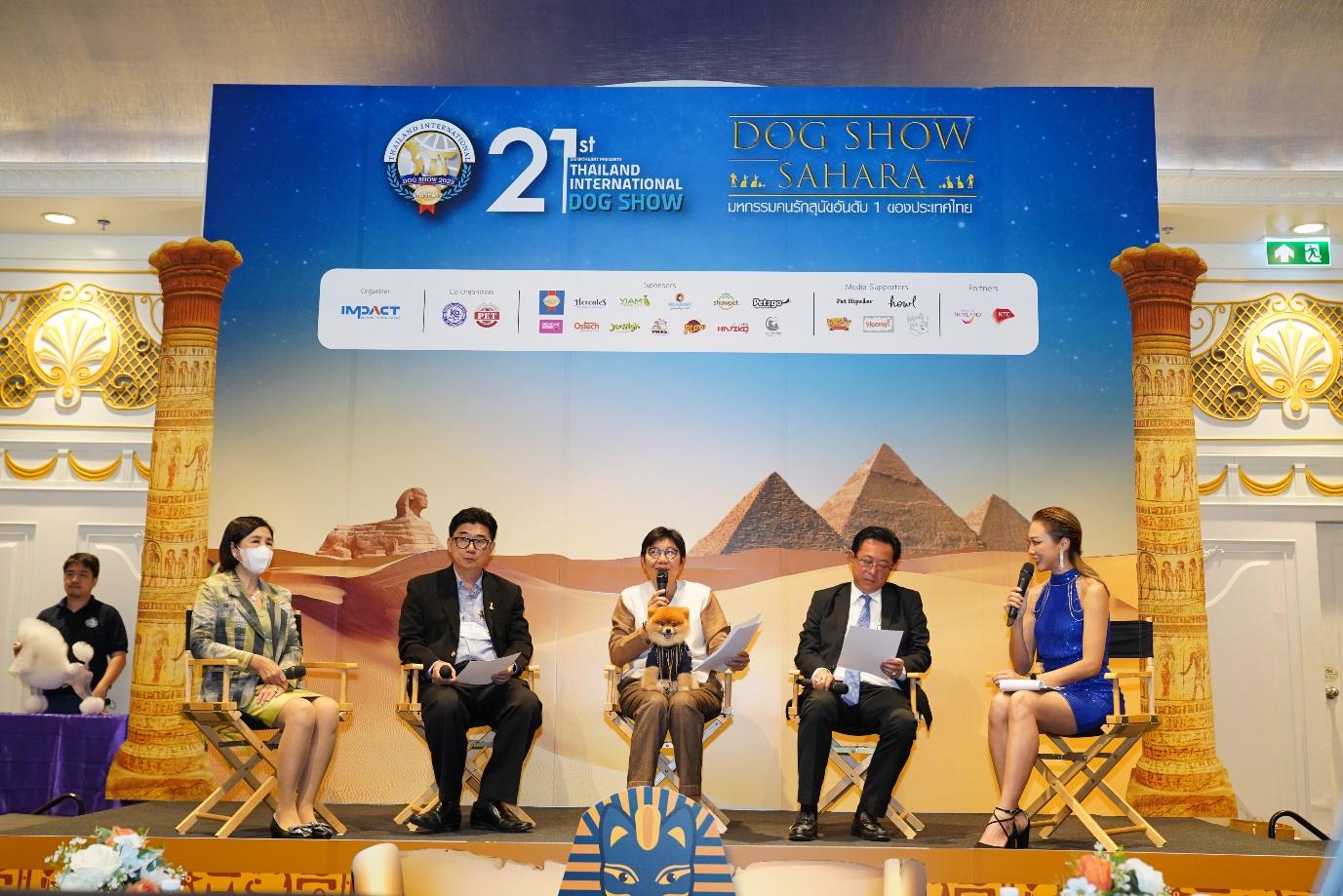 Mrs. Wanida Busakornnunt, the President of the Kennel Association of Thailand (KATH) said that the association has a long experience in organizing dog contests and strongly believes that Pet Humanization will drive more people to participate in the contest. Because in the market there are products and services that meet the needs of Pet Personalization, it has received a lot of positive feedback from owners who bring almost perfect looking dogs to this year's event.
The association sponsored the Thailand International Dog Show and the national Championship, with a total of 4,000 dogs from 16 countries representing the Philippines, Korea, China, Vietnam, Japan, Indonesia, India, Russia, Pakistan, Australia, Malaysia, Singapore, Hong Kong, Taiwan, Belgium and Sri Lanka.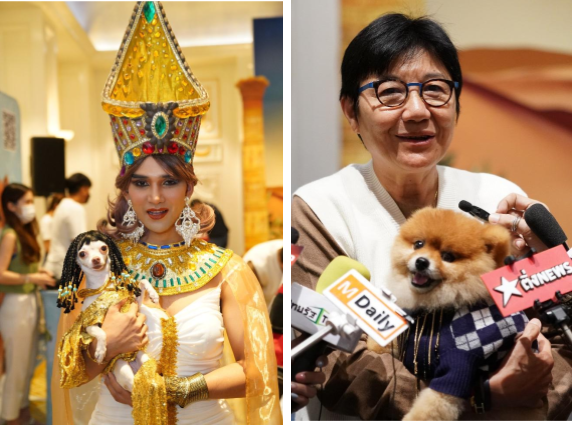 Pomeranians are expected to be the most submitted, coupled with the trend of dog contests being on the rise, thus the FCI Thailand International Grooming Examination contest was launched for the first time at this event. (For the first time in Thailand, we have received interest in dog grooming exams from many nations such as Thailand, China, Vietnam, Taiwan, Malaysia, and India (This time, we invited experienced judges from Japan to judge the dog grooming exam). There will also be the FCI Agility Championship 2023, to find the ultimate most agile dog. Another sporting event with a variety of categories to compete in.
Mr.Supakrit Assavachaiporn Senior Vice President, Customer Relations, Perfect Company Companion Group Co., Ltd. the manufacturer, and distributor of SmartHeart products, said that SmartHeart has a vision to improve the quality of life for both people and pets. Through continuous care and product innovation, we can be confident that our products and services will help to build a good relationship between the dogs and its owners, along with the current expansion of the Pet Centric product line because dogs also have personalized needs, like its owners.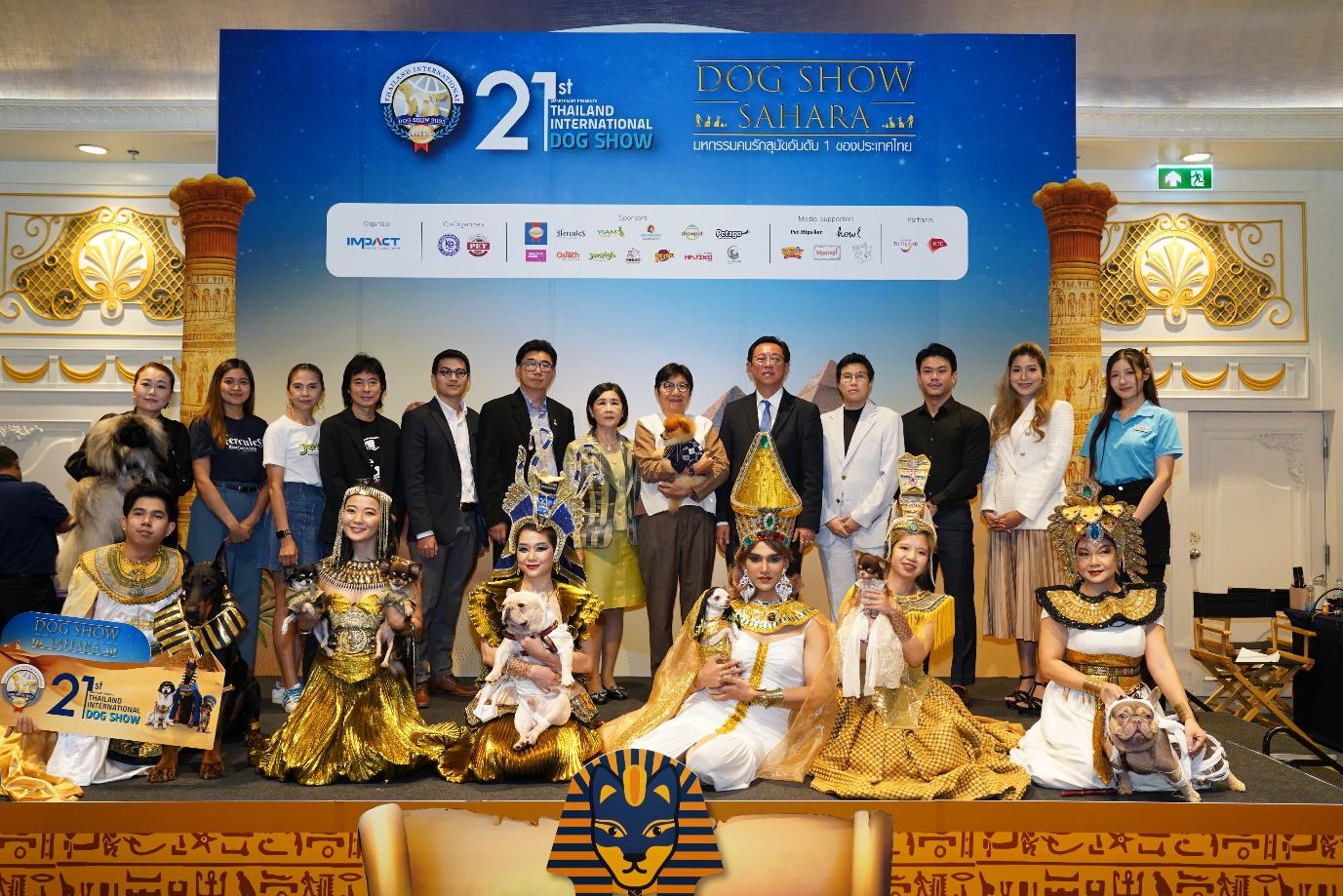 Additionally, there are many other activities at the Dog Show 2023 (SmartHeart presents Thailand International Dog Show 2023), such as the TPIA's pet shop award 2023 ceremony, the Thailand Pitbull weight pulling competition, a find-mom race, good relationships with owners and their dogs / circuit activities for puppies / dog show with Sahara theme dress up activity and a chance to win 21 prizes for the event's 21st anniversary to all customers attending.
A portion of the proceeds will be donated to a foundation that helps puppies under the project called "the 1-baht project for hungry pups" with an entrance fee costing 20 baht per person (children and pets are free of charge).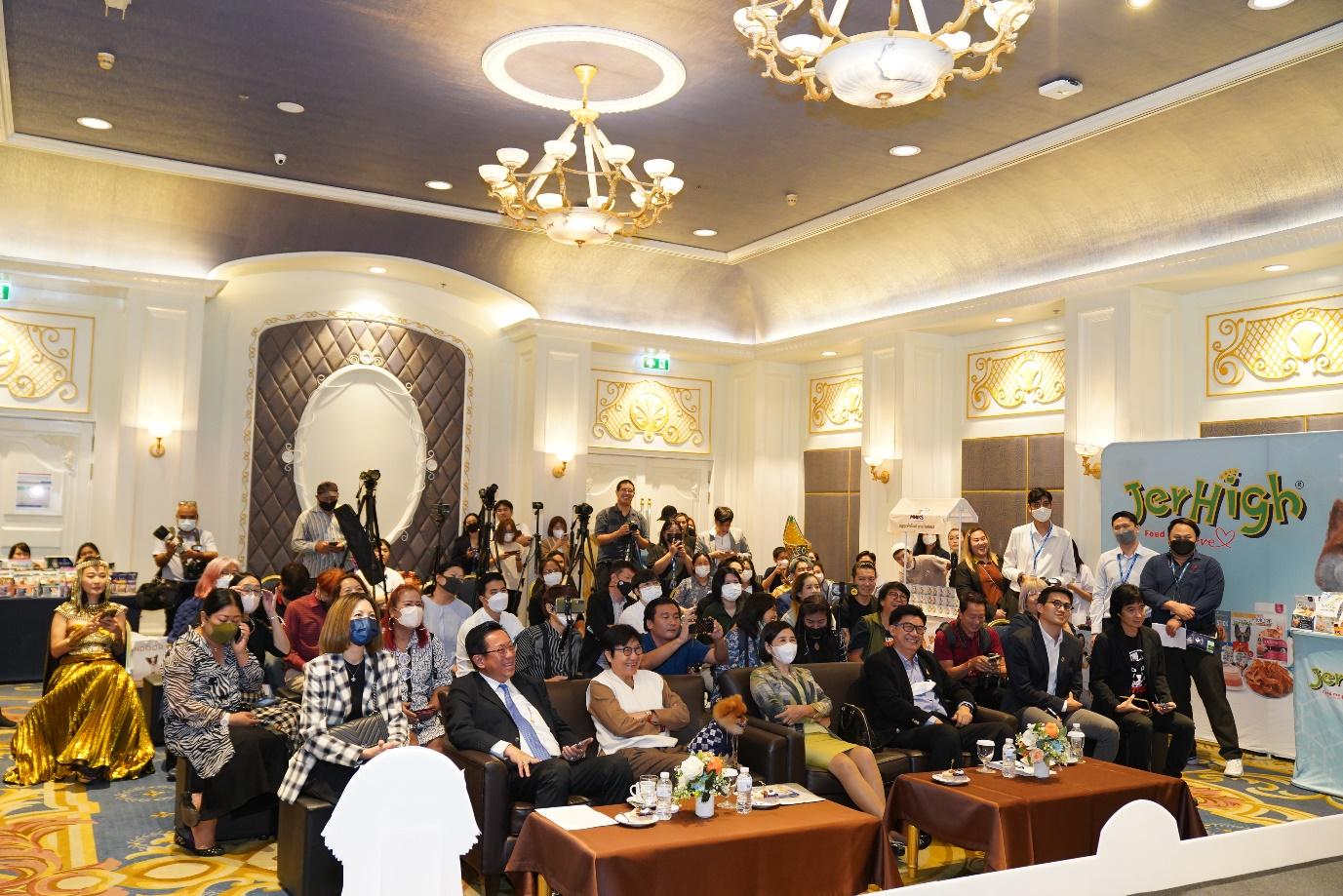 Join us at "SmartHeart presents Thailand International Dog Show 2023″, Thailand's No.1 Dog Lovers Expo, during 6 – 9 July 2023 from 10.00-20.00 hrs. Building 5-6 of IMPACT Muang Thong Thani.
A special promotion for the early bird purchase: buy one ticket get one free ticket. 
For event registration and more information, please visit website www.thailand-dogshow.com / Facebook Thailand International Dog Show/ or add Line @Dogshow