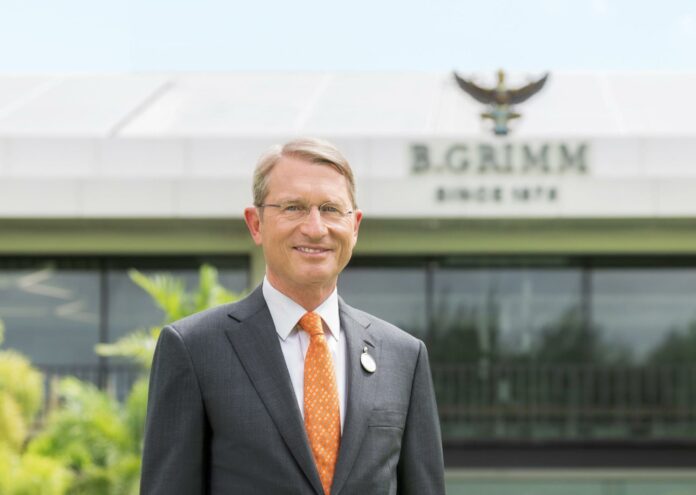 B.Grimm Power Reveals Ambitious Growth Plans Aligned with 'GreenLeap,' Drive Strong Global and Domestic Partnerships, Enhancing Power Plant Efficiency and Expanding Renewable Energy Portfolio Toward Net Zero Carbon Emissions.
Bangkok, September 25, 2023 — B.Grimm Power Public Company Limited (BGRIM), a Thailand's leading industrial power producer, reaffirms its commitment to becoming a global energy leader and its unwavering dedication to achieving Net Zero Carbon Emissions by 2050. With a strategic objective aligned with power purchase agreements, B.Grimm Power is striving to expand its power production capacity to 10,000 megawatts by 2030, cementing its position as a key contributor to the global clean energy landscape.
B.Grimm Power is actively exploring diverse fundraising avenues, underpinned by meticulous long-term planning aimed at fortifying its capital structure and facilitating sustainable business growth. This initiative is in perfect harmony with B.Grimm Power's overarching strategy, known as "GreenLeap – Global and Green."
B.Grimm Power is equally committed to nurturing robust business partnerships, with a strong emphasis on forging enduring collaborations both domestically and internationally, all of which have consistently proven to be highly successful over the years.
Dr. Harald Link, President of B.Grimm Power, has unveiled the cornerstone of B.Grimm Power's business strategy: the pursuit of stable and sustainable growth through strategic partnerships. This approach is exemplified by B.Grimm Power's longstanding collaborations with entities such as Amata Corporation Public Company Limited and Siemens Energy Company Limited, spanning nearly three decades.
Furthermore, B.Grimm Power actively collaborates with industry leaders including Asia Industrial Estate Company Limited, Singha Estate Public Company Limited, Univentures Public Company Limited, Siam Cement Public Company Limited (SCG), PEA Encom International Company Limited, and China Energy Engineering Corporation, among others. This unwavering commitment to business expansion, both within Thailand and on a global scale, is driven by a spirit of compassion.
For nearly 30 years, B.Grimm Power has adeptly initiated and managed the commercial operation of its SPP power plant projects, catering exclusively to the industrial power sector. B.Grimm Power's pivotal role in sustaining industrial growth and contributing to the Thai economy is achieved by providing consistent and reliable supplies of electricity and steam.
B.Grimm Power remains dedicated to enhancing power plant efficiency by harnessing cutting-edge technology and advanced digital tools, while concurrently optimizing fuel consumption. This strategic focus aligns with the specific needs of the industrial sector and enables B.Grimm Power to provide comprehensive industrial solutions to its clientele.
Additionally, B.Grimm Power demonstrates its competence in exploring alternative energy sources for future electricity production, underscoring the importance of sustainable fuels. B.Grimm Power is actively researching the integration of green hydrogen, ammonia, and other sustainable options into its electricity production processes.
B.Grimm Power's strategic direction is oriented towards expanding investments in renewable energy power plants, both domestically and internationally, aligning seamlessly with its overarching vision encapsulated in "GreenLeap – Global and Green."
B.Grimm Power has set an ambitious target to increase power production capacity to achieve Power Purchase Agreements (PPA) of 10,000 megawatts by 2030 through ongoing projects in South Korea, Japan, Vietnam, the Philippines, Laos, Cambodia, Italy, Greece, the United States, the United Arab Emirates, Saudi Arabia, and Thailand.
Moreover, B.Grimm Power envisions bolstering the proportion of renewable energy within its portfolio to exceed 50%, effectively mitigating the impact of natural gas price fluctuations in the long term.
Dr. Harald Link's statement emphasizes B.Grimm Power's active engagement in enhancing financial management. As of mid-2023, B.Grimm Power maintains a substantial cash reserve totaling 29,000 million baht. Concurrently, B.Grimm Power is diligently researching and exploring the most suitable capital structure and strategies to secure a diverse array of funding sources in anticipation of future growth.
These potential funding avenues include bond issuance, green bonds, perpetual bonds, infrastructure funds, and asset monetization. Furthermore, B.Grimm Power is proactively pursuing opportunities to onboard new partners for investment in current ventures and collaborative expansion in the future, including fundraising at subsidiary level through initial public offerings (IPOs). This strategic step is positioned to provide ample resources for forthcoming growth initiatives.
"Driven by the B.Grimm Power's vision to empower the world compassionately, we aspire to become a global leader in energy production and are diligently progressing towards the goal of achieving net zero carbon emissions by the year 2050," concluded Dr. Harald Link.