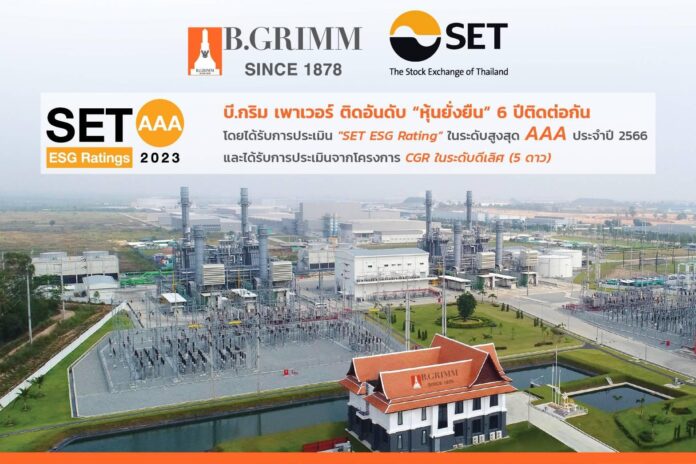 B.Grimm Power Achieves 6 Consecutive Years of SET ESG Rating "AAA" and Excellence 5 stars in CGR Evaluation. Fostering Sustainable Development, Commitment to Society, Environmental Responsibility, and Good Corporate Governance
Bangkok, November 14,2023 – B. Grimm Power Company Limited or BGRIM, receives the highest AAA rating in the SET ESG Rating for the 6th consecutive year from the Stock Exchange of Thailand. This places B.Grimm Power among the top 1 out of 193 registered companies that received the announcement of the SET ESG Ratings. Additionally, B.Grimm Power has received an "Excellent 5 stars" rating in corporate governance from the Corporate Governance Report (CGR), further emphasizing its commitment to doing business with compassion. B.Grimm Power has been dedicated to responsible business practices for over 145 years, consistently focusing on good corporate governance while conducting sustainable business operations with social and environmental responsibility, all guided by ethical principles.
Dr. Harald Link, President of B.Grimm Power Public Company Limited, reveals "B.Grimm Power is committed to conducting business with a sustainable . The success achieved in this instance reflects the company's vision under "Empowering the World Compassionately". B.Grimm Power is dedicated to growing alongside Thailand by maintaining sustainable development practices that encompass economic, environmental, and social dimensions under ESG framework throughout the past year. The company has received recognition from both national and international standards, the Stock Exchange of Thailand has announced the companies with the outstanding performance in economic, social, and environmental sustainability, including corporate governance, for the SET ESG Ratings (formerly known as Thailand Sustainability Investment or THSI) list. This information serves as an alternative data source for investors to make investment decisions aligned with responsible investment trends. B.Grimm Power has been listed as one of the 34 registered companies to receive the highest AAA rating for the year 2023, making it the 6th consecutive year. Additionally, B.Grimm Power has received assessments under the CGR project organized by the Thai Institute of Directors (IOD) with the support of the Stock Exchange of Thailand and the Securities and Exchange Commission (SEC) for 4 consecutive years, highlighting its excellent corporate governance practices.
B.Grimm Power's aims to conducting business is rooted in its concern for stakeholders throughout the supply chain. The company focuses on developing and improving its operational processes to align with sustainable business development frameworks. Additionally, B.Grimm Power actively engages in social and environment engagement. Some of these initiatives include Save the Tiger, The Little Scientist's House, and German Thai Dual Excellence Education (GTDEE).
Furthermore, B.Grimm Power has received the sustainability recognitions from both nationally and internationally. These accolades include: Listed in S&P Global Sustainability Yearbook 2023, B.Grimm Power has been ranked among the top 10% of leading companies in the S&P Global Sustainability Yearbook 2023, highlighting its commitment to sustainability and responsible business practices. Achieved a rating of BBB in the MSCI ESG Rating, which reflects its strong performance in environmental, social, and governance (ESG) factors. Listed as a member of the "FTSE4Good Index Series" for the third consecutive year. This recognition underscores the company's consistent commitment to doing business with compassion and aligning with global sustainability standards. In addition to these achievements, B.Grimm Power has set an ambitious goal to become a Net Zero Carbon Emissions organization by 2050.