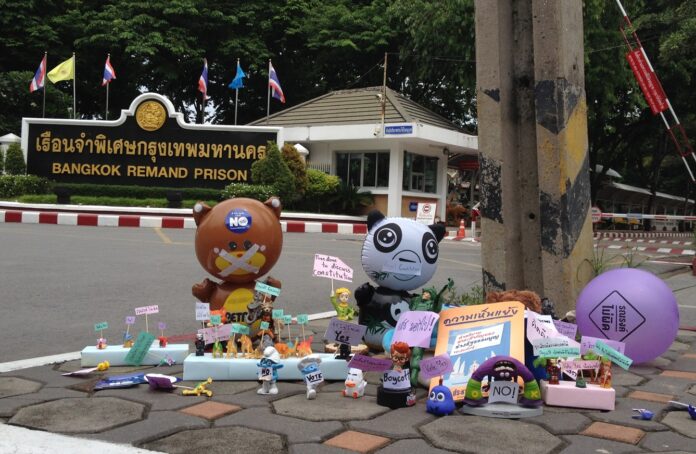 BANGKOK — Ironman, Pikachu, The Little Prince and Puss in the Boots were out in force again for a second day today, holding placards urging the public to reject the junta's constitution draft when it's put to a vote in August.
As they gathered (set up, actually) Thursday in front of the Bangkok Remand Prison, they were challenged by a counterprotest staged by the likes of stegosaurus, raptor and triceratops.
Why the need for action figures to hit the streets in an act of civil disobedience? Because inside the prison were seven activists locked up for trying to do so under a law which criminalized campaigning for or against the charter.
At the least, the sudden emergence of a toy-based opposition movement has succeeded in capturing attention on social media, where some netizens have adopted the tactic, posting pictures of their own toys with "Vote No" placards under the hashtag "FreeDollsForFreedom."
Even the cops were laughing, according to one activist.
New Democracy Movement activist Pakorn Areekul posted online about a humorous exchange he had with an officer at Thammasat University, where the toys first were fielded in protest Wednesday.
"[He said] I've been a cop for many years, I never thought that I would have to monitor a bunch of toys," Pakorn wrote online.
But today one prison guard took offense at one of the toys – a soldier whose sign called for downfall of the junta – and confiscated its tiny placard.
"This is not appropriate," the official said before handing the sign to the activists.
Despite its wackiness, the idea for the "toy protest" came from a very practical consideration, according to the woman who came up with the idea.
"Just by handing out leaflets, people were arrested," said the woman, who declined to give her name, saying she has previously ran afoul of authorities for her actions. "So, instead of making people in our circle get arrested or intimidated, we use these figures. It's something that we can do."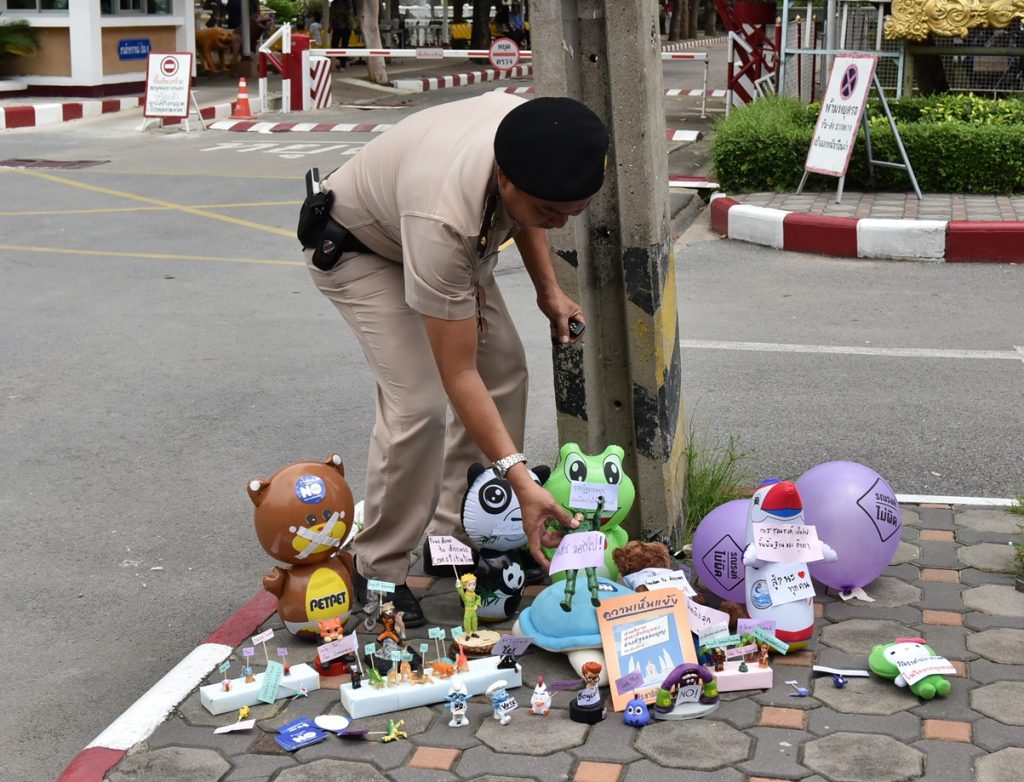 She identified herself as a member of the League of Liberal Thammasat for Democracy, a group that predates the New Democracy Movement and is known for pranksterish tactics.
She said she drew inspiration from similar stunts such as the 2012 anti-government protests in Russia, and a Greenpeace campaign which used Lego figures to condemn the toy firm's ties to Shell Oil Co.
She was surprised by how well it has gone over on social media.
หุหุ #FreeDollsForFreedom pic.twitter.com/wa5k7rERw2

— ธรรมศาสตร์เสรี.ปชต (@LLTD_TU) June 30, 2016
"I thought it would be too cutesy for people," she said.
Election Commissioner Somchai Srisutthiyakorn joined in the fun Thursday, posting a photo using the hashtag of himself holding a Star Wars Stormtrooper and text reading "May the Right be With You."
Toy protests can be expected to continue at relevant sites until the Aug. 7 referendum.