BANGKOK — When Thais mourned for the Late King at Sanam Luang in October last year, Maura Moynihan was there to sing the royal anthem under the baton of Somtow Sucharitkul. She says she was moved by the massive outpouring of love and respect for His Majesty.
Now the American artist is paying her own tribute to King Bhumibol through her paintings at the upcoming exhibition "King of Kings," which opens Friday. The artist painted a series of watercolor portraits of the Late King based on iconic images found hanging in homes, markets and temples.
"I cried with all my heart every day after [The King's] passing," Moynihan said Tuesday afternoon on the phone.
Read: Sea of Voices Rise in Tribute for Late King
Having first visited Thailand in 1970s while her father was an ambassador to India, Moynihan said her admiration for the king grew as she witnessed affection and respect he was paid. Later, she researched more on King Bhumibol during the Diamond Jubilee of His Accession to the Throne in 2006 and delved deeper into it upon his death in October at 88.
"King Bhumibol was different from leaders in Asia and the world. He was a genius and a good, humanitarian man who was respected throughout the world," the artist said. "He was dedicated and worked hard for His people, like no leader of our time."
She further explained that she was moved by hearing the Late King called "My King" by some Thais.
Moynihan expressed her understanding to Thais when foreign media reported stories viewed as negative, which she said were "not respectful with Thai grief."
"There's a special relation, a spiritual bond, between Thais and the King that I never saw elsewhere," she said. "Thais are lucky to have him, and also the world."
When she heard about the King's deteriorating condition, she said that she flew from New York to be in his beloved land and held an exhibition on Thailand in September.
After his death, she was in the crowd attending the procession to move the Late King's body, and she has visited the palace to pay respects 12 times. She intends to stay in Thailand until his cremation rites on Oct. 26.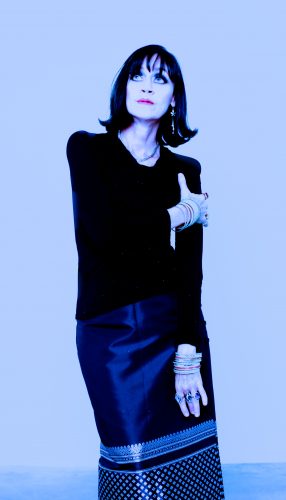 Through her 40-year experience in watercolor paintings and her passion for Thai art and Buddhism, the 59-year-old artist said she chose to portray her love for the king with her art.
Unlike works from Thai artists, Moynihan's paintings blend an image of the Late King with mixture of Thai iconography from white elephants, chedi to Chinese temples in vibrant colors that might seem a bit odd to Thais.
"I put together symbols of Thailand because his love for Thais can't be separated," she said. "He supported and glued all religions and now joined with deities as a guardian."
Speaking of the king, Moynihan used the word "karma" often, as she believed the Late King possessed a powerful karma. She said she felt a bond with King Bhumibol, as she was raised in Cambridge, Massachusetts, where he was born. She said she had a neighbor who was a good friend of the king's family. When she spoke Tuesday, she was exploring Hua Hin, the king's home.
The artist mostly went to the location to sit and draw. Although it took hours to finish, she admitted Thais were very generous and friendly that she has made many friends from her paintings.
"I haven't got to meet the king, but painting makes me feel close to him," Moynihan said. "He's everywhere to me."
Twenty-five drawings will be shown at the exhibition which opens at 6pm Friday and runs through May 13 at 23 Bar & Gallery in Soi Nana, Chinatown. It's a 10-minute walk from exit No. 1 of MRT Hua Lamphong.
Photos: Maura Moynihan / Facebook