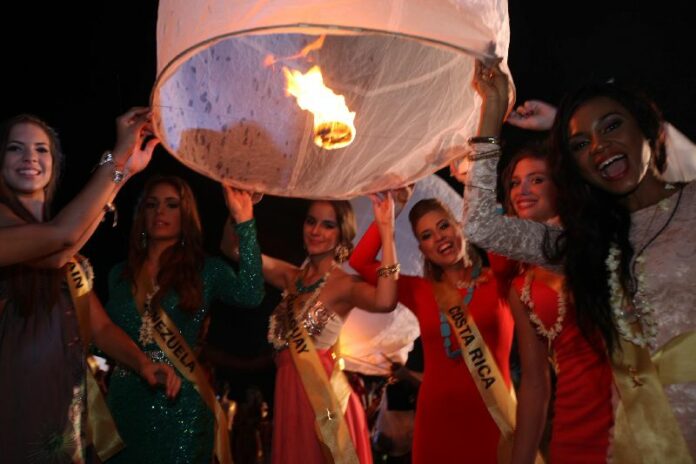 BANGKOK — Festivities for Friday's Loy Krathong will be low-key with the usual fireworks, sparklers and sky lanterns prohibited.
Bangkok Gov. Aswin Kwanmuang said Monday that only "polite celebrations" can be organized for this year's festival, which comes just days after mourning for King Rama IX ended. Anyone who ignites fireworks, sparklers or other prohibited items face up to three years in prison and a 60,000 baht fine.
"Lumphini Park and other BMA parks will be open for people to float their krathong, but there will be no fairs or festivals held," Urewan Taonoi, a spokeswoman for Lumphini Park said by phone Tuesday.
Urewan confirmed there will be no fireworks or other tell-tale signs of festivities at Bangkok's public parks. Lumphini Park, usually closed by 9pm, will stay open until midnight.
Similarly scaled-down Loy Krathong events will be held in 30 other capital city public parks. The main celebration will be 5pm to midnight in the Bang Phlat district, under the Thonburi side of the Rama VIII Bridge.
People will not be allowed to float krathong at the Nongbon Water Sports Center and King Rama IX, Queen Sirikit, Benjakitti and Vachara Phirom parks.
Aswin also made the usual appeal for people to float krathongs made of organic materials such as bread, banana and corn stalks rather than foam, and limit themselves to one krathong per household, since the morning-after flotsam clogs waterways year after year.
One year ago, festivities were completely canceled and the holiday reduced to only floating krathongs in the wake of King Bhumibol's death.
Already gotten in the festival's romantic spirit? Attend a viral meme event where you can float krathong at the Rama VIII Bridge until someone asks if you've come alone.
If hooking up with strangers isn't your bag, then feel free to cue a Loy Krathong playlist at home.
Related stories:
'Do Something at Some Place' Meme Seizes Geek Imaginations
Bangkok Wakes to Less Loy Krathong Mess Than Usual