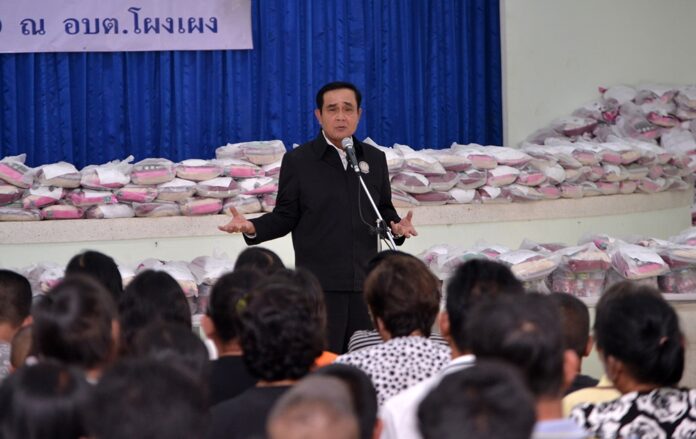 BANGKOK — Prime Minister Gen. Prayuth Chan-ocha is too busy responding to the long-running flood crisis to consider lifting his junta's ban on political activities, one of his subordinates said Tuesday.
Responding to calls the 3.5-year-old ban be lifted following the late king's funeral and announcement of elections in one year, a member of the National Security Council, Gen. Walllop Raksanoh, said the junta leader was preoccupied.
Read: Parties Can Only Campaign for Election Next Year
The remark was made in reaction to politicians eager to prepare for elections promised by the junta for November 2018, four years after it seized power in May 2014.
After deputy junta leader Prawit Wongsuwan punted on the question and deferred to Prayuth, a reporter put it to the junta leader himself Tuesday morning while he was walking at the Government House. Prayuth walked off without responding.
"If the ban is not lifted by the end of the year, there will be problems," said Deputy Democrat Party leader Nipit Intarasombat.
Nipit said he would be open to partially lifting the ban, which has been used to jail critics and persecute outspoken politicians.
Nipit added that if the military junta and Prayuth are uncomfortable with a total lift of the ban, they could raise it partially by allowing politicians and political parties to meet and register members to form new parties and elect their executive boards.
"Political gatherings [for other purposes] could then wait until 150 days before the election," he said.
Pro-democracy activist Sirawith Seritiwat said Prayuth is buying time.
"It's like tossing the object round and round. So far there is no confidence anyway," Sirawith said of promised elections. "Let see what they will cite next to stall it further. There probably won't be elections next year, and there will never be elections unless pro-democracy forces pressure them," he said.
On Monday, former Pheu Thai MP Watana Muangsook said the time has come to lift the ban and accused the junta of resorting to delaying tactics.
"They have cost many lost opportunities. Try to do something good for the people, so in the future the people may be merciful and forgive you," Watana wrote online.
Related stories: 
Prayuth's Latest Poll Promise Draws Praise, Doubt
Thai Elections in November 2018, Prayuth Promises
With No Elections in Sight, Why is Prayuth Campaigning So Hard?