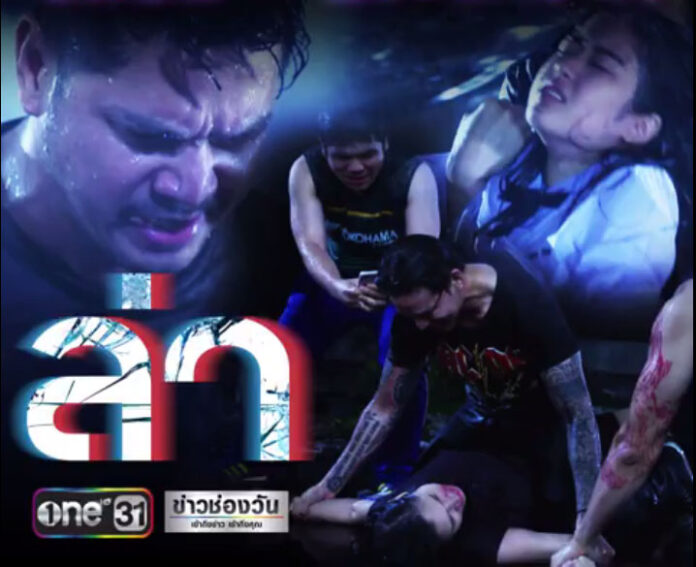 BANGKOK — A primetime soap with sexual assault as a central plot point has inflamed social debate over the death penalty and rape culture.
Human rights activists and academics point out that while the primetime soap "Lah" (The Hunt) is sympathetic toward the view that rapists should pay the ultimate penalty, it is also hostile toward the prevalent rape culture found in lakorn, or soap operas.
Although sexual violence against women is a common plot points in lakorn, usually to punish morally suspect women or advance romantic relationships between protagonists and their love interests, "Lah" places the blame squarely on the attackers rather than the victims.
Characters in the series even explicitly argue for the death penalty for rape, the main reason being that if the rapists are not executed they will come out of jail and continue to sexually assault people.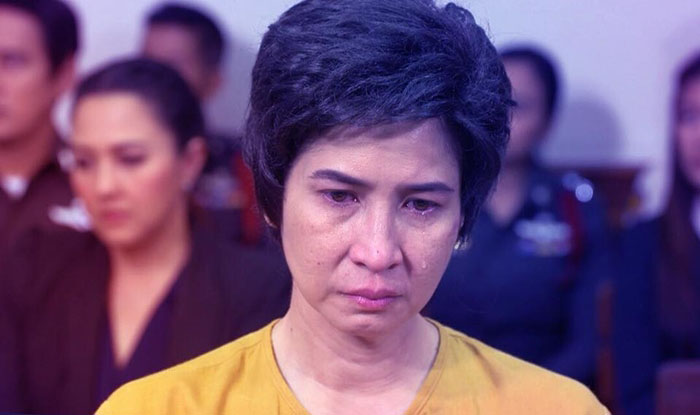 In "Lah," single mom Matusorn (Lalita "Mew" Panyopas) and her middle school student  daughter Matukorn (Pornsroung "Xiang Xiang" Ruayruen) are gang raped by seven men. The men escape prosecution and prison because of their social status. In the meantime, Matthayom 1 student Matukorn suffers a mental breakdown. In revenge, Matusorn dons elaborate disguises to kill off the rapists in her own form of vigilante justice.
The hashtag #Lah2017 has been the top trending tweet in Thailand for several days as people weigh in on capital punishment, victim-blaming and vigilantism.
"Some people said the lakorn is too dramatic. Hmm?" @Chocooliie tweeted. "In a country where rape happens on trains, and a whole village can gang rape one woman, and where an uncle rapes a 5-year-old niece to death, what can be too dramatic? #Lah2017"
Chocoolie's tweet was retweeted more than 42,000 times as of Thursday.
มีคนบอกว่าละครโอเวอร์เกินไป
หืมมม ในประเทศที่มีการฆ่าข่มขืนโยนลงหน้าต่างรถไฟ ผช.ทั้งหมู่บ้านรุมข่มขืนผญ.คนเดียว ลุงข่มขืนหลาน5ขวบตาย ฯลฯ ยังมีอะไรโอเวอร์อีกหรอคะ #ล่า2017

— เหมยลี่ คิมูจิ© (@CHOCOOLIIE) December 11, 2017
"We live in a society that teaches women not to dress provocatively because it risks rape, but we never taught men that they have no right to rape anyone," @Mariko3407 tweeted in another widely shared message.
เราอยู่ในสังคมที่สอนผญ.ว่าอย่าแต่งตัวโป๊ เพราะมันเสี่ยงต่อการถูกข่มขืน แต่ไม่เคยสอนผช.เลยว่าคุณไม่มีสิทธิ์ไปข่มขืนใครทั้งนั้น #ล่า2017ِ

— Mariko (@Mariko3407) December 12, 2017
But Amnesty Thailand director Piyanut Khotsan said that the lakorn's "eye-for-an-eye" solution shouldn't be applied in real life.
"As for Amnesty, we view that rape is a terrible thing that should not happen to anyone. However, punishing it with the death penalty is not the solution. Our standpoint is that there should be no death penalty in any case, even rape."
Read: 'Who Wants to Get Raped?' Soap Opera Actor Asks Fans
Piyanut said that society should "prevent rape and find solutions within the justice system" without resorting to the death penalty – a point illustrated by Matusorn's trial for murder.
"Even the main character is judged for killing the rapists. Does she have to get the death penalty, too?" she said. "Lakorn or real, it's a very emotional situation, but we have to remember everyone's right to life."
Both Piyanut and Pasavit Boonkongchuen, an expert on mass media culture at Chulalongkorn University's Faculty of Arts, said that death penalty for rapists can increase the danger for victims, since the rapist may kill or harm the victim to prevent them from speaking out.
Piyanut said that the death penalty does not point to a decreased sexual assault crime rate.
The scene where Matusorn and Matukorn are beaten and sexually assaulted.
'Good Start' to Cultivating an Anti-Rape Culture
Although the series may not change minds on the death penalty, Pasavit said it was "a good start to [cultivating] an anti-rape culture" and beneficial social debate.
"Portrayals of rape can spark debate on sensitive subjects that people never bring up over lunch," Pasavit said. "In Thai society usually hot-button issues get space over other topics."
In recent years, explosions of outrage in the wake of rape crimes has periodically flared up campaigns for death sentences. In February 2016, a group of minors who confessed to raping and killing a woman in Phattalung ignited a campaign led by an actress, while a man who raped and killed a 13-year-old girl on a train was sentenced to death amid public outroar.
The lakorn, Pasavit said, has a strong message against sexual violence, albeit one that is also pro-death penalty, because it places the blame on the perpetrators rather than the victim.
"The soap showed that the victims didn't do anything wrong but were victims. This can increase understanding of consent in society," he said. "The audience and the lakorn don't blame the victims for how they were dressed or where they were walking at night."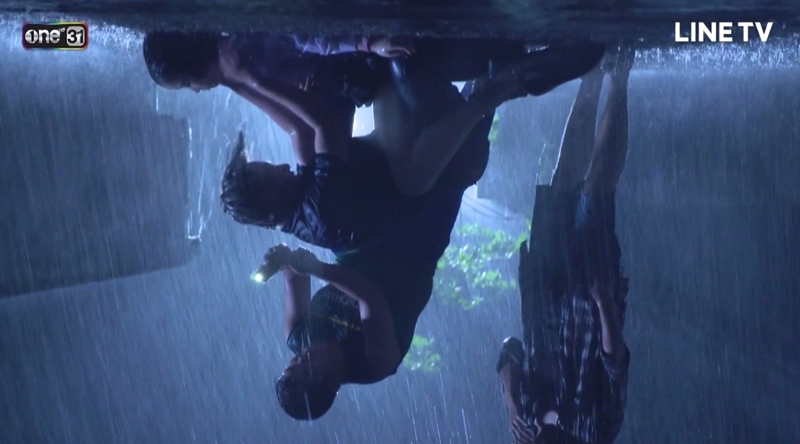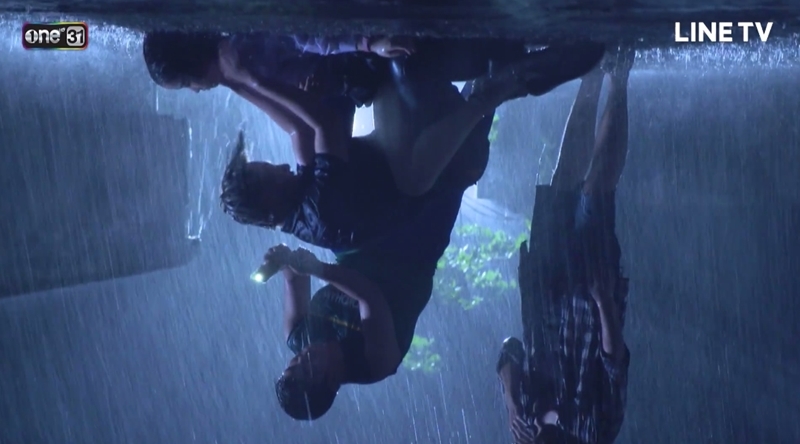 Although Pasavit doesn't think that the tide will be turned all at once against rape culture in lakorns will be as "anti-rape culture," he says "it's a good start against plots where the victim and rapist falls in love."
Elements of the lakorn even apply to the worldwide #MeToo campaign initiated by sexual harassment allegations at Hollywood director Harvey Weinstein.
Read: Why Few Thai Women Are Saying #MeToo
"In the lakorn, the little girl is the one who identifies the rapists. This could help reproduce in society courage in victims to identify their attackers, who usually do not step forward. The soap shows that the victim plays a big part in bringing the culprit to justice," said the mass media expert.
The lakron's official TV Instagram account even posted a photo asking viewers who agreed with the death penalty to type #TeamPaSoi and those who disagreed with #TeamLoongYai, according to the characters espousing those views in the drama. An overwhelming number wrote #TeamPaSroi.
In July during the filming of Lah, actor Pharunyoo "Tack" Rojanawuthitham, who plays one of the rapists stirred some online drama when he posted on-set photos with a caption asking fans who wants to get raped. Pharunyoo is often vocal in calling for the death penalty for rape when the issue comes up.
"Lah" (The Hunt) is currently airing on One 31 channel Mondays and Tuesdays from 9:15pm to 10:35pm and 11pm on Line TV. The 2017 version is the third remake, with previous versions aired in 1994 and 1977.
Related stories:
'Who Wants to Get Raped?' Soap Opera Actor Asks Fans
Fed Up Reporter Goes to Police After Online Money For Sex Offer
9-in-10 Thai Rape Victims Knew Their Attackers: UN Report
Why Few Thai Women Are Saying #MeToo
Health Official Deemed Guilty of Serial Sexual Assault
Sexual Violence Stalks Thailand's Activist Community
Victims Recount Harrowing Episodes of Sexual Violence
Thai Colleges Urged to Do More About Sexual Violence
Murder and Rape Reignites Death Penalty Campaign