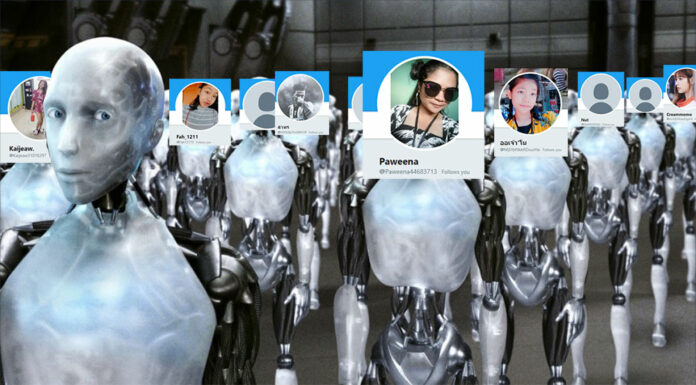 By Todd Ruiz and Jintamas Saksornchai
BANGKOK — In ones and twos they trickle in by the minute, new followers in what's become the familiar rhythm of social media. They have authentic Thai-sounding names such as @Fah12113 or @Thanaphorn_1230. Those few that have profile photos look like any face plucked from the Thai social mediaverse.
Where it gets weird is that all are new accounts with no followers and, in almost all cases, no tweets. Yet each follows a few dozen accounts representing a who's who list of online influencers including journalists, media companies, scholars and celebs. Some user names are written in Thai script, but all of those have machine-generated strings such as @hjZuotIwLtiSojc and @hIrQMl1B71tIYKF as account names.
Kanokporn Prasitphon, who manages social media for public broadcaster Thai PBS, said they seemed to draw about 400 such new followers when she checked Wednesday.
"We found a lot of followers with newly created accounts, no profile pictures, and many usernames are in random characters," she said.
Khaosod English usually adds about 200 Twitter followers per month, but more than triple that number – 697 and counting – appeared in a steady stream every several minutes in recent days. Their arrival did not come with an increase in activity measured by people visiting the profile or reading our tweets. By Thursday the influx of new followers had suddenly stopped.
Direct messages sent Wednesday to five of the suspect follower accounts went without reply.
Despite the local authenticity of the accounts, whoever is raising this online ghost army – be it commercial enterprise, state actor, organized crime or rogue algorithm – isn't just doing so in Thailand.
Danielle Keeton-Olsen, an American journalist in Cambodia, said her Twitter followers surged from about 700 to over 1,700 this month.
Questions sent to Twitter's Singapore office Thursday seeking an explanation of the activity along with what steps the company has taken in response had not gone replied to as of 3:30pm on Friday. An email chain included with a reply Friday morning included a comment from company spokesman Deborah Ng last night to a colleague: "Another one from Thailand this time."
A Berlin-based researcher studying the impact of social media on democracies and elections was clued into the phenomenon about three weeks ago by contacts in Myanmar.
"The scale and scope is perhaps what's new and most interesting," said Ray Serrato of Democracy Reporting International. "Because, now, there's no activity, we're a bit puzzled."
Network graph of new, dubious accounts following specific Twitter users in #Myanmar. Nodes are sized relative to the number of accounts that have followed them. Accounts gathered from @KPhillipsDVB 's recent batch of fishy followers. pic.twitter.com/H5lmTIjo7f

— Ray Serrato (@raymserrato) April 3, 2018
Serrato said this particular surge of bots has happened across Southeast Asia as well as parts of Africa and Eastern Europe. A Wednesday report in the Financial Times noted the same thing has cropped up in China.
Serrato said he's counted roughly 40,000 such bogus user accounts in Sri Lanka alone.
Whether the accounts are machine- or human-made, they are very locationally aware. In each country, the identities use regionally authentic names, languages and profile photos to follow local influencers.
"The accounts are tailored to the region. I haven't seen that before," Serrato said, agreeing that they could be using photos and names harvested from real social media accounts targeted by geolocation.
@TwitterSafety there is a fresh mass wave of automated bots hitting Estonian twittersphere. Can you just run a query "new accounts with ~0 followers, following ~21 accounts including @IlvesToomas @TaaviRoivas @kajakallas @MFAestonia" to understand the scope, and then contain?

— Sten Tamkivi 📎 (@seikatsu) April 11, 2018

A Thai cybersecurity expert said such bots are likely used for commercial purposes.
"Normally these bots are created by digital agencies to monitor trends in social media for data mining," said security analyst Pichaya Morimoto. "Your public information can be collected for targeted adverts. Your activities or opinions will be monitored to see how you can be influenced."
How are such bot accounts useful for anyone?
"I think primarily they could be used for amplification and retweeting certain tweets," Serrato said. "But then also they can favorite status updates and be used to give more credence and increase engagement rates."
Has anyone also received messages by bots? DM me if you have!

— Leonie Kijewski (@LeonieKij) April 20, 2018
Thai internet transparency activist Arthit Suriyawongkul said that if the bots are specifically targeting media and influential figures, it could be something to watch out for. Because they haven't done anything yet, he said it's difficult to predict their intended purpose.
"Because they still haven't shown activity, it's not easy to tell what they're up to," he said. "I can't think of any current (political) context in Thailand right now that might be fueling these bots."
He believes that, when it comes to state surveillance, there are easier methods available. Also, bots are "generally harmless" if they remain inactive and unfollowed.
Pichaya said people should be wary of another possible function: recording online activity.
"If we post something and delete it later, we may think it is gone, but these bots will collect it. It's not really deleted," he said. "If you comment on something offensively, and let's say it could be relevant to a libel case, that might cause you problems, because it will be kept."
Believe Only Half of What You See? Try a Third.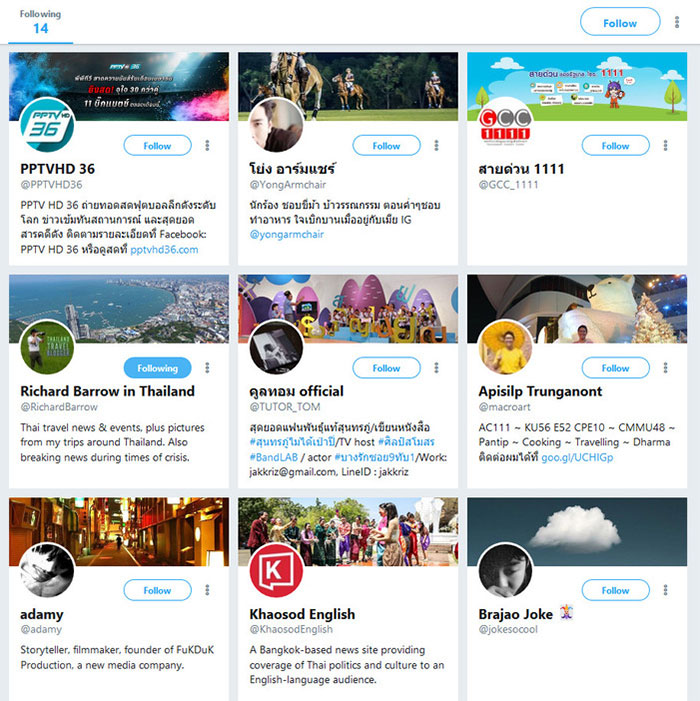 The proliferation of bots on social media has been topical since the spawn of "fake news" to nudge public opinion on everything from the Ukrainian crisis, Brexit and the 2016 US election. Facebook CEO Mark Zuckerberg faced grilling last week by the US Congress over his company's role in the latter, along with growing calls for the tech giants to police their platforms.
Upward of 15 percent – 48 million – of all Twitter accounts could be bots, according to a March report by USC and Indiana University. Twitter insists the number is about half that, closer to 27 million.
On Thursday, the Pew Research Center said its analysis of 1.2 million tweeted links found two-thirds were likely from bots.
Serrato says he is waiting for whoever unleashed this army of bots to hit the on switch so he can see what happens.
"Now that we've identified them … we can wait to see what accounts they try to boost and … [that may] give us some ideas about what the agenda is."
His leading theory is that they're intended for a nuisance as old as the post-web internet: spam. In fact, he's seen some of them elsewhere engage on the topic of Bitcoin.
But without seeing how they are utilized, he can't yet rule out more troubling possibilities:
"The greatest impact would be if they take up amplification and become social or political bots instead of spam."
He's concerned that platforms such as Twitter are not acting responsibly, despite all the attention the issue is getting at present.
"In that respect, they can do more. The excuse that they're normal users doesn't hold water because they could look at how the accounts are registered and the IP addresses," he said. "I don't know if they've done any of that."