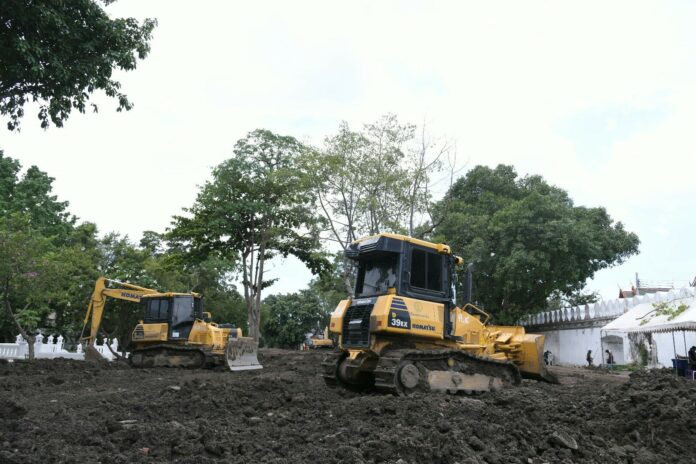 BANGKOK — The city administration is to spend at least 69 million baht to redevelop the area behind the Mahakan fort wall, the deputy governor said Sunday.
Following the eviction of all Mahakan Fort, or Pom Mahakan, residents two weeks ago, Bangkok deputy governor Jakkapan Piew-ngam said the administration plans to finish building a public park in its place within this month, while the fort's preservation program as a historical monument will take another two years.
Read:  Fort Community Bids Emotional Farewell to Century-Old Homes (Photos)
"Initially we will build a temporary park … expected to open to the public by the end of this month," he said. "Now we have started a discussion with the Fine Arts Department for a plan to properly conserve and restore Pom Mahakan, including a way to design a park complementary to the historical site."
He added that the administration has approved a budget of 69 million baht for the Department of City Planning to manage urgent issues such as repairing collapsing parts of the wall and the fort, including treatment for sewage left by the former community.
More funds will be allocated toward the conservation effort afterward, Jakkapan said.
Following decades of defiance against eviction after authorities claimed right upon the land since 1992, the last of the community's locals were forced out April 25.
The administration has now started to level the ground and clear out debris.
Jakkapan insisted that they will do their best to prevent homeless people from exploiting the park, and that they have a plan to hire security guards to ensure the safety of those using the area.
Thawatchai Woramahakhun, the community leader, declined to comment during a Monday phone call.