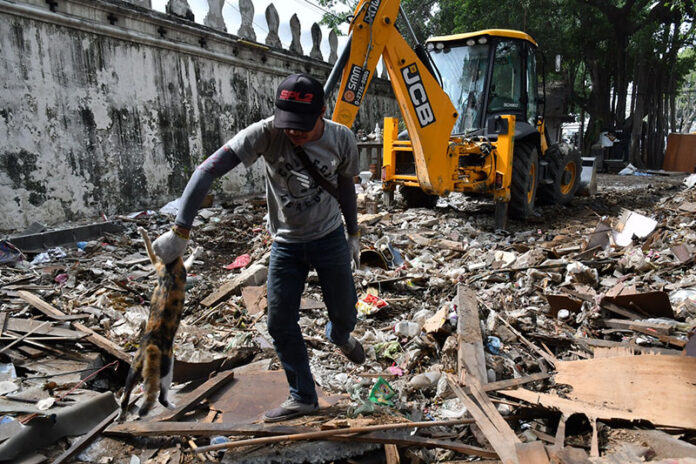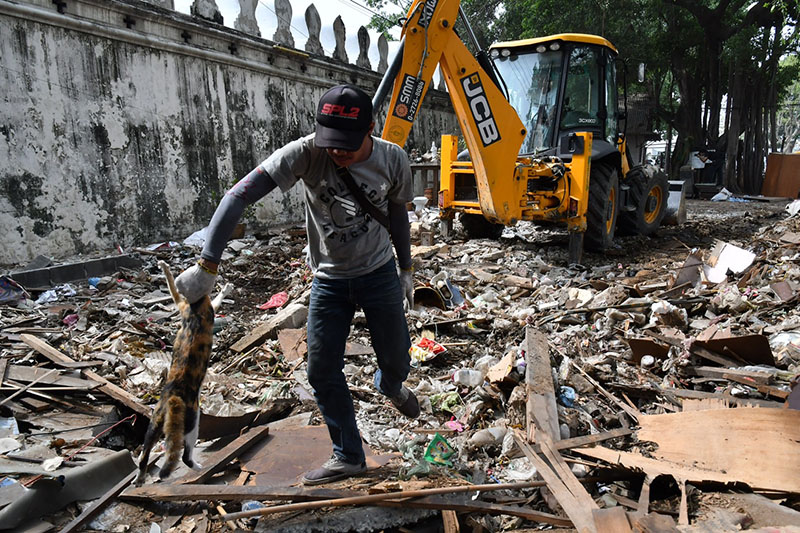 BANGKOK — Nikorn Chadchaeng's family had been living behind the wall of Mahakan fort for more than 200 years. Today, before leaving forever, he gazed at the ruins of his family home.
After decades of resistance, residents of Mahakan Fort, or Pom Mahakan, were ordered to move out by the government administrators as the demolition of the remaining homes continues through April.
Busy arranging how to get a huge wall and door pieces of his house out of the area, Nikorn said he's doing this because he wants to rebuild his old home in the new place.
"I'm going to Sai Noi," he said. "I already have a house there. Some of my family is also there."
On Sunday, the historic community surrendered and bade farewell to its home in a somber gathering.
Another old lady who was too emotional to discuss the situation, only said "They keep chasing us out, I've already moved once and now they're kicking me out again."
Since 1992, Pom Mahakan residents had battled against their eviction to make way for a city park as the Bangkok Metropolitan Administration, or BMA, claimed its right upon the land, behind the walls of the old fort near Ratchadamnoen Road. They had a community built around it for as long as Bangkok has been the capital.
Last day of a historic community

LIVE: Residents of Mahakan Fort community move out as authorities start demolishing the last remaining homes. Officials say they are reclaiming the area to build a park. Story: https://www.khaosodenglish.com/politics/2018/04/23/siege-over-last-residents-of-fort-community-to-leave/

โพสต์โดย Khaosod English เมื่อ 24 เมษายน 2018
They took a major blow in 2005, when the Supreme Court ruled that the land belongs to the public, and the city has the rights to root out the community since some residents had already accepted a compensation offer.
More than 300 Pom Mahakan locals whose families have lived there for three generations refused to accept the verdict – and they weren't fighting alone. Private foundations and international academics also raised their voices against a total wipe out of the location's historical and cultural value, bringing the contest widespread attention.
That led them into a compromise agreement, allowing residences to share the land with the city and its park to be built. However, the 1992 royal decree, authorizing the city to reclaim public land, remains in force.
Since the military government seized power in 2014, the reclaiming of public land has become one of their priorities. From there it progressed the eviction plan that had been in a deadlock from the 2005 court ruling.
Although authorities eventually sat down with the community to try and find solutions together in June 2016, they started clearing the first 12 homes whose owners had agreed to leave only three months later despite heavy opposition.
Several attempts by residents to preserve their beloved community have proven to be futile. That included establishing a living museum as part of Bangkok history, in hope that some locals would be able to remain in their old family homes. It failed to win support from authorities.
"We've done all we could," said Nikorn, who's been fighting alongside his neighbors. "I can live with it. It's time to let go."
Asked about the future of the community, he said it could be possible that they would "arrange something, bring everyone together again. After all, we've bonded for such a long time."
The Bangkok governor today said the administration could finish redeveloping the area next month after all houses are torn down.
"Actually we'd like to preserve some of these antique houses, but the people said they wanted to remove their homes themselves," Gen. Aswin Kwanmuang said. "Everything has to be cleared out by April 29."