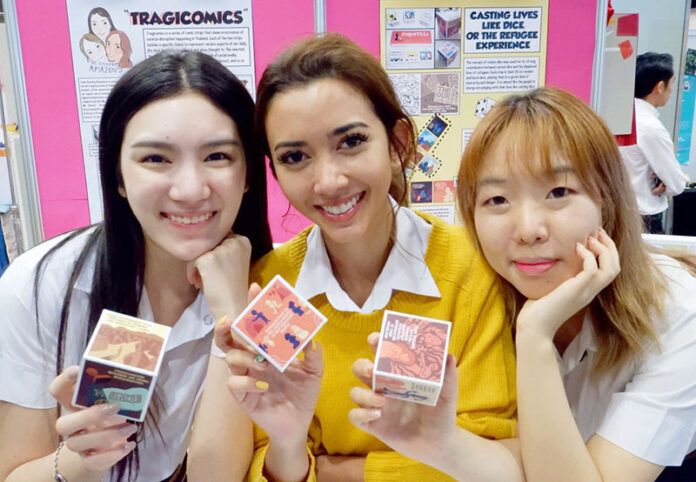 BANGKOK — Disturbed by how many of her classmates seek psychiatric help only when suffering, Mina Intanate, 21, decided a friendly cartoon chameleon could help market her university's wellness center.
Her project was among dozens of senior theses offering creative solutions to social ills presented Thursday at Chulalongkorn University in a chance for communication arts undergrads at the elite university to show if they can critically examine today's problems – and do something about them.
"They actually had quite a number of students attending the center. But all of these students felt that they were at an extreme in their mental illness," Mina Intanate, 21, said. "The mental wellness center actually told me that they would rather students go to see them when they're not at an extreme level."
Mina and her partners, Karl Patrick Gonzales, 22; and Yuanyuan Zeng, 20; found the top three things Chula students seek psychiatric help for are depression, anxiety and academic stress.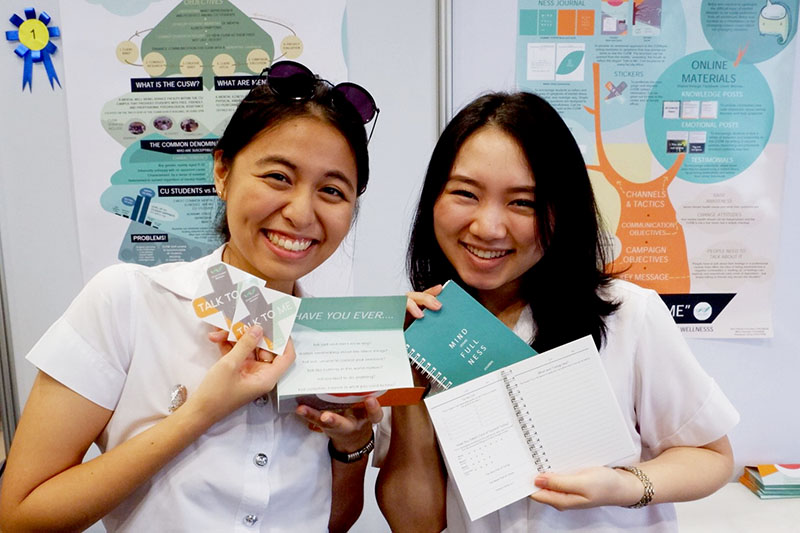 When Pithchicha Arkomdhon recently lost a friend, a social media personality, her Facebook wall was quickly flooded with thousands of condolences yet her funeral was attended by few.
Shaken by this contrast, Pithchicha decided to channel her incredulity into her senior thesis – in comic form.
"I went to the actual funeral and I was in shock. I expected a lot of people to go there. But there were a lot of empty seats," Pithchicha, 23, said. That made her muse, "Are online relationships real? Are those people really our friends? Do those people really care about us?"
Pithchicha and her classmates Pawarisa Kijrungpaiboon, 22, and Baik Seol-hee, 22, created pastel-colored Joan Cornella-inspired comics that attempt to critically examine Thai society.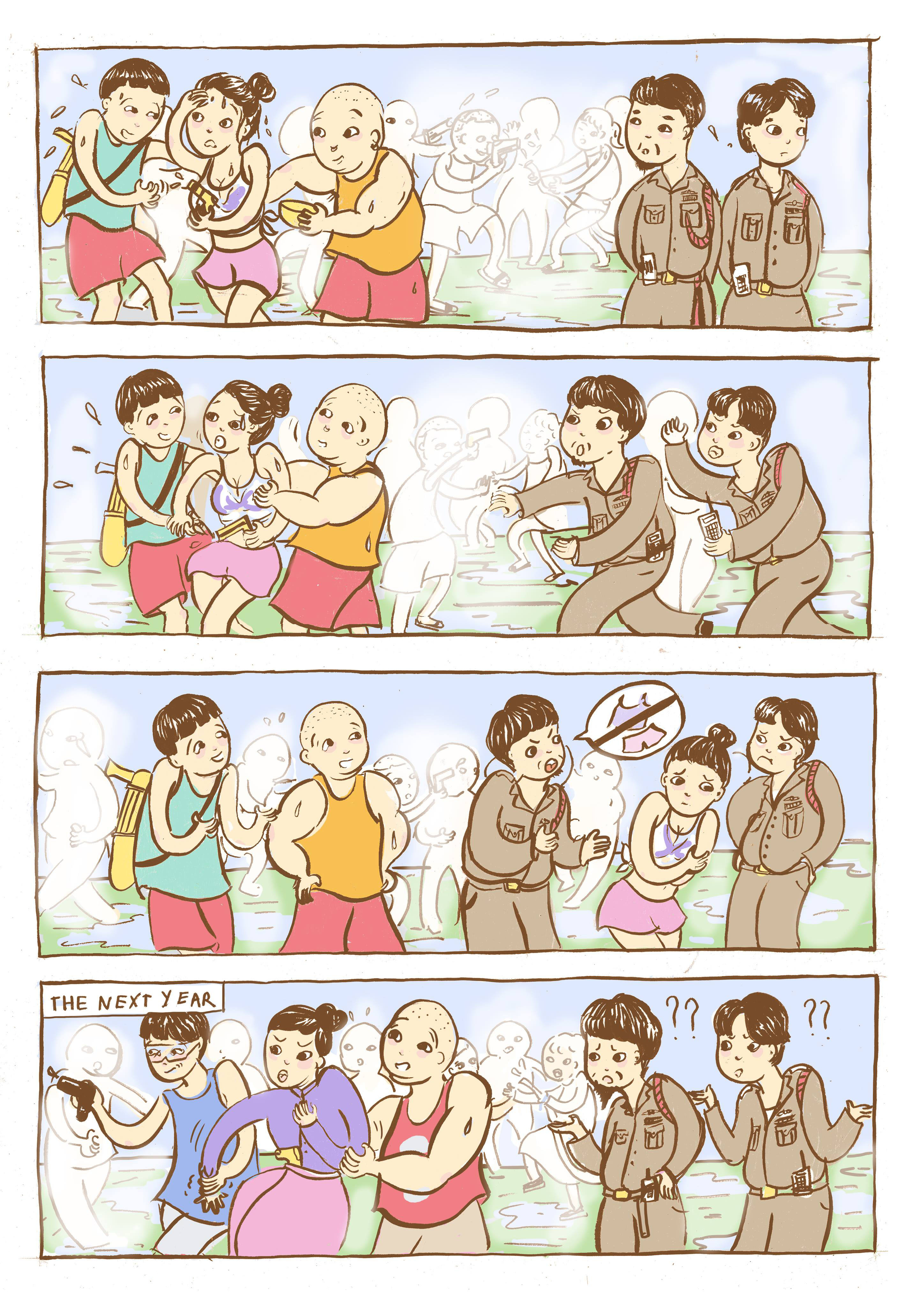 Another depicts officials blaming womens' choice of Songkran attire for sexual harassment. It was influenced by Baik's own experience.
"I wasn't able to enter the water fight area at Siam because I was wearing shorts," Baik said. "We all know that it's not the problem of the clothes, it's the guys' wrongdoing."
Others went patriotic their projects, including actress Ranida "Preem" Techasit, 22. She and Rathfar Chaichueajit, 24, created scarves inspired by pre-industrial Thai patterns. One of their designs was a scarf that illustrated Thailand's "Three Pillars" of Nation, Religion and Monarchy, with most of the scarf featuring the Chakri Dynasty emblem and Royal Palace.
Icons of maps and yachts to refer to Rama IX's work and hobbies while those of bikes and planes to refer to Rama X.
"Rama IX was so famous for always carrying a map," Preem said "For King Rama X, this represents the famous event Bike for Dad. His Majesty also is passionate about airplanes, aircraft and flying."
The sides of the scarf are printed with tanks, guns, poppy flowers, representations of the armed forces and the police.
"The sides represent the military regime protecting the country," Preem said. "We tried to portray the modern era and events as accurate as we could do, at the same time maintaining neutrality."
Some chose less pressing issues.
Karnpitchanat Nakosiri, 18, Pattira Pirattworanun, 22, want to promote Thai comics overseas. They worked with Thai and French literary agents to bring Thai comics in Francophone countries. "Dining by Incense Light" and "Ogre King" may soon be published in French, they said.
"We don't see the importance of Thai comics, but France is interested in Asian comics," Karnpichanat said, flipping through a copy of "Ogre King." "As you can see the drawing style is like Japanese manga, which they're familiar with in France.
Nicolas Verstappen, a Belgian professor who advised some of the projects, said he encouraged his students to do comic-related projects.
"Comics can be disregarded as a serious medium, but they have the power to reach the young generation who are being raised with the Avengers. They can convey social issues and serious topics, too," Verstappen said.
The Disruption for Change showcase is open Friday from 10am to 5pm on the 11th floor of the Mongkutsamatiwong Building at the Faculty of Communication Arts, Chulalongkorn University. It can be reached on foot from MRT Samyan or a short ride from BTS Siam.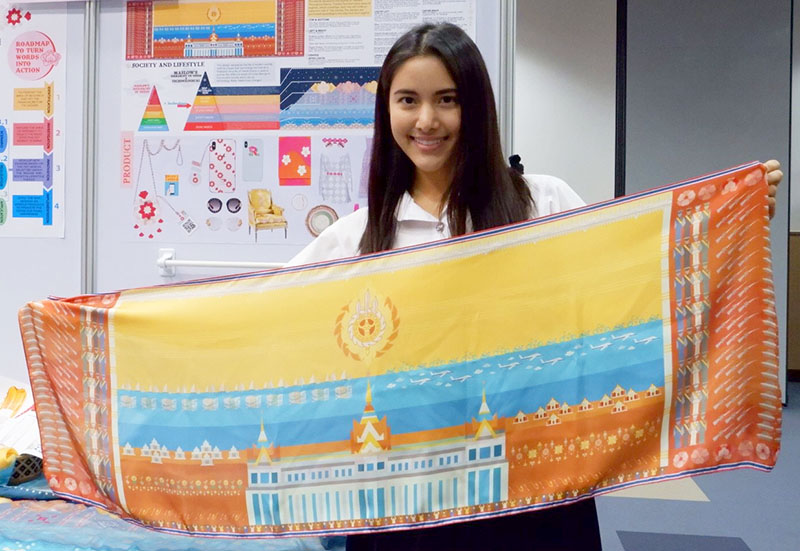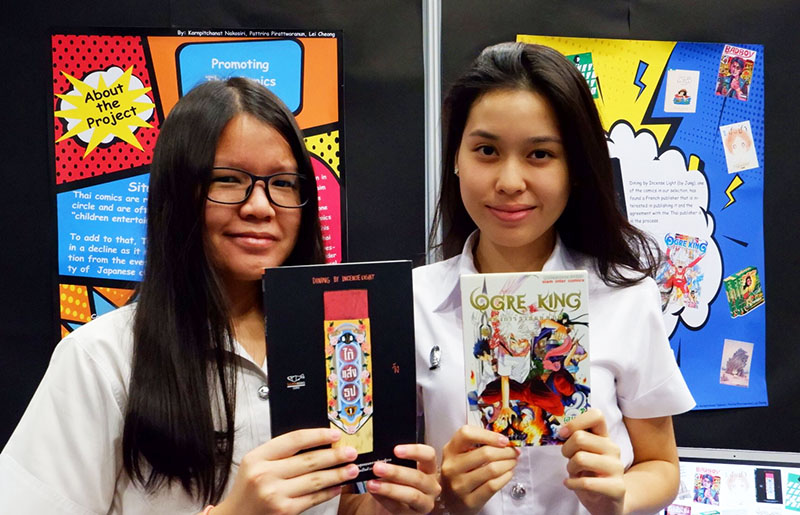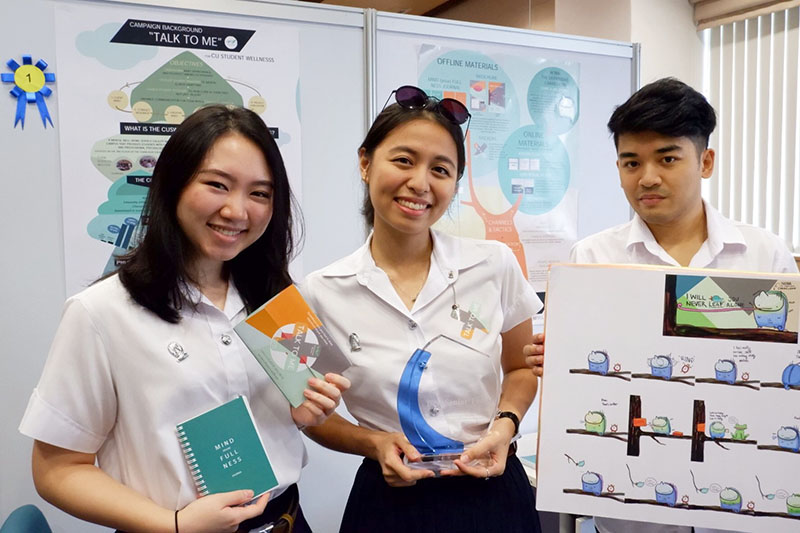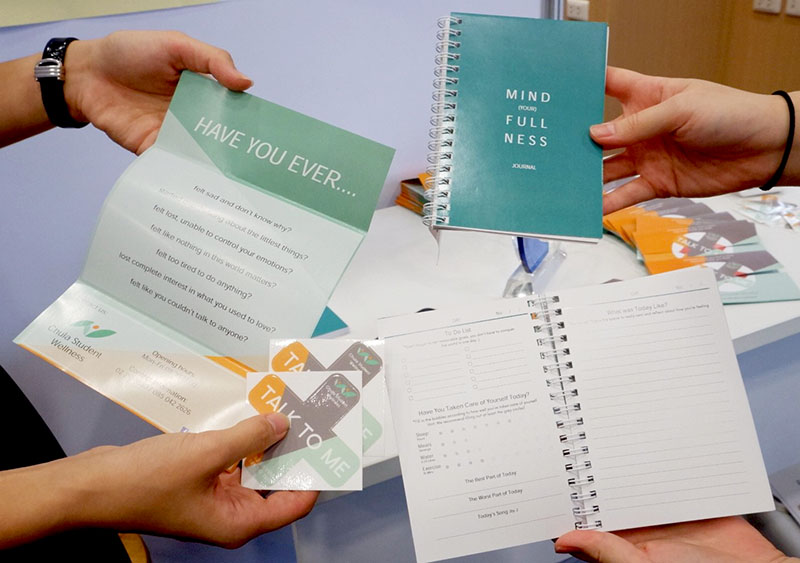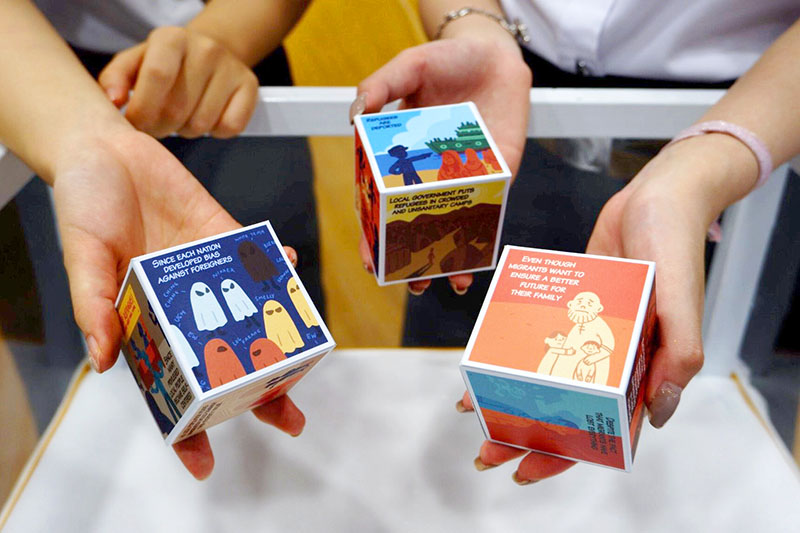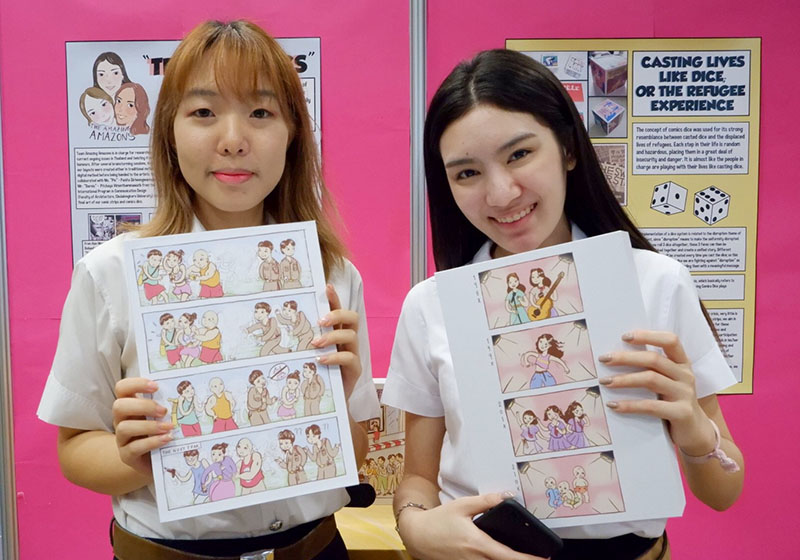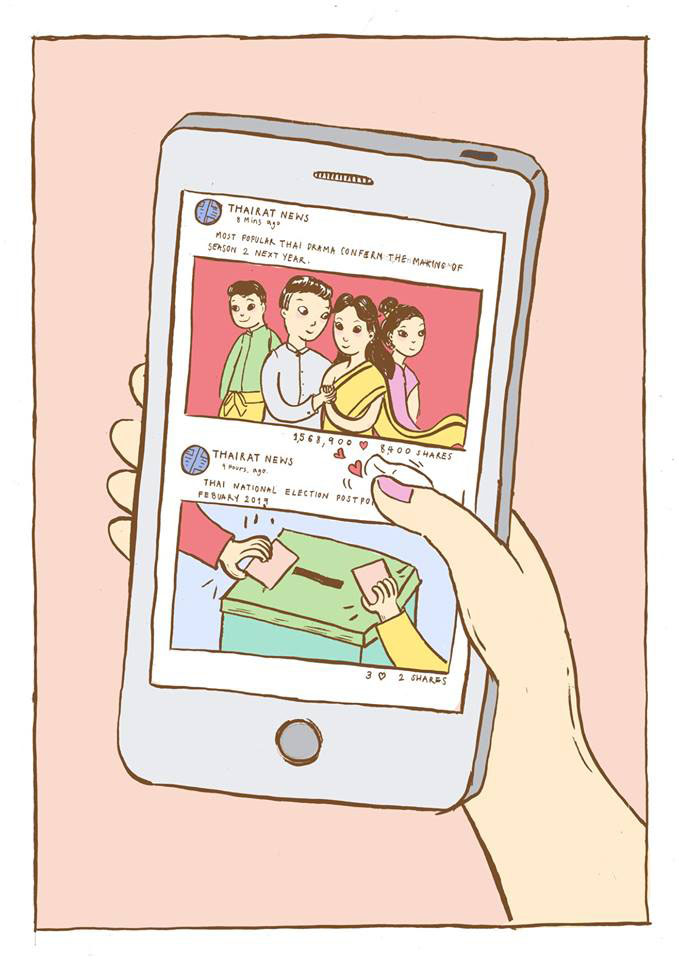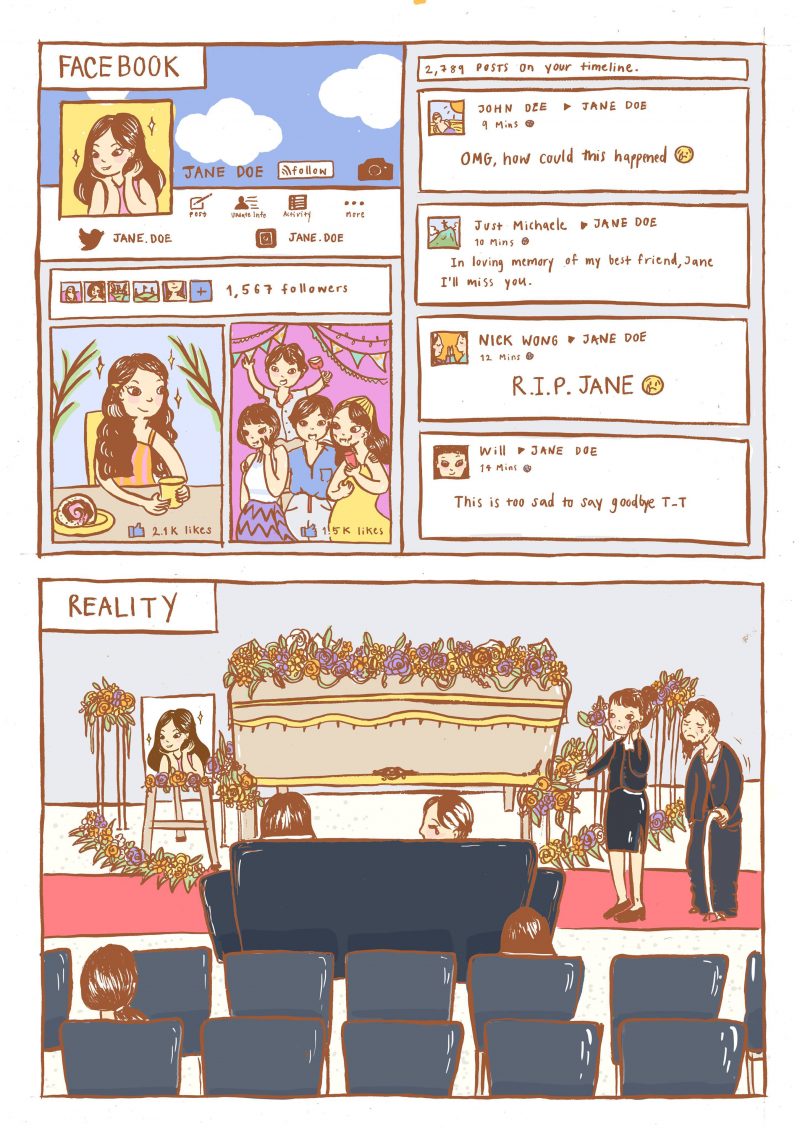 Related stories: