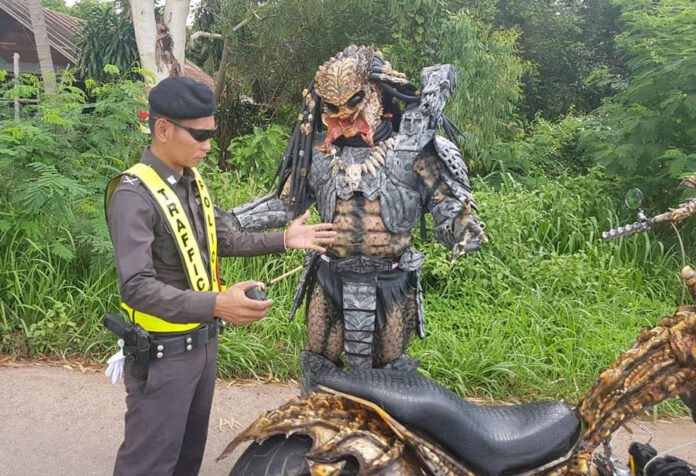 MUKDAHAN — When an intergalactic trophy-hunter went gallivanting through rural Isaan on a hog decorated with the bones of his prey, it took one gutsy cop to pull him over.
Senior Sgt. Maj. Somphong Kumbuala of the easternmost reaches of Mukdahan province recounted Monday his harrowing encounter after photos of him apprehending a man dressed head-to-toe as a Predator from the sci-fi film series of the same name went viral over the weekend.
"I was manning a checkpoint on Friday when he drove past, so I stopped him," said the cool-as-ice maverick cop. "He said got dressed up and decorated his bike all by himself for a talk at a local school."
Somphong said it was the first time he had seen either a Predator or Alien in Mukdahan.
The photos posted by Issara Phaksanam were liked more than 10,000 times and shared more than 11,000 times as of Monday.
"Police: P'Pre, did you bring your alien immigrant card? Pre: I went clubbing last night, I can't find it yet," wrote commentor Mljuko Dys among a series of user-generated captions to the photos.