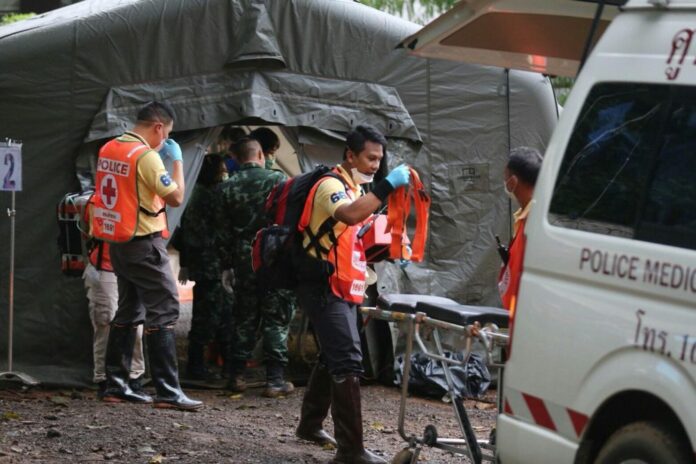 BANGKOK — Junta chairman Prayuth Chan-ocha said Monday he doesn't know when the rest of the youth football team trapped inside a Chiang Rai cave will be rescued.
Speaking a day after four boys were brought out from Luang cave, Prayuth said the operation's time frame is up to the provincial rescue command and he does not have the authority to interfere. The junta chief is due to visit the site later today.
Update: That's Ten: Another Boy Rescued From Cave
"I don't want the media to ask me how many days or months or years it would take before getting all of the kids out, but we will do it as fast and safely as possible," Prayuth said. "If you ask me how long it will take, no one can answer that."
He added, "It's up for them to deliberate. I cannot order them around. Even though I can use my [legal power] I cannot order them in the steps of their operation. It's up to the people in the area."
Prayuth also declined to answer questions about health of the four boys rescued yesterday.
"Don't ask me this kind of question. Your question doesn't do any good," he said.
Rescue operation chief Narongsak Osottanakorn told reporters Sunday night all four were in stable condition.
Interior affairs minister Anupong Paojinda said Monday their health is good but declined to elaborate.
He also told reporters divers need to place more air canisters along the underwater route to where the boys and their coach have been trapped. Gen. Anupong said that process could take several hours.
Related stories: