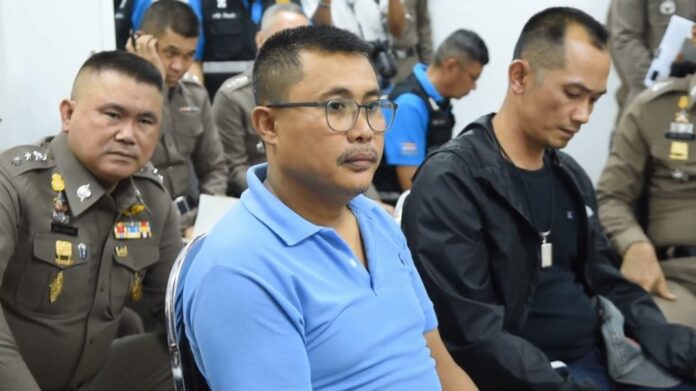 KANCHANABURI — One of a dozen suspects charged with poaching in a national park confessed Wednesday to lending his firearm to kill a bearcat, which he said was later cooked by members of a monastery.
Anusorn Ruan-ngam, Dan Makham Tia district defense volunteer, admitted lending his .22 Long Rifle to two caretakers of Tao Dam monastery to hunt wildlife, according to deputy police chief Srivara Ransibrahmanakul, the lead investigator. He said the two, identified solely as Tata and Jira, killed and cooked the animal.
On Monday, Tata told police that the 12 arrived Saturday night to make merit and camped in tents in front of the monastery before bringing the monks rice and dried food the next morning. He said he had never met the group before.
Srivara ordered that investigators take Tata and Jira in for questioning. He also ordered that CCTV cameras installed around the national park be checked.
On Wednesday morning, Somkiat Pengnaren – an uncle of suspect Watcharachai Sameerak – turned himself in to police in Ratchaburi province. He told officers that he was traveling with the group on one of the six vehicles, but fled when rangers stopped the caravan, taking advantage of the commotion.
Like Anusorn, Somkiat told police he did not kill any animal and only visited the monastery to make merit. He was taken to Kanchanaburi Police Station for further questioning.
The group was arrested Sunday and charged with poaching after authorities found them possessing hunting gear and bearcat paws when their vehicles were stopped at Sai Yok National Park. On Monday night, officers found an animal jaw, skin, bullet shells and a machete near Tao Dam monastery, which the group claimed to have visited to make merit.
All suspects posted a 200,000 baht bail Tuesday.
Earlier this year, a construction mogul was also accused of poaching and eating a black panther. His case is ongoing.
Related stories:
Poaching Suspects Post Bail as Park Rangers Seek More Evidence
Jaw, Skin Found at Park Where 12 Were Charged With Poaching
Govt Official Among 12 Charged With Poaching in Kanchanaburi