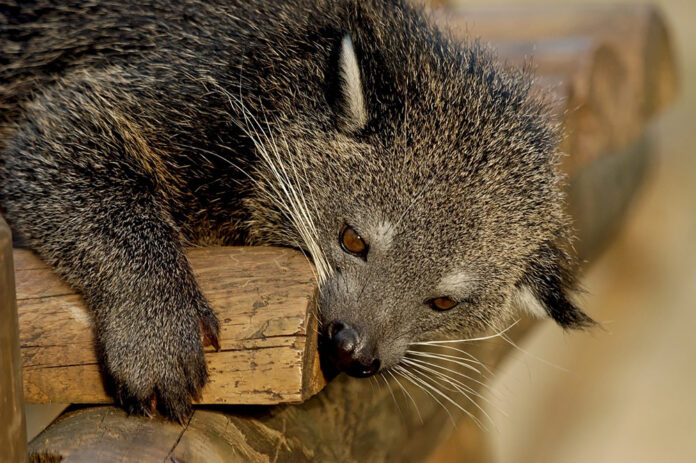 KANCHANABURI — Police are looking for a man suspected of cooking a protected animal in a national park earlier this month.
An arrest warrant was approved Tuesday for for a Myanmar man identified only as Jira, who allegedly entered the Sai Yok National Park with another migrant named Tata to hunt for the bearcat.
Read: Poaching Suspect Says He Lent Rifle to Kill Bearcat: Police
Although Tata confessed to police that he shot and killed the bearcat, he said Jira cut the animal up and cooked it.
Tata is being held at the Kanchanaburi Provincial Court. He did not make bail.
Police raided Jira's home but found no one there. He's believed to have fled to Myanmar.
Maj. Gen. Apichit Tianpermpoon, acting deputy chief of provincial police region 7, said recovered hunting gear and carcasses including four bearcat paws, a jawbone and pelt were sent to the forensic science department.
The investigation should be complete with the case submitted to the court in November, Apichit said.
On Oct. 7, a group of 12 was arrested and charged with poaching after authorities found hunting gear and bearcat paws when their vehicles were stopped in the park, which is located west of the capital. One of the suspects, Watcharachai Sameerak, is a local government official. He's been suspended from duty.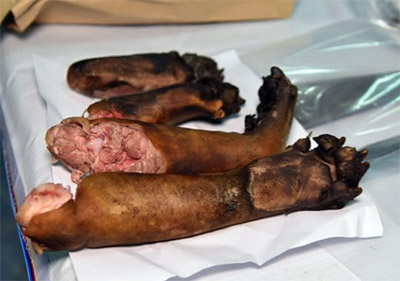 One day later, officers found a jawbone, skin, bullet casings and a machete near a monastery the group claimed to have visited to make merit.
All suspects were freed Oct. 9 after posting 200,000 baht bonds.
On Oct. 10, Anusorn Ruan-ngam, a Dan Makham Tia district defense volunteer, admitted to loaning his .22-caliber rifle to two monastery caretakers to hunt wildlife. He said the two, identified as Tata and Jira, killed and cooked the animal.
It's the latest case of poaching to incense the public since construction mogul Premchai Karnasuta was accused earlier this year of poaching and eating a black panther. The legal case against him is ongoing amid widespread skepticism the powerful figure will held accountable.
Bearcats, or binturong, are native to Southeast Asia but considered vulnerable due to their declining numbers.
Related stories:
Poaching Suspect Says He Lent Rifle to Kill Bearcat: Police
Poaching Suspects Post Bail as Park Rangers Seek More Evidence
Jaw, Skin Found at Park Where 12 Were Charged With Poaching
Govt Official Among 12 Charged With Poaching in Kanchanaburi