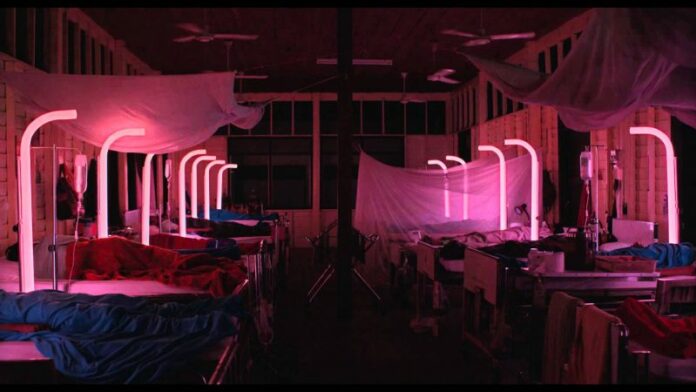 NAKHON PATHOM — Three years after its release, a drama by a renowned Thai filmmaker will finally show at home for the first time.
Later this month, Apichatpong Weerasethakul's 2015 film "Rak Ti Khon Kaen" ("Love in Khon Kaen") will get its Thai debut at the national film archive. The screening will coincide with a ceremony to award the director the International Federation of Film Archives Award, which honors his long advocacy for film preservation.
Past recipients include Martin Scorsese, Ingmar Bergman, Hou Hsiao-Hsien, Liv Ullmann and Agnes Varda.
"Rak Ti Khon Kaen," known internationally as "Cemetery of Splendour," is set in Apichatpong's hometown of Khon Kaen, where a middle-aged nurse cares for a soldier lost in a mysterious coma.
The film won best feature film at the Asia Pacific Screen Awards in Brisbane, Australia, in 2015, after which it continued to rack up awards and nominations at festivals including Cannes.
Apichatpong initially refused to screen the film in Thailand thinking it would be banned or censored. In 2006, his film "Syndromes and a Century" was censored by the film board due to scenes of monks kissing, drinking and playing guitar. The censored film had a limited run at Paragon Cineplex in 2008 with the censored scenes replaced with scratched-out frames and silence.
Since then, Apichatpong has said he'd rather his films be banned than censored.
The awards ceremony will start at 1pm on Nov. 19 at the Thai Film Archive. The screening of "Cemetery of Splendour" starts at 2pm. Admission is free, but reservations must be made online.
The film archive is located on Phutthamonthon Sai 5 Road, west of Bangkok in Nakhon Pathom province. It can be reached by bus No. 515 from the Victory Monument in front of Rajavithi Hospital.
In 2010, Apichatpong became the first Thai director to win the Palme d'Or at the Cannes Film Festival for "Uncle Boonmee Who Can Recall His Past Lives."
Related stories: