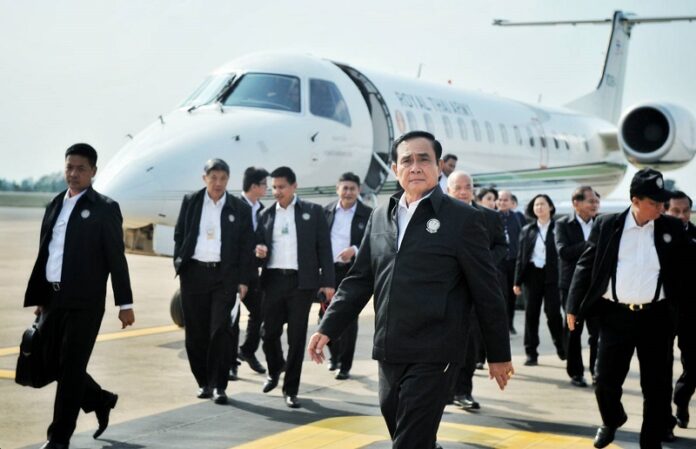 BANGKOK — Ninety-five percent of all seats in the interim assembly are held by men, making Thai women the world's 10th least represented in the world.
That ratio of women in power is the lowest in over a decade and a significant slide from the pre-coup level, when women accounted for nearly one in six representatives. With the first election in nearly five years looming, a group of female politicians debating the issue agreed changing that remains difficult due to society's deep-running misogyny and patriarchy.
The eight women drawn from eight different parties discussed ways to achieve more inclusive national politics this week at an event organized in Bangkok by UN Women and the European Union. They took turns calling for more women to step up as they discussed the importance of increased political participation and the social conditions thwarting it.
"We have several social issues that need to be addressed. Having only men in the administration leaves women's issues unsolved," said former Olympic taekwondo fighter Yaowapa Boorapolchai of the Chart Pattana Party.
Only 5 percent of the interim parliament – 13 seats – belong to women, according to the Inter-Parliamentary Union, which ranked the kingdom's female representation 184th of 194 nations. That puts it at the bottom of the barrel in ASEAN behind Myanmar, which ranked 161th with 10 percent representation.
We need more women in to change things, because men don't understand why some issues need to be fixed.
Five months before the 2014 coup, Thailand ranked 87th, with women comprising 15.8 percent of the House of Representatives and 15.4 percent of the Senate.
Even with those higher ratios, Thailand was still among the lowest in the region, only ahead of Malaysia (112th) and Myanmar (129th). The highest was found in the Philippines (38th).
Women politicians speaking Tuesday blamed cultural values that sustain male dominance.
"I've been working in politics for six months, and I've already seen that gender inequality is real and severe," said Future Forward Party spokeswoman Pannika Wanich. "The patriarchy places female politicians with less seniority or people from the LGBT community in a difficult position, having to work much harder to prove themselves."
Women's Place
Not that the situation of gender parity in power is much better worldwide.
UN statistics from 2017 showed 80 percent of the world's representatives were men, with only 6 percent of the world's governments led by women.
Power plays and the male-dominated political culture contribute to politics being perceived as a "scary space" for women to enter, said Alison Davidian of UN Women's Asia Pacific office.
Despite all the Thai women panelists saying their parties are open-minded and fully support gender equality, they believe women are generally discouraged from working in politics, or even thinking about entering the field, because society expects them to stay in subordinate roles.
"Thai people have been taught that women's roles are only domestic. Politics is seen as men's business, which lessens the chance for women to work in this field," said Pateemoh Pohitaedaoh of the Action Coalition for Thailand Party. "There is less space for women."
It then creates hostility toward women who do defy those values and rise to dominant positions.
Veteran politician and former Labor Minister Ladawan Wongsriwong of the Pheu Thai Party, which seven years ago gave Thailand its first female prime minister, said women in high-ranking positions are often targeted and shamed sexually, which likely scares others away from following in their footsteps.
"They're scared that their reputation will be tainted," she said. "Society still defames them, discredits them using sexual matters. Women are taught to be timid and shy. … It builds up fear among them."
Misogynistic rants were aired against former PM Yingluck Shinawatra routinely from protest stages at the height of the anti-government rallies that brought her government down. She was called a "stupid bitch" and "treasonous whore" by her opponents, language even employed in the mainstream media. She was severely reprimanded for appearing "flirty" while meeting US President Barack Obama in 2012.
Yingluck was also often branded as being only a "puppet" of her brother Thaksin Shinawatra. One of the most controversial figures in Thailand's political history, Thaksin earned nicknames far less vile, such as "square face," "fraud of the nation" and "the usurper."
Future Forward's Pannika said she has experienced discrimination firsthand of late while hitting the streets to recruit new party members.
"I've heard many things indicating that Thai society still looks down upon female Thai politicians," she said. "When I finish introducing myself and the party, someone will thank me and say 'I fully support such a pretty face like yours.' They don't think much about these words, but it reflects that women are still seen as sexual objects in this society."
"Thai people keep attacking others using their sexuality, although it's irrelevant to whether they're a good politician or not," she said.
Pateemoh of the ACT said the law also doesn't give much value to gender equality and fails to support women who aspire to become politicians.
Ratchadaa Thanadirek, who represents the Democrat Party, said she is more troubled by the weak enforcement of the small number of laws and policies meant to address the issue.
"We already have the Gender Equality Act. We have the national plan supporting women's development. But do these things genuinely bring about equality?" she said, citing the police academy's recent announcement it will no longer accept female cadets.
"What's the point of having these laws in place? Which agencies oversee the enforcement?" she said. "We need more women in to change things, because men don't understand why some issues need to be fixed."
At the same time, the former MP also said the main hurdle keeping women away from political careers is their own level of comfort and readiness.
"I think there's no obstacle for women who really want to enter politics," Ratchadaa said. "However, there are challenges. First is themselves. … Political careers bear a lot of risks. It depends on how ready they are to take those risks."
Pheu Thai's Ladawan voiced similar opinions, saying a supportive family and self-esteem are among the most important factors.
"If the family doesn't allow them, then it's over," she said. "More importantly, they don't believe in their own potentials."
That viewpoint was shared by several others, including Natee Ratchakitprakan from the Bhumjaithai Party, who said there are always opportunities for women determined to enter politics, but they need to be "strong, convicted, patient and hardworking."
Filling the Binders
So, with elections possibly less than four months away, what can be done to increase female participation?
The women discussed different solutions, but disagreed strongly on whether seats should be reserved for women.
Pannika and Ladawan said their parties, Future Forward and Pheu Thai, do not impose quotas as they don't belong in democratic elections. Pannika specifically said her party doesn't believe it's the right way to solve the problem.
"It was discussed a lot in our party, but we finally agreed that a quota system is a short-term solution based on the wrong idea," she said. "When there's a quota, it means you already accept the inequality."
The Democrats' Ratchadaa and ACT's Pateemoh said their parties adopted quota systems to ensure enough women enter the political pipeline.
"Finding female politicians is our party's aspiration. If their qualifications are the same, the woman will be chosen immediately," Ratchadaa said. "The constitution should require women representatives in each [locality]."
Pannika said both legal and social systems need change in order to bring more women into politics.
"Social awareness is needed to open up spaces for diversity, especially through education. It's slow and difficult, but it's the right solution," she said. "We need laws that support women to leave home and work."
Most importantly, Pannika thinks change will come when gender is removed from the equation and women politicians are just seen as politicians.
"When female politicians are no longer perceived as only women's representatives, that's when we will have true equality," she said.