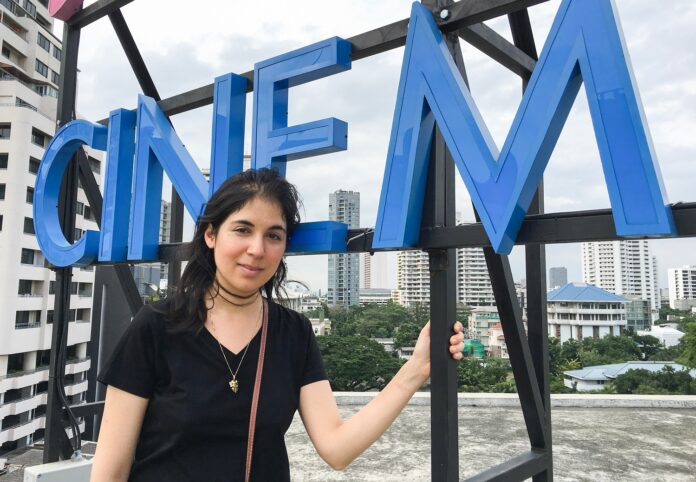 She remembers it was a Saturday in the spring of 2007 that she entered a Paris cinema to see her first Thai film.
It was critically acclaimed director Apichatpong Weerasethakul's "Blissfully Yours." Afterward, the woman devoured more of his works, including 2004's Cannes-winning "Tropical Malady." The next day she returned again to see "Syndromes and a Century."
What initially was a weekend's diversion lit a passion that would become the topic of her master's thesis – "The Invention of a Critical Memory in the Work of Apichatpong Weerasethakul."
"I was enthralled by his narrative inventiveness and profoundly moved by the rural Thailand that he depicted, imbued with ancient tales and ghostly memories," she said. "I had to choose a topic for my dissertation and it could only be about his works."
It's no exaggeration to say that Aliosha Herrera, or "Yo," has seen more Thai movies than most Thais. The 30-year-old Frenchwoman is not only an admitted hardcore cinephile with a thirst for the Thai oeuvre, but has cultivated enough expertise that she now shares her knowledge with Thai audiences.
Recently Herrera curated a double-feature of two classics, both from 1965, at downtown arthouse theatre Cinema Oasis. "Ngoen, Ngoen, Ngoen" ("Money, Money, Money") – a blockbuster musical comedy at the time starring Mitr Chaibancha and Petchara Chaowarat – and Rattana Pestonji's final romantic comedy "Sugar is Not Sweet."
I felt nostalgic. It's funny because I had never been to Thailand but I was already nostalgic about Thailand."
It wasn't the first time she helped bring a Thai film to new audiences. After 1954's "Santi-Vina" was rediscovered two years ago, Herrera got the long-lost movie shown in Paris.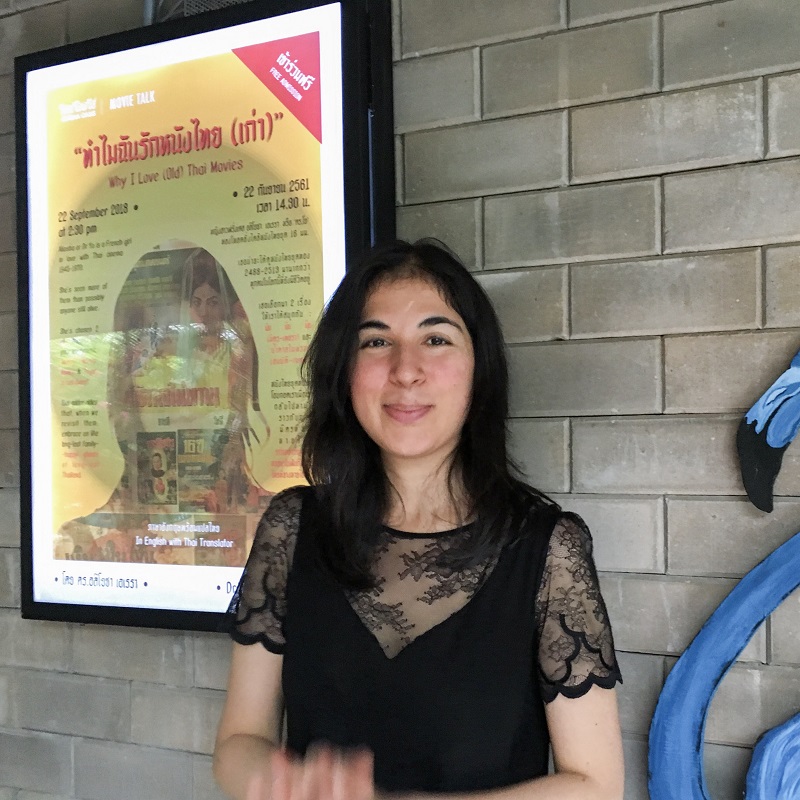 Born to French and Panamanian parents, Herrera grew up in the Paris suburb of Arpajon. During her childhood, she, her mother and sister would take monthly trips to small standalone cinemas in the capital, especially those in the fifth arrondissement, aka the Latin Quarter.
"Watching films and discussing them with my family was a whole part of my education," Herrera said. "The shelves of our home were filled with books and a myriad of classic films on VHS. I also spent a great amount of time at the French Cinematheque, where I could discover many gems of world cinema and exchange views on them with my cinephile friends."
Though naturally introverted and soft-spoken, Herrera couldn't hide her love for Thai movies when conversation brought them to the table, literally, as we sipped warm tea recently at Cinema Oasis. When her fluent Thai speaking skill is commended, she smiles shyly and politely says "khob khun ka."
Learning at the Source
Fascinated by Apichatpong's cinematic offerings, which left her mind "relentlessly pounding," Herrera first came to Thailand in 2010. That's when a door opened to her embrace of a whole new world.
"I wanted to know more about this place, this country," Herrera said. "[Watching Apichatpong's films], I felt nostalgic. It's funny because I had never been to Thailand but I was already nostalgic about Thailand."
Samanrat "Ing" Kanjanavanit, one half of the daring filmmaker duo behind Cinema Oasis and controversial works such as the banned "Shakespeare Must Die," gave high praise.
"In a previous life, she definitely was born Thai," Ing said.
On her first trip to Bangkok, Herrera visited the Thai Film Archive and met then-director Dome Sukwong. The film archivist is regarded by Herrera as the "Henri Langlois of Thailand" after the French pioneer of filmpreservation.
There she was introduced to 16mm and 35mm Thai oldies, many post-World War II works that were made through the 1970s.
It was at the archive that Herrera embarked on her next level of studying Thai cinema history, since it began in 1897.
It was that knowledge and more she shared with audiences recently at Cinema Oasis in a 2-hour talk touching on the cultural bridge between live cinema vocalists and older Thai traditions, anecdotes of the silver screen's most important figures and its post-World War II golden age.
The Live Sound Experience
Due to a shortage of 35mm stock after the war, Thai filmmakers shot on 16mm celluloid, with no sound-on-film. Producing silent films was less expensive and made productions easier and faster.
The silent films were then brought to life in theaters by professional voice artists.
That's when the live performers came in handy. They would add their voices to silent films or do live dubbing of foreign films. Sometimes following the script and sometimes improvising. Some also did live foley work by making sounds to accompany car engines, gunfire and animal noises.
It breathed new life into what had been a traditional art of voice actors performing at shadow plays (nang yai or nang talung) and the masked dance of khon. It made each showing distinctive.
Herrera said she would have loved to have experienced that era, which vanished several decades ago.
"I found this kind of film production tremendously original," she said.
"By inscribing itself in this oral paradigm, the Thai film production put cinema, a Western invention, at the service of an original local tradition," Herrera continued. In her home country France, oral accompaniment only existed briefly and had ended by the mid-1920s.
'Art Out of Time'
After leaving Thailand, Herrera decided to return, this time to research her doctoral thesis focusing on Thai 16mm-format celluloid between 1945 and 1970.
Watching the old films – which offered no English subtitles – Herrera decided to take a leap. She signed up to study Thai for five months and has practiced the language daily since.
Not that it entirely demystifies the old films, many of which contained archaic terms and phrases no longer in usage.
"Sometimes I would not get the jokes in the movies, so I needed to ask or get help from Thai friends," Herrera said.
Asked how many Thai films she has seen so far, Herrera said that while her dissertation focused on 39 movies, which she analyzed in detail and translated into French, she has seen hundreds of them.
"I watched as many films as I could," Herrera said. "[There are] hundreds of Thai movies, from all periods, in their entirety or in fragments."
"I see Thai cinema as an art out of time … and a precious form of intangible heritage."
Thai movies are widely derided by critics for failing to reach international standards. The term 'nam nao' ('stinking water') is often used to dismiss overly melodramatic soap operas and movies that feature overacting, overt villainy and extreme moral polarization, for examples.
But Herrera sees otherwise.
"I tend to believe that, instead of moving 'backward' in the history of cinematic techniques, this old Thai cinema became a significant horizon of cultural resistance," she said, though she noted some were hired by the US government to dub propaganda films.
"I see [Thai cinema] as an art out of time … and a precious form of intangible heritage," she said, naming off admired Thai filmmakers that include Thae Prakatwuthisan and Rattana Pestonji. "[They] endeavoured to make and produce movies with all their heart despite economic hardships."
Herrera took five years to complete her research. During the time she visited some Thai actors, now in their 70s and 80s, to interview them in Thai.
One of her subjects, the comic actor and filmmaker Dokdin Kanyamarn, died earlier this year from heart failure at 94.
"[Dokdin] told me a lot about his first successes. Then he showed us a big swimming pool specially built in his garden to shoot underwater scenes and sang us lovely songs. He has a very melodious and dulcet voice."
Herrera also talked to Sombat Metanee, who once held the Guinness World Record for most film appearances and starred in 1966's "Suek Bang Rajan" (The Battle of Bang Rajan) and "Chula Trikhun" (1967).
"[Sombat] remembers so many aspects of that period," Herrera said of the 81-year-old actor. "He helped me understand the gentlemanliness proper to the heroes of old Thai movies. He is a genuine suphap burut."
Herrera landed rare interviews not only with the heroes of Thai cinema, but its heroines as well. Among them was Thai-French Amara Asavanond or "Thailand's Elizabeth Taylor," who embodied the a particular kind of heroine in the 1950s – mysterious – especially in her role in "Hao Dong" in which Amara subrogates her father who is the most wanted thief.
"Thanks to her, I could get the gist of these movies, which are considered lost today," Herrera said.
But it's probably her conversation with "Miss Honey Eyes" Petchara Chaowarat that Herrera says struck her the most. The 75-year-old actress went blind from spending so many hours exposed to bright set lights. She's best known for co-starring in more than 100 movies with Mitr Chaibancha – the acting legend who died after falling from a helicopter in 1970 while filming the finale of what would be his last film. They became a koo kwan (heartthrob screen couple) and earned the nickname "Mitr-Petchara."
"We talked together [for] six hours. Petchara was holding my hand and recounting anecdotes about the key moments of her career, especially her legendary collaboration with Mitr," Herrera said.
"I still feel extremely lucky when I think about these times," Herrera said of her encounters with the Thai film greats.
As of this writing, Herrera is in France trying to organize a special screening of "Saen Rak" (1967) to be voiced live by two professional Thai performers.
Related stories:
Makers of Banned Films Ready Arthouse Theater For Bangkok
Long-Lost, Restored 'Santi-Vina' Returns to Thailand for Fest of Epics
Cannes First, Then Thailand for Restored 'Lost' Classic