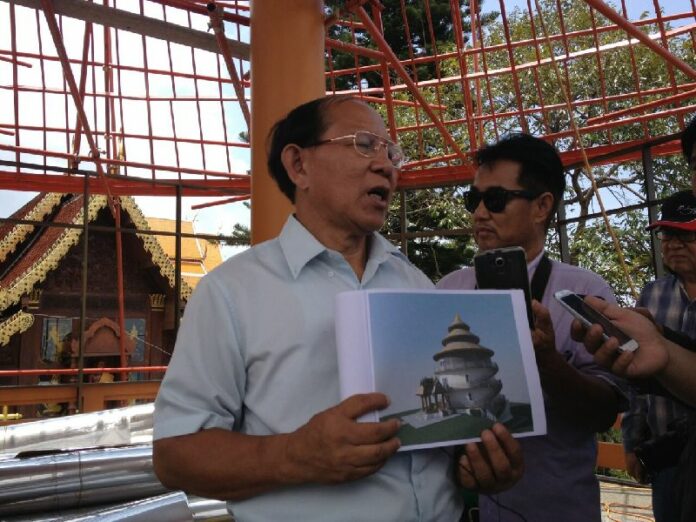 CHIANG MAI — A temple official has assured Buddhist worshipers that the observation tower being built at Doi Suthep Temple will not be taller than the nearby Buddhist reliquary.
A number of local Buddhists had expressed outrage at the news that when completed, the three-story observation tower being built at the renowned mountaintop temple would exceed the height of Phra That Pagoda, which is believed to house the remnants of Buddha's cremated bones.
Those who oppose the project believe that building a tower taller than the pagoda would be disrespectful towards Lord Buddha.
But Wallop Namwongprom, a committee member of Doi Suthep Temple's administration, said the observation tower has always been designed to be shorter than the reliquary pagoda. He blamed the misunderstanding on the "angle" of the photo of the tower's design.
He explained that the tower is replacing the older, open-air observation deck that has been damaged over the years from exposure to the climate.
According to Mr. Wallop, the new tower will feature a large reception hall for VIP guests, a museum exhibiting over 1,000 Buddha figurines from different eras of Chiang Mai history, and an observation deck with panorama view at the top of the building.
Members of the public will be able to access the observation tower free of charge once the construction is completed, Mr. Wallop said.
"I want Chiang Mai citizens to know that many tourists, both Thai and foreign, visit the temple each year. In the future, Thailand will also join the ASEAN Economic Community," Mr. Wallop said, "So we want to renovate the temple to accommodate more guests. Please don't turn this issue into a dispute."
For comments, or corrections to this article please contact: [email protected]
You can also find Khaosod English on Twitter and Facebook
http://twitter.com/KhaosodEnglish
http://www.facebook.com/KhaosodEnglish