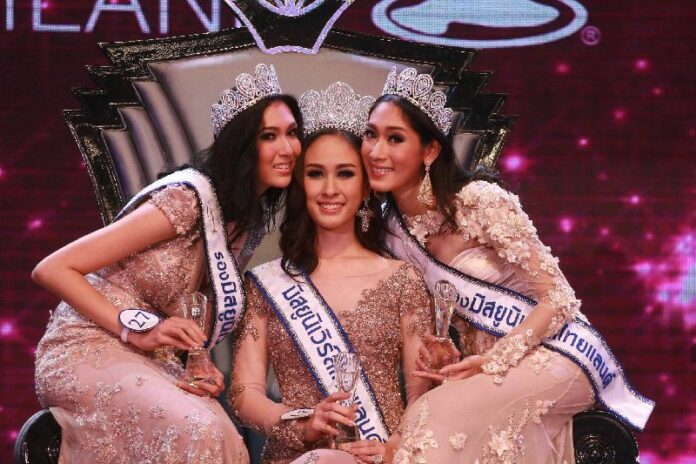 BANGKOK – The winner of a national beauty pageant has caused an uproar on social media after critical remarks about the pro-government Redshirts were discovered on her Facebook page.
Weluree "Fai" Ditsayabut, 22, was crowned Miss Universe Thailand last night in a popular beauty pageant broadcast live on the state-owned Channel 3 TV.
However, many pro-government supporters quickly discovered that Ms. Weluree has regularly published disparaging comments about the Redshirt movement on Facebook.
In one "public" comment from November, Ms. Weluree accused Redshirts of being "anti-monarchy" dissidents, and suggested that Thailand will be cleaner once the "dirty" Redshirts leave the country.
"I am not neutral. I am on the side of His Majesty the King," Ms. Weluree wrote. "I'm so angry at these evil activists. They should all be executed."
Enraged by Ms. Weluree's remarks, a number of Redshirt supporters have condemned her victory as Miss Universe Thailand on social media. Some have questioned whether Ms. Weluree is suitable to represent Thailand in the international pageant stage when she appears to despise fellow Thais in such a virulent way.
Ms. Weluree's winning of the Miss Universe crown also surprised many reporters who expected another popular candidate, Pimbongkod "Ellie" Chankaew, to take the title.
According to the pageant profiles, Ms. Weluree is an accomplished actress, talk show host, and student at Kasetsart University's English Department.
Repeated efforts to contact Ms. Weluree and the pageant organisers were unsuccessful.
Read More: Beauty Queen Apologises For "Dirty Reds" Remark
For comments, or corrections to this article please contact: [email protected]
You can also find Khaosod English on Twitter and Facebook
http://twitter.com/KhaosodEnglish
http://www.facebook.com/KhaosodEnglish