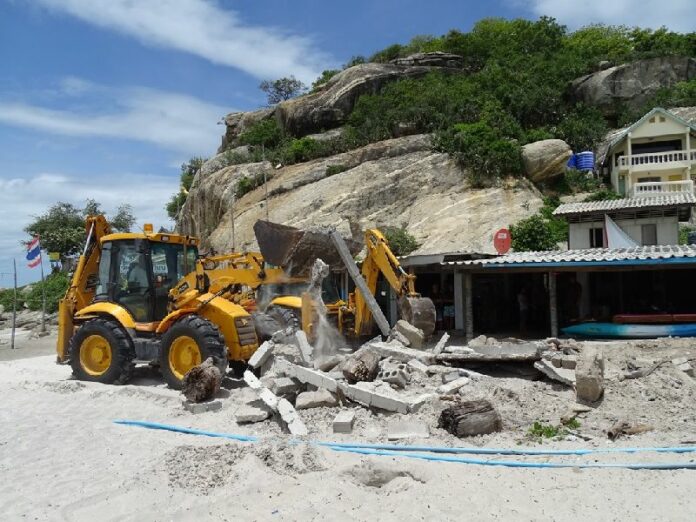 PRACHUAP KIRI KHAN — Officials and beach vendors in the resort town of Hua Hin have agreed to fix the price of food sold from stalls along the popular beach, following a wave of complaints from tourists about the vendors' "extortionate" prices.
According to photos of the bills posted on social media earlier this week, beach-goers were charged anywhere from 150 to 400 baht for staple Thai dishes, like som tum and pork fried rice. The standard market price of those dishes ranges from 30 to 40 baht.
At a meeting with local officials held today, the vendors agreed to new fixed prices that will be applied to all food stalls in the area. Under the new regulation, a dish of som tum will cost 45 baht, pork soup 80 baht, and a bottle of beer 80 baht, for instance.
Suphadee Karaked, a representative of the Department of Internal Trade, said that although all of the vendors included the price of food in their menus, some of them did not do so in a clear way.Thus, officials asked the vendors to post large signs of their menus at the entrance to their stalls, Ms. Suphadee said.
"I believe this method will regain confidence from consumers and tourists. They will return to Hua Hin," Ms. Suphadee said. "It can also help regain the image of Hua Hin as the number one resort town of Thailand."
Many of the food vendors are also guilty of encroaching on public land, as their stalls are sitting on the beach, said Hua Hin's District Chief Officer Pornchai Thomkrachang. The authorities will move to evict all stalls that are currently encroaching the public land, Mr Pornchai said.
However, Mr. Pornchai added that authorities also struck a compromise with the vendors. According to Mr. Pornchai, the vendors are welcome to return to the beach on 18 August after the eviction and cleaning operation is completed, but they will have to strictly adhere to new regulations that only allow non-permanent structures on the beach.
Each stall will also be limited to certain area by the local officials in order to avoid congestion on the beach, Mr. Pornchai said.
"On every Wednesday all stalls must also close down for cleaning and returning nature to the beach," Mr. Pornchai explained.
The vendors accepted the compromise, Chongkolnee Rittirong, a representative of the vendors, told Khaosod.
"The solution that was discussed today is acceptable. We may have to adjust ourselves, but we can keep our jobs and look after our families," Ms. Chongkolnee said. "The regulation of Hua Hin Beach should help improve everything now."
Ms. Chongkolnee added that all vendors will adhere to the new prices pegged by the officials. As for dishes that are not listed in the regulation, the vendors will submit prices to the officials for approval.